Umarex Beretta CX4 Storm Carbine Part 1
Paired with the PX4 Storm pistol, Beretta rekindles an Old West tradition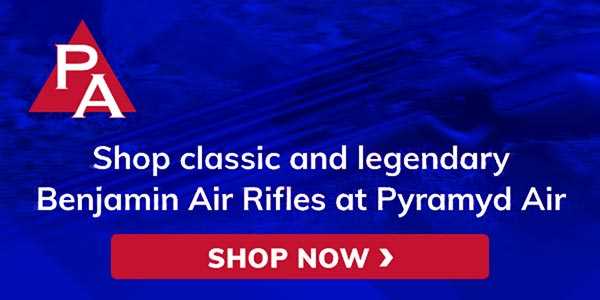 By Dennis Adler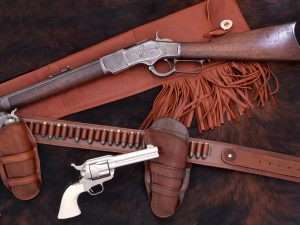 Back in the days of the American West, cowboys, lawmen, and outlaws alike, often carried revolvers and rifles chambered for the same caliber, and for men riding the range, where the next town could be weeks, even months away, carrying a revolver and a lever action rifle that fired the same cartridge was a very practical decision. Colt and Winchester offered their respective single action revolvers and lever action rifles in several compatible calibers, primarily .44-40 WCF (or .44-40 Winchester). The .44-40 Winchester centerfire cartridge was developed in 1873 at the same time as the Colt Single Action Army revolver and Winchester Model 1873 lever action rifle.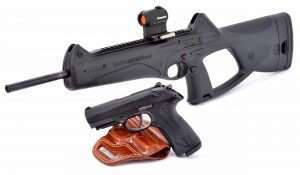 Nearly 150 years later, the idea of carrying a sidearm and a rifle that can fire the same cartridge still makes sense, especially for law enforcement, and it is not uncommon to find this same pairing between 9mm (and .40 S&W) semiautomatic pistols and rifles today. The .40 S&W is pretty much the modern day .44-40 for lawmen. Beretta made that combination an even stronger dynamic in 2005 with the PX4 Storm pistol joining the CX4 Storm carbine which was introduced in 2003. But these two are not only chambered for the same cartridge, but use the same magazines. (Depending upon model, the CX4 can use the same magazines as the PX4 Storm or the Beretta Model 92 FS).
Practical carry and use
Back in the 1870s and 1880s, running out of pistol or rifle ammunition could not only be unfortunate, but deadly, and carrying a rifle and pistol in two different calibers (as many certainly did) made that a greater likelihood if things went bad on the trail. It was better to have a pistol and rifle that used the same cartridges, even though .44-40 was far from the most powerful rifle cartridge available. Winchester and Colt had other combinations as well including .32-20 and .38-40, but .44-40 was the top billing. Winchester never built a rifle (in the 19th century) to chamber .45 Colt revolver cartridge.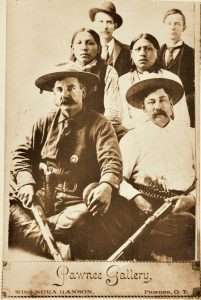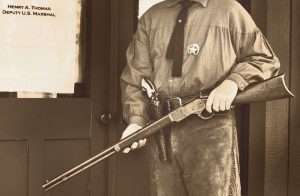 The 21st Century Take
From a survival standpoint, the single caliber option remains as prudent a decision today as it was when cowboys drove cattle 1,000 miles to a railhead, or lawman set out in pursuit of cattle rustlers, train robbers, and murderers. In this century, a law enforcement officer, a sportsman afield for days, or even a homeowner with only one handgun and one rifle to his or her name, only needs a single type of ammunition and one type of magazine for loading either gun. This has made the Beretta PX4 and CX4 Storms among the best possible modern-day semi-auto combinations, and Umarex makes it possible to train with these same Beretta designs in 4.5mm, CO2-powered pellet guns.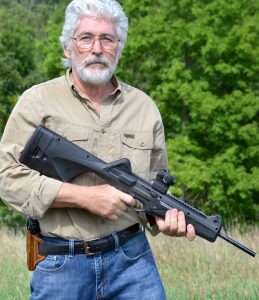 The Umarex CO2 Model
Like the cartridge-firing Beretta CX4 Storm Tactical Carbines the Umarex CO2-powered CX4 Storm has the same pistol-like controls for those already familiar with Beretta's PX4 Storm handguns. This includes the 4.5mm air pistol (see Airgun Experience No. 28, August 1, 2016 for more on the Umarex PX4 Storm) but, unfortunately, the PX4 Storm air pistol does not use the same magazine as the CX4 Storm air rifle, so beyond handling familiarization, the all-important interchangeable magazine feature between the CX4 and PX4 Storm cartridge-firing models is lost here. The CX4 airgun does, however, makes its own case for use as both a training gun and as a real 4.5mm pellet rifle for field use and hunting small game.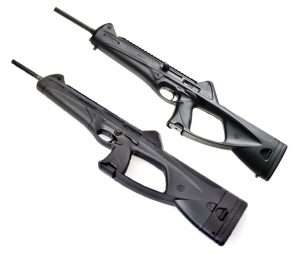 By any modern standard the CX4 Storm Carbine (no matter what it is shooting), is a futuristic-looking rifle and one with a true Italian pedigree beyond even the Beretta name. The exterior shell was designed by the legendary Italdesign Giugiaro, which among other things, is the design studio for Lamborghini. Yes, compound curves and ergonomic design work as well on a rifle as they do on an Italian Super Car! The CX4 Storm at the top of the photo is a 9mm model, the one at the bottom is the Umarex version!
For Beretta, the CX4 was a bold departure in rifle design, and the sleek looking CX4 Storm had a mission, even before its 2003 unveiling; to find a place in law enforcement as a tactical rifle that not only shared the same caliber as an officer's duty gun, but if that officer carried a Beretta 92 FS, shared the same magazines as well. When the PX4 Storm pistol was added to the line in 2005, the same option was developed for the CX4 so it could use new handgun's magazines. After more than a decade in service a good number of U.S. law enforcement agencies have adopted the CX4 Storm (as they were already using the 92 FS), while others adopted the double Storm combination after 2005. Unfortunately, the lightweight pistol and carbine pairing in 9mm, .40 S&W, and .45 ACP, never achieved the level of popularity with U.S. law enforcement Beretta had expected. Many are still nevertheless in use, and pistol and rifle combination remains an excellent choice for civilian gun owners as well.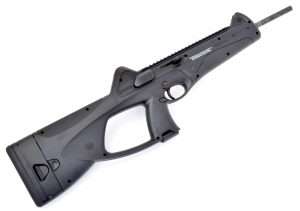 In Part 2 we examine the handling and operation of the Umarex CX4 Storm compared to the cartridge-firing CX4 Storm.
A word about safety
Blowback action airguns provide the look, feel and operation of their cartridge-firing counterparts and this is one reason why they have become so popular. Airguns in general all look like guns, blowback action models more so, and it is important to remember that the vast majority of people can't tell an airgun from a cartridge gun. Never brandish an airgun in public. Always, and I can never stress this enough, always treat an airgun as you would a cartridge gun. The same manual of operation and safety should always apply.