Umarex Beretta Model 84 FS
Fine tuning your CCW skills with an "air" of confidence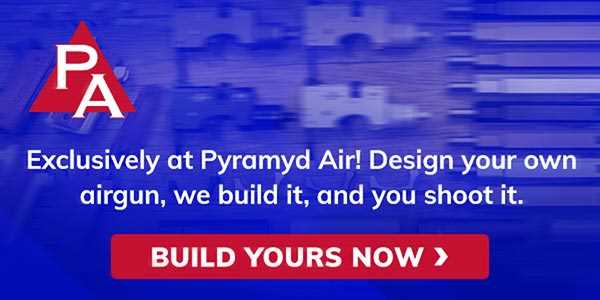 By Dennis Adler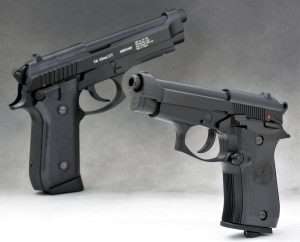 Think of the original Beretta Model 84 FS as a small Model 92 FS. It was the same double action/single action semi-auto pistol design right down to Beretta's famous open-slide configuration. The open-slide design used on the 9mm and .380 ACP semi-autos was devised to effectively eliminate the possibility of stove-piping and produce nearly flawless cycling, as well as reduce carry weight, not to mention creating a very distinctive profile.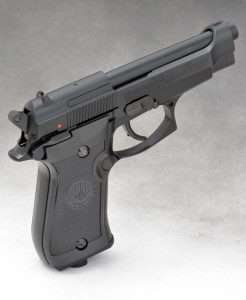 The Umarex Beretta Model 84 FS airgun has that same "cool" factor because the original .32 ACP and .380 ACP Beretta models truly were scaled down versions of the 9mm Model 92. The .32 ACP was introduced 40 years ago in 1976 and designed for discrete concealed carry use, and as a backup gun. The .380 joined the line in 1980 as the Model 84 B.
The small caliber Beretta series included the Models 81 and 82 in .32 ACP and Models 84 and 85 chambered in .380. The Model 84 variations used 13+1 double stack magazines, while the Model 85 series used a single column 8-round magazine. I have used past tense when referring to these guns since Beretta discontinued U.S. importation in 2013. They are, however, still manufactured for European sales, along with the .22 caliber Model 87 BB, which brings us to this "BB" gun.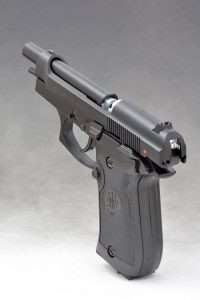 Like the latest Beretta Model 92 A1 air pistol, the 84 FS is also an all-metal gun that duplicates the external appearance of its cartridge-firing Beretta counterpart, including original marking on the left side of the slide, the handsome plastic Beretta emblem pistol grips, and a good looking finish similar to the matte black Bruniton finished Model 84 F.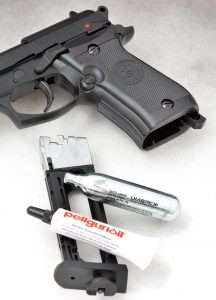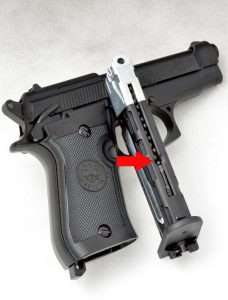 The only quick tell on the airgun is the CO2 key (used to raise the cylinder and pierce the capsule), which unfortunately hangs below the bottom of the magazine. It is, however, a self contained CO2 and BB magazine, which makes loading this airgun an authentic experience. The other noteworthy difference is the trigger, which though appearing to be the correct double action design, is actually a single action trigger.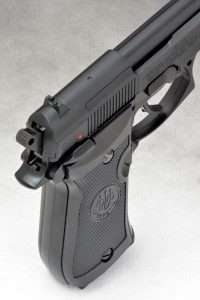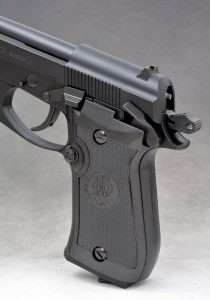 With a proper blowback action and a slide that locks open after the last round is fired, the 84 FS has a maximum capacity of 17 steel BBs, and fits all existing Beretta Model 84 holsters. The blowback action gives the airgun a more realistic feel, a very modest kick, and with a weight of 23 ounces, overall length of 7-inches, and all-metal construction (slide and frame), the heft and balance of a real Beretta .380 ACP semi-auto.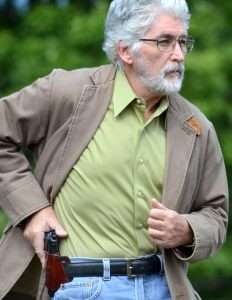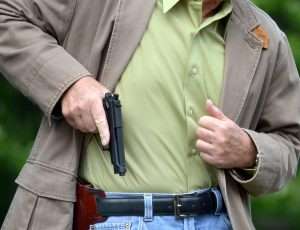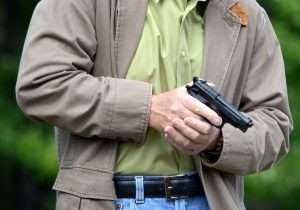 For CCW training I particularly like this small airgun as it gives you the genuine feel of carrying, drawing and operating a .380 ACP. Interestingly, Beretta was one of the first armsmakers to build a "pocket pistol" although by today's standards it is larger than most .380s. The Model 84 FS was discontinued from the U.S. market to make room for the smaller, lighter, Beretta Pico, which, while being an excellent .380 pocket pistol, lacks the character and ease of handling that the old 84 FS offered. Fortunately the Beretta air pistol is still around, and there is an aftermarket abundant with original .380 ACP models. The .177 caliber version makes the .380s even more interesting to own today, since you can train very affordably on air and still carry the same design handgun.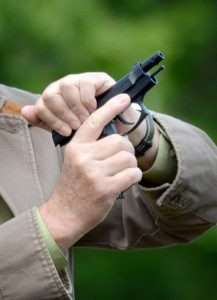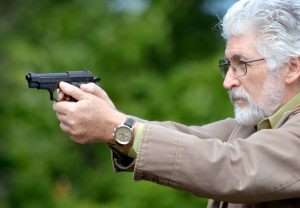 Downrange
With a heavy average trigger pull of 9 pounds, 5.5 ounces and 0.75 inches of travel, you would think the Beretta is a tough airgun to shoot accurately, but you would be wrong. The trigger actually doesn't begin to stack until it has moved 0.625 inches, leaving only 0.125 inches before a crisp break drops the hammer. The best feature is that it only takes that same 0.125 inches of release to reset the trigger, so once you have fired the first shot, trigger pull is only 0.125 inches, (so long as you do not release the trigger completely). Once you learn how to stage the trigger, it is easy to maintain accuracy shot after shot, making this one of the better airguns for learning trigger control.
Using Hornady Black Diamond anodized .177 steel BBs at a distance of 21 feet; the 3.6 inch smoothbore barrel delivered a best 17-round group at 2.25 inches with a best 10 rounds inside the 10 and X rings at 1.25 inches with multiple overlapping hits. This is more than acceptable accuracy for a compact air pistol using simple fixed sights (a slide-mounted blade front and traditional notched rear).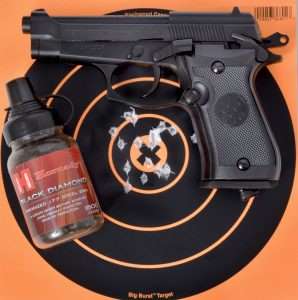 Overall, the Beretta 84 FS is a very proper training gun, and like all other blowback action designs, every trip to the range with the air pistol is a learning experience for handling cartridge-firing handguns. The Beretta has been around for awhile and if you haven't tried it, the Model 84 FS is definitely worth a second look!
A word about safety
Blowback action airguns provide the look, feel and operation of their cartridge-firing counterparts and this is one reason why they have become so popular. Airguns in general all look like guns, blowback action models more so, and it is important to remember that the vast majority of people can't tell an airgun from a cartridge gun. Never brandish an airgun in public. Always, and I can never stress this enough, always treat an airgun as you would a cartridge gun. The same manual of operation and safety should always apply.