Umarex Beretta PX4 semi-auto air pistol 
A storm on the horizon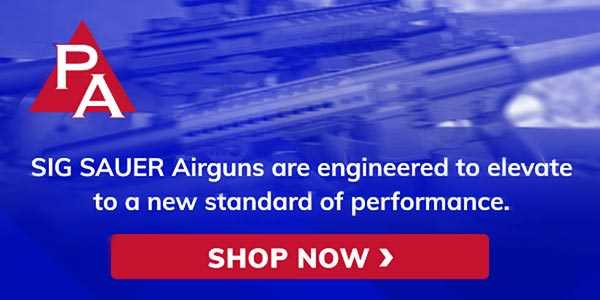 By Dennis Adler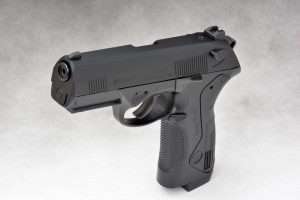 Not every air pistol is a copy of a cartridge-firing handgun, but blowback action airguns have assumed that role. They are by design intended to serve several purposes, only one of which is training (or remedial training) with a duplicate to a cartridge-firing handgun. Another is simply to learn safe gun handling without the expense of purchasing a cartridge-firing handgun, which many airgun owners never do. And last, and perhaps most import, they are simply a lot of fun to shoot because they do more than just send a BB or pellet downrange. Part of the attraction to blowback action airguns is their greater sense of realism and for many airgun enthusiasts that is the "E-Ticket" ride, to coin an old expression. The Umarex Beretta PX4 Storm is a perfect example.
Storm Conditions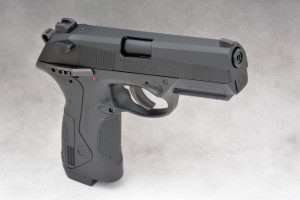 This airgun is a near "physical" match for the 4-inch barrel length Beretta PX4 Storm. The polymer framed cartridge-firing models were first introduced in 2005 as an alternative to the heavier Beretta Model 92FS (the foundation for the M9 version which is the standard issue U.S. military sidearm). The 92FS and its variations are also used by law enforcement, and the PX4 Storm was developed to provide a lighter weight and more modern carry option. The Umarex PX4 Storm pellet gun followed a few years later. Paramount among its features is a blowback action (being one of the firsts for a 4.5mm pellet gun). You can rack the slide to practice chambering the first round (in actuality you are only cycling the internal rotary magazine), and to cock the hammer. The authentically shaped magazine release button drops the 8+8 round reversible pellet/BB magazine with ease, and the gun can be fired double or single action.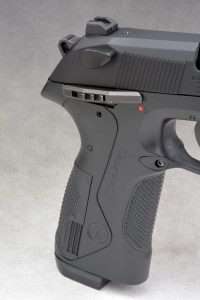 The greater value to a pellet gun like the PX4 Storm is in simply learning how to safely handle a handgun, and therein lies the greatest value to this air pistol. Yes, you can use it to learn handling a real PX4 Storm because it so closely matches its operation and feel, but the greater value is in learning safe gun handling and proper shooting skills. A pellet gun with a rifled barrel also gives you an edge for honing accuracy that most smoothbore air pistols cannot. The PX4 Storm uses reversible 8+8 rotary magazines than can also hold BBs, making the PX4 Storm a rare commodity for a semi-auto BB firing air pistol; it has a rifled barrel.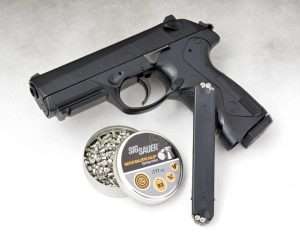 Aiming Downrange
While the majority of pellets are lead, there are alternatives if you are looking for a lead-free option, and the very best I have found is Sig Sauer pellets Sig Sauer's 5.25 gr. Match Ballistic Alloy wadcutter pellets. These lighter weight lead-free cast alloy pellets have proven to be highly accurate and attain slightly higher velocities (average velocity for the PX4 Storm is 380 fps). Although they are a bit pricey I have been pleased with the test results, and for what it's worth, shooting lead-free pellets when outdoors.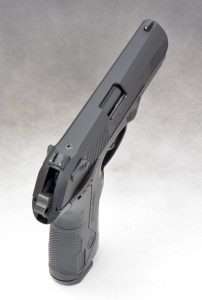 The PX4 Storm has a lot of good features including a grip frame with the same design backstrap and frontstrap texturing as cartridge-firing models. The magazine release is the exact same size and operates with the same approximate level of resistance. The white dot sights are easy to acquire and the gun's balance in the hand, with a substantial weight of 26 ounces, is very close to the 9mm PX4's weight of 27.5 ounces. The airgun's measurements are also nearly identical with an overall length of 7.25 inches, height of 5.75 inches (base of magazine to top of sights) and width of 1.062 inches (frame and slide).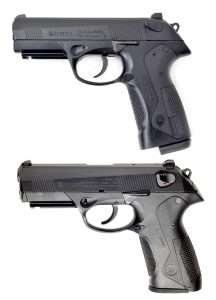 On the negative side, the airgun's rear sights are molded in so there is no windage adjustment possible, the safeties and slide release are non-functional, and thus the slide does not lock back after the last shot. The rest of the airgun's design is remarkably well done, and average trigger pull measured 8 pounds 10 ounces double action and light 4 pounds, 12 ounces single action. Shooting the first shot double action requires the trigger pull to also cock the hammer, so you feel moderate stacking as you pull through. On single action, there is a lighter sensation of stacking as the trigger moves back, and this occurs about midway through, after which there is very light resistance and a crisp break. This remains constant after the first round. There is also a little more kick in the PX4's recoil. It is a big, hand filling gun.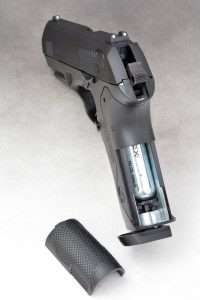 The CO2 loads into the pistol grip frame by removing the lower backstrap panel. What appears to be the magazine's floor plate is a locking mechanism for seating the CO2. Rotate it clockwise three-quarters of a turn before inserting the CO2. Manually turn up the base screw until the CO2 cartridge sits firmly in the chamber and turn the locking mechanism three-quarters of a turn counter-clockwise to pierce the CO2.
The reversible 8+8 round rotary magazine is plastic construction and each end loads 8 pellets or steel BBs. If you are wondering how an opening designed to seat a pellet can also hold a steel BB, it can't. So the magazine frame has small magnets built into each end that generate enough gravity to hold the steel BBs inside the rotary mechanism! The magazine is a drop free design but requires being pushed up into the grip frame opening in order to lock it in place when loading.
While this is a blowback action semi-auto, internally, the rotary magazine operates like the cylinder on a revolver, thus the blowback action is also rotating the magazine on each shot. On average you get to reload (16 shots) three times before your CO2 is exhausted. There is a notable drop in performance toward the end but the tip off is that the slide does not have enough energy to re-cock the hammer. The CO2 has a very big job running the PX4 Storm.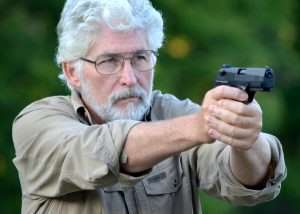 Since this is first and foremost a pellet gun, the target was set out at a distance of 10 meters (33 feet) and the pistol was fired offhand using a two-handed hold. Law Enforcement Targets cardboard IPSC competition targets were used for the test and all shots hit in the A zone. The gun did have a tendency to shoot left, and I have the same tendency, so double that, but by correcting my aim, since the rear sight is not adjustable, I was able to get my groups into the center of the A Zone and after three CO2 cartridges and 192 Sig Sauer alloy wadcutters downrange, my best targets showed an average spread for 16 shots of 2.0 inches, with a best 5 shots at 1.12 inches.
Overall, this is a solidly built pistol with a long but consistent trigger pull, excellent sights, and the accuracy to make shooting the PX4 Storm another Airgun Experience.
A word about safety
Blowback action airguns provide the look, feel and operation of their cartridge-firing counterparts and this is one reason why they have become so popular. Airguns in general all look like guns, blowback action models more so, and it is important to remember that the vast majority of people can't tell an airgun from a cartridge gun. Never brandish an airgun in public. Always, and I can never stress this enough, always treat an airgun as you would a cartridge gun. The same manual of operation and safety should always apply.