Umarex Colt Commander Model 1911
The training experience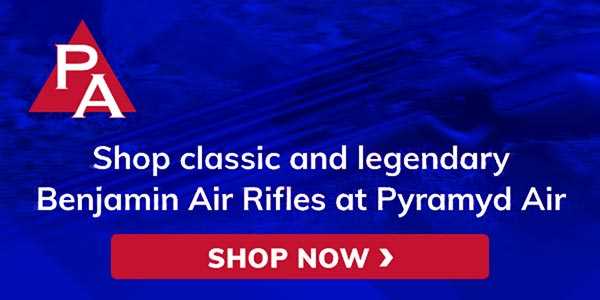 Part 2
by Dennis Adler
In a blowback design air pistol, the CO2 capsule performs two functions, first propelling a BB down range at an average velocity of 325 fps (feet per second) and second, operating the recoil of the slide to re-cock the hammer and chamber the next BB. The pistol's all-metal construction (including the magazine) provides a hefty feel in the hand (34 oz. loaded) approximating a real Colt Model 1911.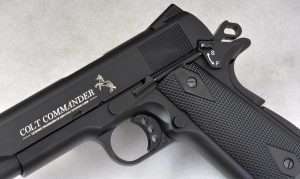 The Colt Commander features a modern skeletonized trigger and Commander-style hammer, fixed front and rear white dot tactical sights, checkered raised mainspring housing, black diamond checkered hard plastic grips, fully operating beavertail safety, thumb safety, and slide release. It also has a military-style tether ring at the bottom of the backstrap. Every aspect of handing the 1911 airgun is a training experience.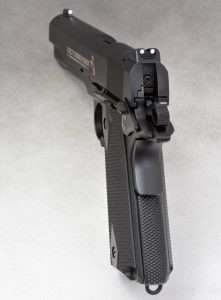 Downrange Air
Drawing the Umarex Colt from a Galco Combat Master belt holster I went through the entire procedure from loading the magazine, working the slide, setting the safety, holstering, drawing, releasing the safety, acquiring the target and firing. I also practiced magazine changes. Doing these practice regimens will help anyone become familiarized with the proper handing and operation of a Model 1911.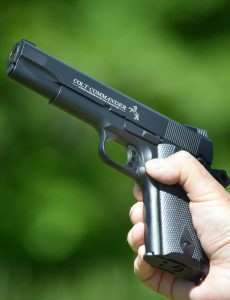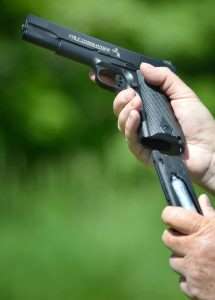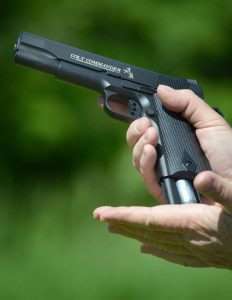 With a target placed out at 21 feet the accuracy of the Colt Commander was consistent throughout five complete reloads (90 shots). The best average 10-shot group measured 1.875 inches. While trigger pull is light and recoil non existent, this is still good training practice because the blowback action slide is in motion and you still have the experience of reacquiring the sights after the slide closes.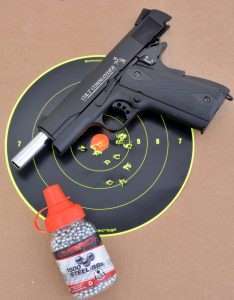 Training is essential for concealed carry and if a Colt Model 1911 is your personal preference for a concealment sidearm, having one of these highly accurate Umarex blowback action 1911 air pistols for practice drills would be an excellent low-cost option for all 1911 training regimens short of live ammo target practice.
Editor's Note:
Given the attention to details that go into blowback action 1911 air pistols they should be treated with the same respect as any cartridge firing 1911 handgun with concerns to their carry, use, and public display. Even from a modest distance, these adult airguns are difficult to distinguish from their cartridge-firing counterparts.