Umarex Colt Special Combat Classic Part 1 Part 2
An airgun with dual personalities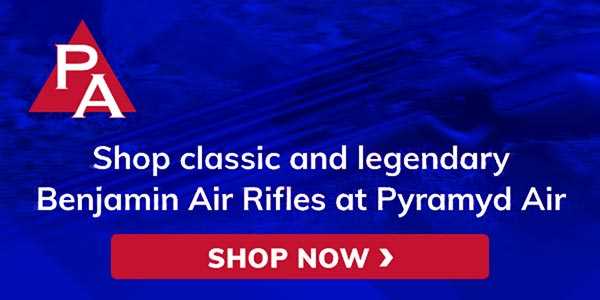 By Dennis Adler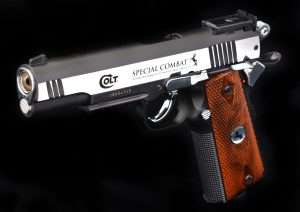 What would happen if Colt and Para USA got together and designed a Model 1911? It would certainly look like a custom-built gun, and if Para's designers had their way it would have their famous LDA (Light Double Action) trigger, something Colt has never adapted to their 1911 semi-auto designs…until now. However, the only way to experience a Colt branded Model 1911 with a DA/SA trigger system is to try it in .177 caliber with the Umarex Colt Special Combat Classic.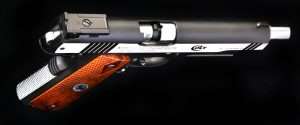 The question is why would you want an unconventional trigger system on a traditional Model 1911? Para USA (Para Ordnance) considered that question some years ago when they began developing two uncommon .45 ACP and 9mm variations of the Model 1911, their now famous alloy framed Executive Carry, a model with a full length grip frame combined with a subcompact 3-inch barrel and slide. Designed to provide maximum capacity with ideal shoulder holster concealed carry subcompact slide dimensions, it filled a unique niche in the personal defense pistol category. The LDA followed suit with its DA/SA trigger system giving 1911 enthusiasts the best of both worlds, a conventional 1911 design with a more modern double action, single action trigger. This concept has been used in the Umarex Colt Special Combat Classic CO2 model, an airgun with a unique mixture of features, many of which have been on the most wanted list by airgun enthusiasts.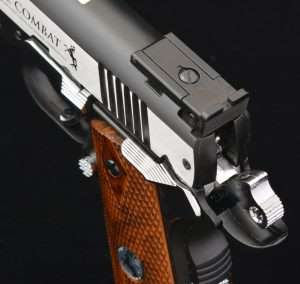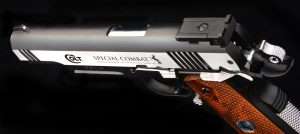 Compromise: what you get and do not get
 A compromise is a solution where no one gets everything they want, but they get part of they want and no one goes away totally unsatisfied. The Special Combat Classic is a very good compromise. What you get is the much demanded LPA-type adjustable rear competition sight combined with an easily acquired white dot front blade sight; a high polished slide with the Colt Logo and Rampant Colt emblem, a handsome flat black alloy frame with an integral MIL-STD 1913 Picatinny rail, finely checkered front strap and flat mainspring housing, along with a raised palmswell beavertail grip safety…and then the music stops.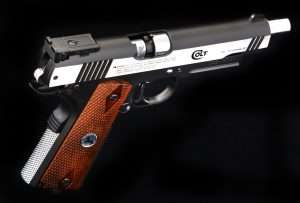 In designing this version with the DA/SA trigger system, the Special Combat Classic does not use the grip safety. It is there but only in the capacity of providing a better hold on the gun, the mechanism is locked, leaving only the left side thumb safety. This is not a terrible thing when you have the capability to carry the gun with the hammer down and fire the first shot double action (like a Beretta Model 92 FS for example). The thumb safety on the Special Combat Classic also engages and disengages with the hammer down or cocked, another interesting twist (which Colt used on the .380 Mustang design). The 5.04 inch .177 caliber smoothbore barrel is encased in a full-length .45 ACP chrome plated injection molded barrel. Chromed injection molded parts are also used for the trigger, hammer, mainspring housing, magazine and slide release levers, and thumb safety. The design also takes a page from the Sig Sauer Max Michel and Spartan 1911 design book; the Special Combat Classic has a fixed barrel bushing and recoil spring plug, and does not disassemble like a 1911.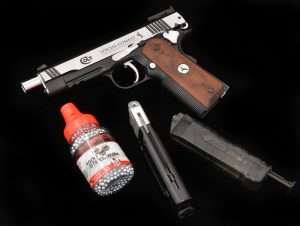 For looks, the Special Combat Classic leaps ahead of the Umarex Colt Commander with its polished slide, contrasting front and rear slide serrations, nicely executed wood grained (injection molded) diamond pattern grips with Colt medallions, LPA-type fully adjustable target sights, and then disappoints with its awkward self-contained 19-shot CO2 BB magazine that uses an old-style exposed external seating key, and a slide that locks back (manually) but no blowback action. Angels and ministers of grace defend us.
If you can get past the exposed seating key, and the fact that it should be a blowback action pistol but isn't, this is one very smart looking 1911 airgun. The controls are light and easy to operate, much easier than an actual Model 1911, but since this is a non-standard design its use as a 1911 training gun is marginalized. As a CO2 model, though, it excels in weight and balance in the hand, sighting capability, ease of loading with a self-contained CO2 BB magazine, a factory rated velocity of 400 fps (since none of the CO2 is diverted to operate the slide), and the Para 1911-type LDA trigger design. As 1911 airguns go, this one is a looker and it fits 1911 Rail Gun holsters.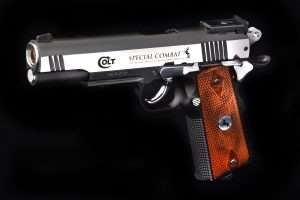 The overall size (8.58 inches from muzzle to beavertail grip safety) and weight (33 ounces empty) puts the Special Combat Classic air pistol right in the ballpark for an alloy frame 1911 model combined with the LPA-type adjustable rear sights and an accessory rail. It is comparable in overall dimensions to a Colt Gold Cup Series .45 ACP model or 1911 Rail Gun, and in weight to a Colt Lightweight Commander. With the LDA trigger, it is quite a mix of features, most of which make this a very intriguing compromise!
In Part 2 we spec out the Umarex Colt Special Combat Classic and put it to the test against the ultimate competitor, the Umarex Colt Commander!
A Word About Safety
Colt 1911 CO2 models provide the look, feel and basic operation of their cartridge-firing counterparts. All airguns, in general, look like guns, but those based on real cartridge-firing models like the 1911 even more so. It is important to remember that the vast majority of people can't tell an airgun from a cartridge gun. Never brandish an airgun in public. Always, and I can never stress this enough, always treat an airgun as you would a cartridge gun. The same manual of operation and safety should always apply.