Umarex G19X vs. Sig Sauer M17 Part 2
Recapping the Sig Sauer M17 ASP
By Dennis Adler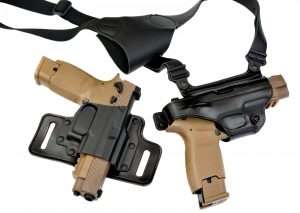 Last year, this was the blowback action air pistol that got all the top nods for its innovative design and use of the first ever self-contained CO2 pellet magazine. As Replica Air Pistol of the Year, the Sig Sauer M17 ASP was almost a given, even though it still had some non-functional features and a slide that cannot be locked open. The self-contained CO2 pellet magazine gave the Sig a lot of leverage against the competition which were all blowback action BB models. With its few minor failings the M17 remained an impressive pistol throughout all of the various tests it was subjected to in 2018.
Initial tests returned an average velocity with Sig Sauer Match Ballistic Alloy wadcutters (tested in two different guns and with three different magazines) of 358 fps for 20 shots with the 5.25 gr. alloy Sig pellets. The ProChrono clocked a low of 335 fps and a high of 385 fps. The M17 consistently delivered 350 plus fps shots with the Sig's lightweight Match Ballistic alloy wadcutters.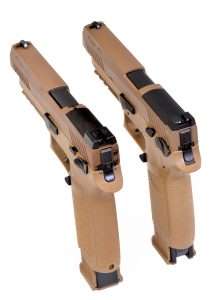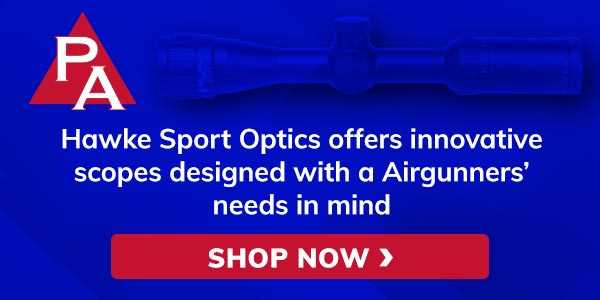 Switching to H&N Sport's 5.25 gr. alloy wadcutters, the M17 delivered a high velocity of 372 fps, a low of 352 fps, and average velocity of 358 fps for 20 consecutive shots. A third velocity test was shot with RWS Meisterkugeln lead wadcutters, which were a surprise because the heavier 7.0 gr. lead wadcutters delivered a high of 369 fps, a low 329 fps, an average velocity of 345 fps; only 13 fps slower than alloy wadcutters. That is a fairly high velocity with lead wadcutters considering the CO2 is also imparting fairly brisk felt slide recoil.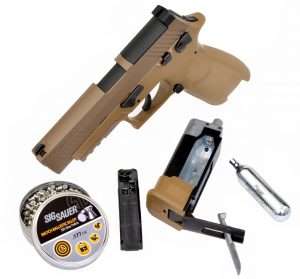 Accuracy not overwhelming
I tested the gun at 10 meters with RWS Meisterkugeln 7.0 gr. lead wadcutters fired in 10 shot sets at a National 10 Meter Pistol Target. My best 10-round group fired from a Weaver stance with a two-handed hold at 1-second intervals measured 1.875 inches with a best 5-shot group at 0.68 inches. The final test was at 10 meters with H&N Sport alloy wadcutters and a POA dead center on the bullseye. My 10 shot spread measured 1.43 inches with a best five rounds at 1.0 inches. As a bullseye shooter, the M17 didn't deliver, but for punching inch-sized groups at 10 meters with a fixed sight service pistol, it was none to shabby, either.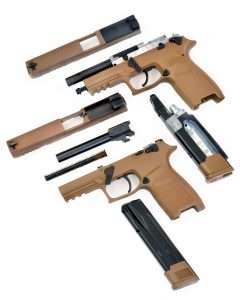 With the M17 now being the U.S. Army standard issue sidearm, the CO2 model is sitting in the catbird seat as a choice for anyone who wants a CO2 training gun that matches the current U.S. military pistol. However, unlike the striker-fired 9mm model, the CO2 version uses an internal hammer, and DAO trigger pull averages 6 pounds, 6 ounces with 1.0 inch of take up. The trigger feel is very close to the centerfire pistol's and one reason this has become an accurate understudy for the Army and civilian M17 Sig. Learning how to get the best out of the CO2 model will help get the best out of the centerfire gun when it comes to sighting and trigger control.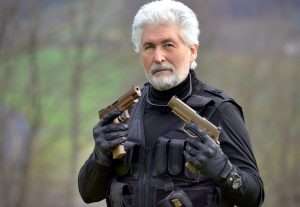 Sizing up
The M17 and M17 ASP is a big pistol. The 9mm M17 has an overall length of 8.0 inches, barrel length of 4.7 inches, and carry weight (with empty extended capacity magazine), of 29.6 ounces (1.85 pounds). The M17 ASP has an overall length of 8.0 inches, internal rifled barrel length of 4.68 inches, and a carry weight (with empty magazine) of 34.0 ounces (2.1 pounds). The much heavier CO2 pellet magazine adds most of the extra 4.4 ounces to the air pistols carry weight. The centerfire and CO2 models have the same approximate height (with extended capacity magazine) and exact width. Given the excellent blowback action on the CO2 model, which delivers a palpable sense of recoil, and a sound level, which I rate at medium loud, the CO2 is giving everything it's got to run this gun and get the shots downrange.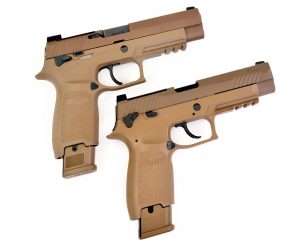 The M17 ASP's unique 2-piece CO2 pellet magazine is a minor stumbling block since it will not fit a traditional P320 or M17 mag pouch. But that is a minor issue and there will eventually be some workarounds for mag pouches. The gun itself fits established holsters for the P320/M17 and the magazines do fit in most UTG tactical vests.
To "tell" the truth
For practical purposes, there are several tells that indicate to the trained eye that the M17 ASP is not a centerfire Sig. There is the obvious absence of an ejector and extractor, the latter of which is to the right of the black cover on the striker-fired models. This is actually the back of the extractor itself which fits through the rear of the slide. There is also a difference in the contour of the barrel lug as it fits in the slide's ejection port, and the data matrix symbol and serial number imbedded in the right side of the frame, forward of the safety and right side slide release, are absent, and that is a big tell. Last, are the caliber markings on the left side which are as unobtrusive as possible being stamped into the polymer frame to blend into the tan finish. Same on the right side of the frame for the manufacturer's warning and maker's mark (Made in Japan). For training purposes none of this makes any difference as the gun feels real, handles like the 9mm (except for recoil), has functioning ambidextrous thumb safeties, and for general field stripping practice, initial take down is like the centerfire gun.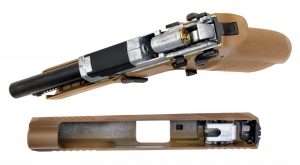 With its fixed white dot sights the M17 is not a target pistol, but Sig Sauer isn't done with the M17 ASP just yet. Early in 2020 the long awaited M17 optics (red dot) sight and optics base (sold as one) will be available to replace the rear sight base on the current M17 CO2 models. This will be an accuracy game changer and the CO2 models will match up to specialized M17 models with reflex sights. So, something to look forward to there! While not the best 10 meter CO2 blowback action semi-auto pellet pistol I have shot, the Sig Sauer M17 ASP has been very consistent overall with anything you feed it and shoot out to 10 meters/10 yards for training purposes.
The need for training guns as Sig Sauer's SIG AIR Division sees it is paramount and the M17 is an affordable alternative to the centerfire model for learning basic handling skills, just as are so many other current blowback action models based on service pistols. So what gives the M17 an advantage? It's the pellets vs. BBs. Sig takes its training gun philosophy to the next level that way. Previously, the only way to get all of these features in CO2 with blowback action guns was with smoothbore BB models. The M17 offers an alternative to practical, affordable training (however, not force on force training done with Airsoft models); but rather live fire with a rifled barrel pistol firing pellets at actual defensive pistol distances out to 10 yards and as far as 15 yards. This gave the M17 ASP a clear advantage over smoothbore BBs models until Umarex and Glock unveiled the Third Gen Glock 17 and G19X. These new blowback action BB models can send .177 caliber steel rounds 10 yards downrange with the same degree of accuracy as the M17 pellet model. This puts Glock's CO2 models in yet another interesting position opposite Sig Sauer.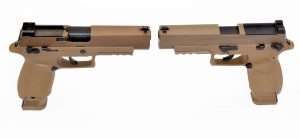 As we begin to wrap this up, the head-to-head test for velocity, handling, reloading, and accuracy at 10 yards, will be what tells the story of Glock's place in this class of 1:1 training guns, regardless of whether the gun shoot pellets or BBs.
A word about safety
Blowback action airguns provide the look, feel and operation of their cartridge-firing counterparts and this is one reason why they have become so popular. Airguns in general all look like guns, blowback action models more so, and it is important to remember that the vast majority of people can't tell an airgun from a cartridge gun. Never brandish an airgun in public. Always, and I can never stress this enough, always treat an airgun as you would a cartridge gun. The same manual of operation and safety should always apply.