Umarex Glock 19X Part 4
A good gun for training
By Dennis Adler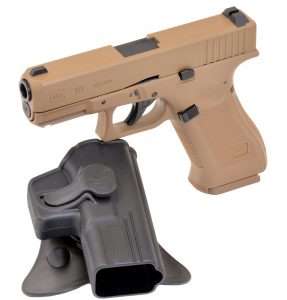 It is time for comparisons with every other Glock CO2 model to end. The G19X can stand on its own. Yes, it is not the perfect Glock Perfection we got with the Gen4 G17, but is it newer, more powerful, as accurate, if not more so, and it has the latest military finish, coyote tan, which beats any previous Glock for appearances. Let's face it, a Glock is not a pretty gun, and I use "pretty" as a reference to guns that have a sense of artistic styling beyond the needs of function alone. The new rounded slide contours and beveled muzzle on the G19X give the Glock brand something it has always lacked, a touch of character. Or perhaps that is antitype for Glock's history of building handguns that, as so many writers had said over the last 37 years, looks like the box it came in. A Glock is a sturdy, form follows function tool, (and centerfire Glocks are damned near indestructible), so the company left providing character to the aftermarket, which has done an impressive, if not often overly flamboyant job of making the guns look like anything but a Glock. The Gen5 revisions and coyote tan finish are Glock's first move in that direction. The Umarex Glock 19X gives us a taste for that change. Regardless of its shortcomings, it is a good shooter, a 1:1 match for its centerfire counterpart (except for that pesky non-functioning right hand slide release; sorry left-handed shooters), and it more than meets the standard for a training surrogate.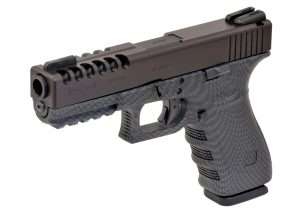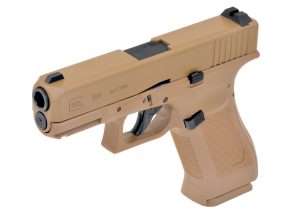 For this series of tests I drew the G19X from an ASG Strike Systems Tactical gear holster and fired 10 shots at 1-second intervals. My POA was center, 2-inches below the red bullseye and my total group spread measured 0.875 inches with multiple overlapping hits and a best 5-shot group at 0.68 inches. From this point forward I am doing training drills at 7 yards and 10 yards using a Law Enforcement Targets IPSC silhouette. This series will include drawing and firing double taps, kneeling, barricade shots one handed, strong side and off side, shooting from floor level on side, aimed shots at 10 yards and moving toward target. Every set will begin with the gun holstered. This will be my proof of the Umarex Glock 19X as an acceptable training gun, depending upon the accuracy it achieves. Total rounds will be 18.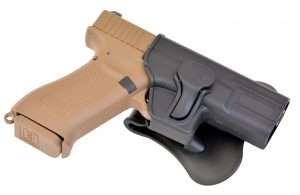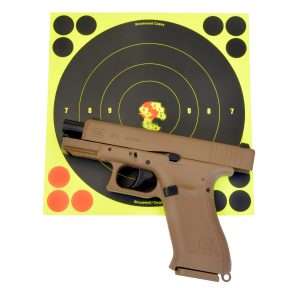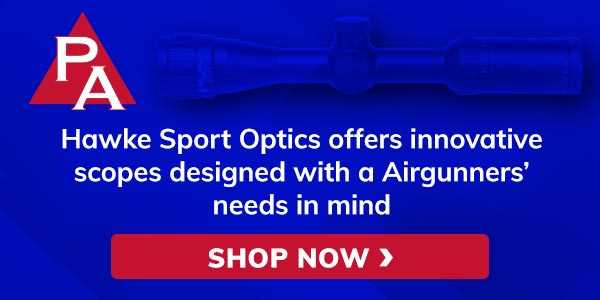 All rounds hit inside the A-Zone and the spread for 18 shots at distances varying from 21 feet to 10 yards measured 4.1 inches. The final target was 10 shots from 10 yards fired off hand at a Shoot-N-C. It was another amazing ring around the bullseye that put 10 hits at 1.31 inches circling the red with a best 5-round group at 1.0 inches. Not a great target but with a blowback action BB pistol at 30 feet, good enough for a start.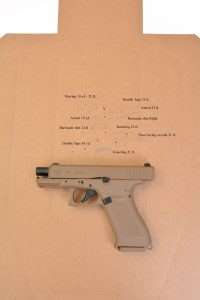 As a practice gun, the Umarex Glock 19X is as good as the Third Gen Glock 17 and for velocity and accuracy at close quarter battle ranges, fair game for pellet firing semi-autos like the Sig Sauer M17 at the same distances. It may not field strip, and the right hand slide release may be a disappointment, but beyond that, this gun does not disappoint. For $99.99 the Umarex Glock 19X delivers on every penny's worth.
A word about safety
Blowback action airguns provide the look, feel and operation of their cartridge-firing counterparts and this is one reason why they have become so popular. Airguns in general all look like guns, blowback action models more so, and it is important to remember that the vast majority of people can't tell an airgun from a cartridge gun. Never brandish an airgun in public. Always, and I can never stress this enough, always treat an airgun as you would a cartridge gun. The same manual of operation and safety should always apply.