The long awaited HK .177 caliber blowback action model
By Dennis Adler
Having established the DA and SA trigger pull to be within an ounce of the average trigger pull on the centerfire HK USP standard DA/SA models, it is time to run a velocity check and see if the power needed to work that very impressive slide diminishes the average speed at which a .177 caliber steel BB travels downrange. I'll also be keeping a count of shots per CO2 cartridge. A gun that delivers performance on both ends of the scale has to give up something. Or does it?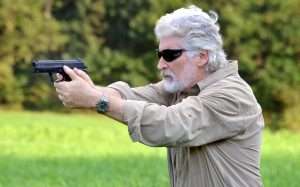 FPS with steel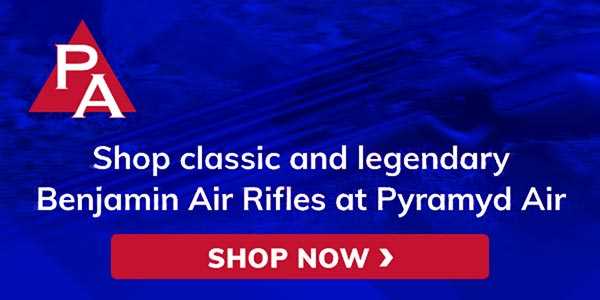 First, let's look at the HK USP magazine design. If it looks a little familiar, and you have an Umarex S&W M&P40, you're right, almost the same design but shaped to fit the HK, same heavy follower spring and yes, the same tiny follower legendary for torturing fingernails. The difference is rather than a loading port barely larger than a BB, the HK has a loading channel exposed when the follower is pulled all the way down. And like the M&P magazine, you have to hold the follower down the entire time you are loading. This is the best reason I know of to invest another $85.98 for two more ($42.99 each) HK USP CO2 BB magazines. I figure even with the cost of the air pistol, around $100, an extra pair of magazines, and either the HKparts red laser or Mil-Std. 1913 rail adapter (roughly another $30) you've just broken the $200 line (actually $215.98 less applicable taxes and shipping) for one of the best new CO2 blowback action pistols of the year.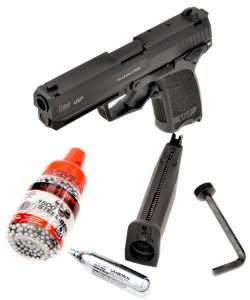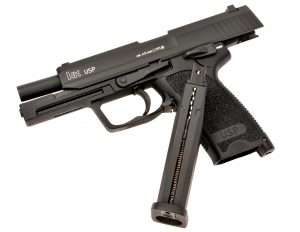 For the first velocity test the ammo is .177 caliber Umarex Precision steel BBs. These generally perform well in every blowback action pistol. A second test will be shot with Hornady Black Diamond, and a third to see what the gun can deliver in maximum velocity with Air Venturi's lightweight, frangible Dust Devils. This has sort of become the BB version of comparing lead to alloy pellets for velocity and accuracy. The Umarex steel BBs clocked an average velocity of 328 fps with a high of 333 fps, a low of 323 fps and a standard deviation of 3 fps for 10 shots. Factory rated velocity for the USP is 325 fps.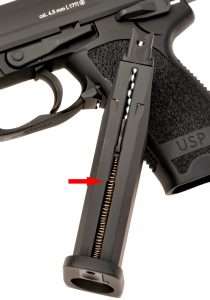 Hornady Black Diamond cleared the ProChrono screens at and average velocity of 336 fps, a high of 338 fps, a low of 331 fps, with a SD of 2 fps, and doing better overall than the Umarex. Pushing the composite Dust Devils down the HK's smoothbore barrel delivered a impressive high of 360 fps, a low of 351 fps and an average velocity of 353 fps but unfortunately they jam in the magazine so at this point using Dust Devils with the HK is questionable until I have spare magazines for a comparison shoot with the lighter weight composite BBs. Overall, all three brands of BBs were accurate and I exhausred one 12 gr. CO2 cartridge in 70 shots. I only began to feel a difference in the gun's performance with the last eight to 10 rounds, so the HK squeezes as much out of a CO2 cartridge as possible while maintaining higher than factory spec velocities and still delivering greater felt recoil than most blowback action CO2 pistols. So far, it is a win-win for the HK USP.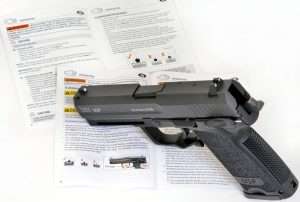 Shots downrange
The HK shoots low and even Umarex knows this by instructing shooters to aim at the middle of the target (essentially put the red bullseye on top of the sights) rather than a traditional 6 o'clock hold below the center. This works well enough and I have compensated for fixed sights this way countless times. At least Umarex and HK have an established POA for the gun. Most instruction books (see the illustration above) show a traditional sighting picture whether the gun shoots there or not. HK wanted the instruction book to reflect how this air pistol actually shoots. When I ran the chronograph tests I shot at 21 feet and my average groups were around 1 to 1.5 inches.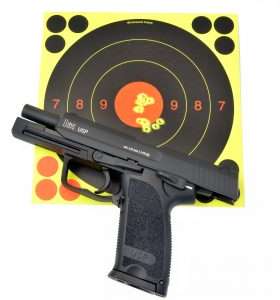 All target tests were shot at 21 feet using a Weaver stance and two-handed hold with a best 10-shot group using Umarex steel BBs measuring 1.375 inches (shot in two 5-shot groups) with the best 5-shots at 0.56 inches in the large bullseye. The Hornady Black Diamond black anodized BBs punched 10 into 1.625 inches thanks to a very tight, overlapping pair of flyers (mastery of over compensation!) that blew out an otherwise very good 10-shot group that would have measured 1.25 inches. I still ended up with a very tight 5-shot cluster in the red measuring 0.65 inches.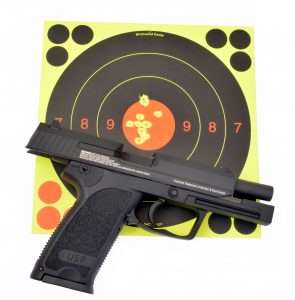 Conclusions
The Umarex Heckler & Koch USP in this combat configuration with fixed sights is not a target pistol, but handles very much like the 9mm model it is based upon, with more tactile feel, shooting response, including a medium-loud report, than the vast majority of blowback action CO2 models. I like this air pistol for everything it brings to the table. It has no detracting features other than consistently shooting low, which the average person can quickly learn to compensate for. My one disappointment is that the dovetailed sights are not drift adjustable and cannot be replaced. In the overall scheme of training guns not that big of a deal, as other comparable CO2 models also have fixed sights. I like a gun with a hammer, a decocker, a DA/SA trigger, a large easy to use thumb safety, elongated (i.e. easier to activate) slide release, an easy to operate magazine release (all the better if it is ambidextrous), a large triggerguard, and white dot sights. The centerfire HK USP in 9mm (.40 S&W or .45 ACP), and the Umarex HK USP in .177 caliber checks all the boxes! Right now this is one of the top three new CO2 blowback models of the year, and running in a dead heat with the Sig Sauer WE THE PEOPLE 1911, CZ-75 SP-01 Shadow (and Shadow Blue) for .177 caliber models. How can you go wrong?
The Airgun Experience will be back on October 2nd with a look at HK USP options.