Accessorizing the Umarex HK USP
Mounts, lights, lasers and holsters
By Dennis Adler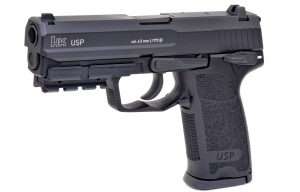 The Heckler & Koch USP was a dedicated military design and it left its mark on the world of military arms both in the U.S. and throughout Europe. Even after a quarter of a century the USP is still in use by military units, law enforcement, within the private sector and by civilians for its effective design, ease of handling, choices in caliber and options. While many of the military accessories developed for the USP are outdated today, the ability of the pistol to be modified for almost any type of light or laser, either a dedicated USP mounting or Mil.-Std. 1913 Picatinny dustcover rail mount, makes it as versatile as any 21st century pistol design. Otherwise there is nothing old or outdated in the USP's operation; hammer-fired DA/SA semi-autos remain a top choice among all handgun options. The CO2 model is true to the original USP in every important detail and particularly when it comes to holsters, lights and laser assisted sighting.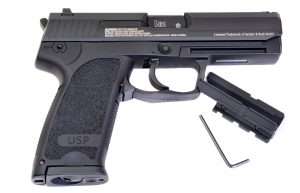 From dedicated USP mount to Picatinny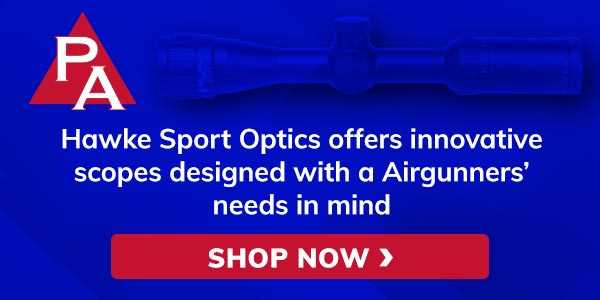 As many airgun owners already have Mil.-Std. 1913 Picatinny rail mount lights and lasers, the USP poses an interesting problem. Most USP to Mil.-Std. rail adapters cost nearly half as much as the air pistol. However, the need to mount lights and lasers other than those made for the USP (again almost all more expensive than the CO2 model) has never been an issue because HK developed rail adapters. Modern manufacturing techniques have brought the cost of some of those adapters down to very affordable levels. While there are currently no accessories available on Pyramyd Air for the new Umarex HK USP CO2 model, since it is a 100 percent duplicate of the centerfire pistols, lower-priced USP mounts and accessories are readily available through HKparts.net which has all of the USP accessories manufactured for the civilian market.
Let's begin with the Mil.-Std. 1913 Picatinny rail adapter. This piece is a high quality aluminum rail adapter that has a sliding USP mount that is locked by two heavy-duty hex-head screws. It fits into the integral Universal HK rail and keeps the profile of the Mil.-Std. 1913 Picatinny very close to the average depth of an integral dustcover rail mount. The HK adapter sells for $27.95.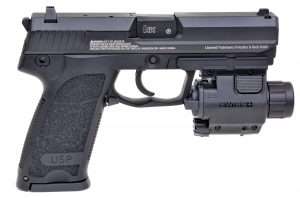 Next up to accessorize the HK is a light laser or laser sighting system. With the accessory rail mounted any light or laser will fit but some are better suited to the HK design. Interestingly one of the larger combination units, the Swiss Arms Compact Flashlight & Laser from Pyramyd Air is remarkably close in size and shape to the original style Insight Technology UTL spotlight developed for the USP in the 1990s, only it offers the advantage of a 90 lumen Xenon lamp plus red laser in-unit with the tactical light. This is a very affordable (around $50) light laser combo that fits perfectly on the HK rail adapter and uses a pushbutton ON/OFF switch with three operating modes; quite a bit more advanced than the original UTL Spotlight design.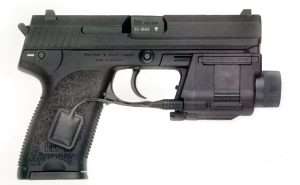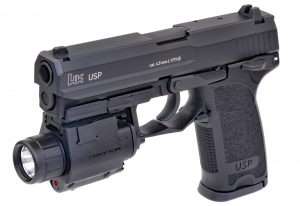 Last is a dedicated red laser made for the USP's Universal Rail and again this comes from HKparts, which offers a low profile red tactical laser made specifically for the USP by NcStar. Built for the centerfire models it is certainly tough enough for a .177 caliber model yet has a retail of just $29.95 putting it in the same price range as many lasers made for air pistols.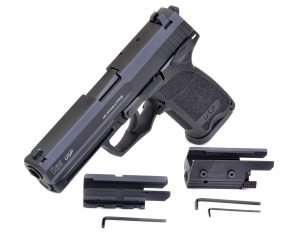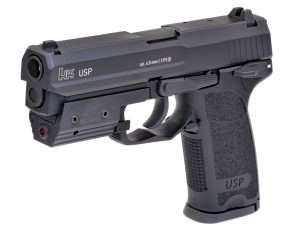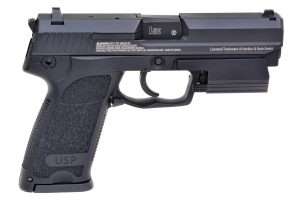 Holsters, magazines and magazine pouches
You might expect HK to offer some very nice holsters for the USP (and they do), but the most affordable, Level 1, injection-molded holster is an easy to wear paddle rig made by Sig Sauer's Sig-Tac brand. The same goes for the dual magazine pouch pictured which is another easy to wear Sig-Tac paddle design for full-size HK USP magazines.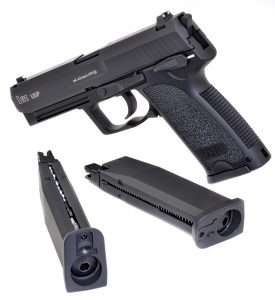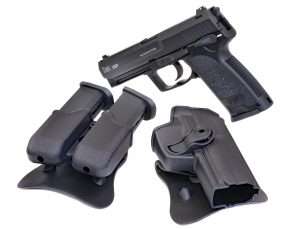 Both are available through HKparts and priced at $29.95 and $19.95, respectively. I usually prefer paddle holsters (when available for a specific model) over belt holsters as they are easier to work with, provide easy on and off mounting and positioning around the waist. The holster and dual magazine pouch are also cant adjustable for user preferences and carry position. And of course, you need extra magazines to fill those two injection molded pouches, and Umarex has made them available concurrently with the air pistol, which is another big plus for the HK model as an ideal training gun.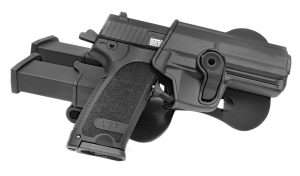 While I have made my bed, so to speak, by selecting the Umarex Beretta 92A1 as my "if I could only have one blowback action air pistol" choice, I made that decision before the Umarex HK USP model was available for testing. I still have to defer to the Umarex Beretta 92A1 because it has select-fire, a definite advantage over any other model in its class [1] but, if select-fire isn't a "must have" feature, then the new HK USP is categorically number one with a bullet! Well, make that a BB.
In the Part 5 conclusion we put everything into practice.
[1] The Crosman PFAM9B is also a select-fire version of a Beretta Model 92.