Umarex Legends "Ace in the Hole" Part 3 Part 2 Part 1
Shooting from the hip and aiming with the sights
By Dennis Adler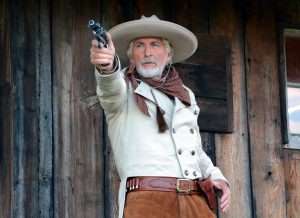 Today we call it instinct combat shooting, or point shooting, a close quarters technique where drawing and presenting the gun is abridged by the need to get off a quick and accurate shot in self defense. It is taught in shooting schools and law enforcement training, and it is one of the skills that that can effectively be practiced with air pistols. I recently completed an article for an upcoming issue of Guns of the Old West using several of the guns pictured in Part 2 of this article and shooting live ammo at 10 feet and 21 feet to hit a full-size silhouette target. With the .44 and .45 caliber cartridge guns I used a modified point shooting technique necessary since two of the guns didn't even have front sights. Using a cross draw holster similar to the one pictured with the "Ace in the Hole" at 10 feet I was able to hit the upper chest area of the target with all three guns using a technique similar to what is pictured in this article, although I did not fan cock the guns but rather thumb cocked them. This is harder to do with the "Ace in the Hole" due to its fanning hammer design.
In the Old West, most men drew at close range and shot in similar fashion thumb cocking the gun as they brought it up. Those few robust individuals skilled in fanning may even have been faster. Bat Masterson wore his 5-1/2 inch Peacemaker cross draw style but was also a big proponent of using the gun's sights. (Many who wore their pistol cross draw did so to give the gun better cover and prevent it being taken from behind, not to improve speed or accuracy). The "Ace in the Hole" presents certain advantages to practicing this drawing skill, particularly of you want to fan it. So my first test was a good old fashioned standup cross draw, fan cock and fire, shot at 10 feet from a full size silhouette target. This was followed by a series of aimed shots using the drop-in front blade sight.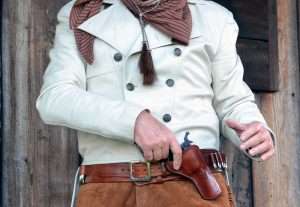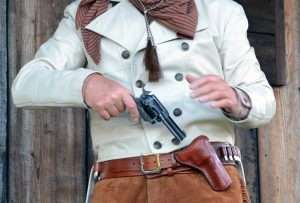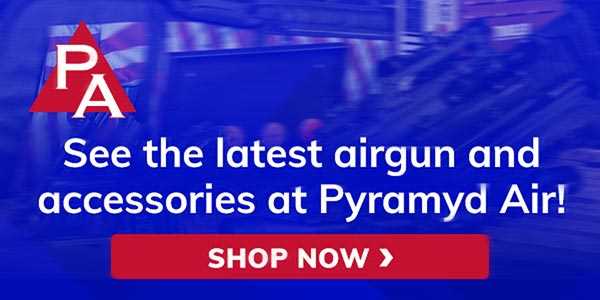 Handing and Accuracy
Trigger pull on the "Ace" is a very light 1 pound, 12.5 ounces average, with 0.125 inches of take up and 0.125 inches over travel. Unlike the other Peacemaker models the "Ace" has some discernible creep in the take up before the trigger delivers a crisp break. It does not affect accuracy or speed but it is something you can definitely feel in this trigger that you will not experience with the other Peacemaker models. Of course, if you are fanning the hammer, this is barely relevant. Average trigger pull on the 5-1/2 inch and 7-1/2 inch Umarex Peacemaker models is 2 pounds, 6.5 ounces, so trigger pull on the "Ace" is a significant 10 ounces lighter. You can also fan the regular Peacemaker, but not quite as smoothly and with the combination of the hammer and trigger the "Ace" is a much faster gun to shoot.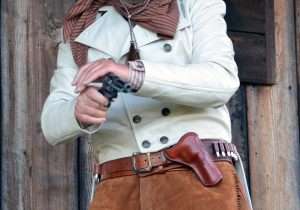 Even with its shorter 3-1/2 inch barrel (actually 3-1/4 inch internally) the "Ace" averaged 344 fps with 7.0 grain lead wadcutters, which is right up to spec with the manufacturer's velocity figures for this model, and around 40 fps slower than the 7-1/2 inch Peacemaker.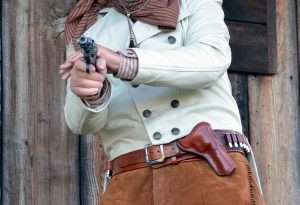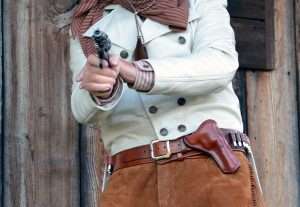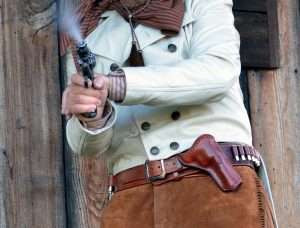 Shooting from 21 feet, aimed shots using a two-handed hold put six rounds at 1.0 inches grouped around the 8 at 12 o'clock. Using a one-handed hold my group opened up to 1.75 inches around the 9 at 11 o'clock. The balance of 12 shots on the target were all fired from a gunfight distance of 10 feet and are a combination of cross draw point shooting with most in the 10 ring, and six fanned shots from the side as shown in the drawing and firing photo sequence with a spread of 5-inches across the target's center mass including the 10 and X rings. Stepping back to 10 meters the Sheriff's Model barrel length doesn't quite measure up to the 5-1/2 and 7-1/2 inch pellet firing Peacemakers, but with aimed shots and a two-handed hold still managed to keep six rounds under 2-inches at 33 feet.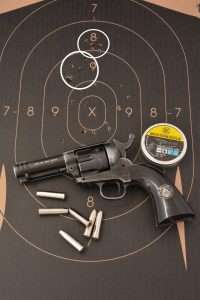 This is not a target pistol for sure, but if you consider the "fun" factor of fanning a Colt Single Action, this new Umarex rifled barrel Six-Shooter is definitely your "Ace in the Hole."
Next week the new Webley MKVI rifled barrel pellet-cartridge firing model goes to the firing line!