Umarex Steel Storm
Putting reality on hold to build the ultimate .177 cal. shooting experience!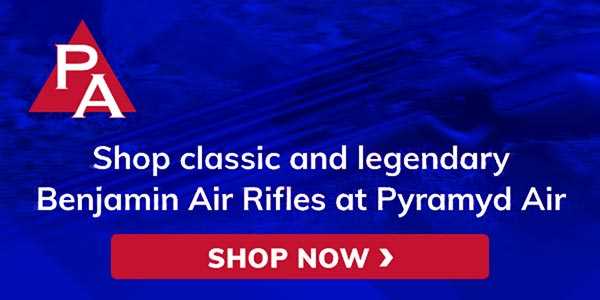 By Dennis Adler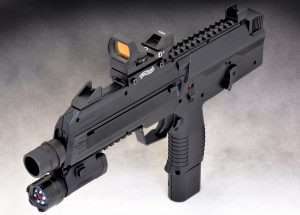 I am always writing about authenticity, the accuracy found in the small details of blowback action air pistols and double action revolvers. But sometimes you have to throw all that out the window. The best reason I have found in the last few years is a selective fire .177 caliber BB pistol made by Umarex with the unlikely name, Steel Storm. Sounds like the title for an action adventure film, and there is plenty of action when you pull the trigger on this CO2-powered machine pistol.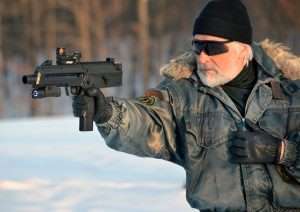 Selective Fire options
The option of semi-auto and full auto (or burst fire) has long been a component disallowed in the civilian firearms market (without special licensing and meeting ATF requirements). With BB guns exempt from NFA edicts, the same designs that require an ATF Form 4, local law enforcement signature, a background check and a $200 tax stamp are permissible. One can own a working .177 cal. selective fire pistol and usually for less than the $200 price of the tax stamp!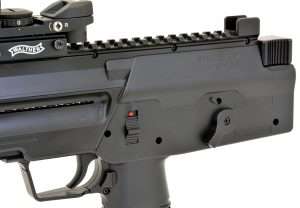 There are a several recent additions to the selective fire airgun inventory and nearly all are based on real (original) firearms that offered semi-auto and full auto operation, like the Umarex Model 712 Mauser Broomhandle and the Mini Uzi. In creating the Steel Storm Umarex actually didn't venture too far from reality, they just took several ideas and combined them.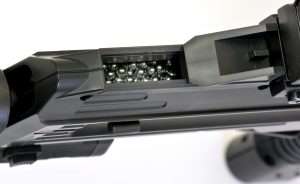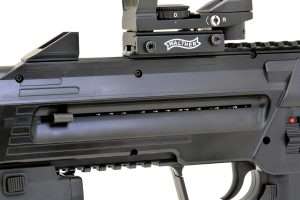 To design the Steel Storm Umarex has married the famous Uzi Pistol and Ingram MAC 10 to create a stylized selective fire model with some unique features of its own. The Steel Storm is aptly named, as it can produce a hail of steel with the touch of a switch. And not having to exactly duplicate someone else's designs, allowed a little freedom in the "what if I did it this way?" department. The Steel Storm takes many of the best aspects of the Ingram and Uzi, scales them up a little so you have a 300 round BB reservoir with a built-in magazine.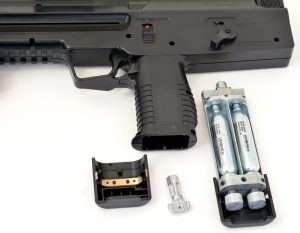 The air pistol is powered with not one but two 12 gram CO2 capsules contained in the pistol grip magazine that push .177 cal. BBs downrange at 430 fps (feet per second). Add integral top and bottom rails for optics and laser sights, and top it off with a 6-burst selective fire switch, and you have a gun that is nothing but fun to shoot.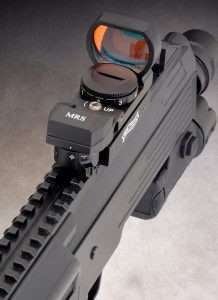 Umarex/Walther accessories are also ideally suited to optimize the Steel Storm's accuracy, particularly the Walther MRS (Multi-Reticle Sight) with four different holographic reticles, full windage and elevation adjustments and seven levels of illumination. This adds a bit more to the price of the gun. Add lights and lasers? One-stop here, too. The Walther FLR650 and UTG tactical light and laser are designed just for air pistols and air rifles. The LED light and laser sights fit Weaver and Picatinny rails with a spring tension mounting system that provides a bright, six-LED flashlight surrounding a red laser. A four-function switch allows fast changes between flashlight, laser, laser and flashlight, and off. This ups the total price once again, but for less than $200 you can have a fully outfitted, max-capacity, .177 cal. selective fire tactical air pistol with optics, lights and laser.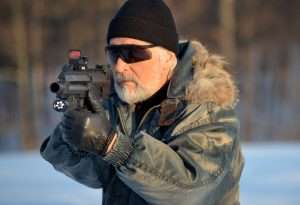 Blowing steel downrange
To load the Steel Storm you slide the front sight back to open the BB reservoir and you can pour in up to 300 .177 caliber steel BBs. To charge the internal magazine the guide spring on the left side of the frame is pulled forward and locked in place. Then tilt the airgun back and forth and BBs from the reservoir will fill the magazine channel. It will hold 30 rounds. You can reload from the reservoir 10 times and shoot out all 300 BBs on the two 12 gram CO2 cartridges loaded into the pistol grip.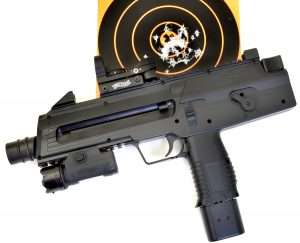 Running a series of range tests with 30 rounds and sighting at 21 feet with the MRS red dot, the Steel Storm dumped its charge into a circle measuring 1.75 inches and blew out one section of the bull's eye. With the selector set to 6-shot bursts, 30 rounds covered just over 2.1 inches. The Steel Storm is not only fun to shoot but quite accurate when equipped with optics. If you are stuck on authenticity, as I am, just think of the Steel Storm as the subgun offspring of a Mini Uzi and a Mac 10.
A word about safety
Blowback action airguns provide the look, feel and operation of their cartridge-firing counterparts and this is one reason why they have become so popular. Airguns in general all look like guns, blowback action models more so, and it is important to remember that the vast majority of people can't tell an airgun from a cartridge gun. Never brandish an airgun in public. Always, and I can never stress this enough, always treat an airgun as you would a cartridge gun. The same manual of operation and safety should always apply.