Umarex S&W 586 Stocked Part 1
The revolving Carbine-Pistol has a history
By Dennis Adler

When is a handgun not a handgun? When it is a Pistol-Carbine. The idea of taking a handgun and attaching a shoulder stock to the butt, thus making it more suitable for shooting accurately at greater distances goes as far back as the mid 1800s. One of the earliest and most successful designs was the .58 caliber, single shot, U.S. Springfield Model 1855 Pistol-Carbine, which was derived from the 1855 U.S. Springfield Rifled Musket. The Pistol-Carbine was designed by the U.S. Ordnance Department specifically for use by the cavalry, as it provided both a saddle pistol and, with the detachable stock, a carbine that was reasonably effective, both on horseback, or for dismounted cavalry.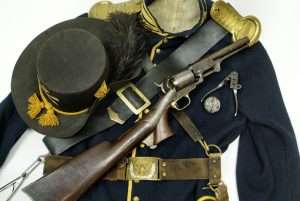 Someone wrote in recently asking if "Carbine" could be applied to a pistol, since it is commonly associated with a shorter barreled or more compact rifle, not a handgun. The answer is yes; a shoulder stocked handgun, particularly one with a longer barrel, is also called a "Carbine" or Carbine-Pistol, and the idea of building them, whether single shot, revolver, semiautomatic or full auto has continued almost uninterrupted from the 1850s to the present day.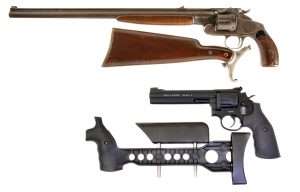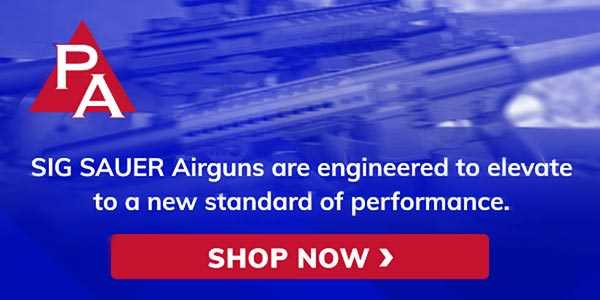 Origins and alterations
Attaching a very modern-looking, adjustable shoulder stock to an Umarex S&W Model 586 pellet-firing revolver is actually a very appealing addition to the airgun market, and it is a concept that has a basis in S&W history dating back to 1879 and the S&W Model 320, a longer-barreled topbreak design chambered in .320 S&W caliber and sold with a detachable shoulder stock. But this unusual S&W model came along well after shoulder stocked revolvers were regarded as a routine alteration by Colt's, which introduced its first shoulder stocked revolvers in 1851, the .44 caliber 3rd Model Dragoon and .36 caliber 1851 Navy. Dragoon production continued through 1861 with the total number over a 10 year period reaching 10,500 of which approximately 4,330 were for the Cavalry. Of that number, 946 were supplied with detachable shoulder stocks. As noted by late Colt Historian R.L. Wilson, "Government issued Pistol-Carbines were in pairs, with only an issue of a single matching detachable shoulder stock."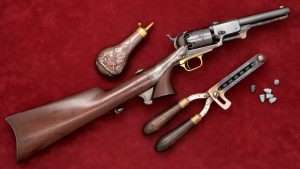 For the 1851 Navy, there were three basic versions of the elegant octagonal barreled repeater, one with a square back triggerguard, another with a round triggerguard, and a variation with an oval triggerguard. All there were built with the option of mounting a shoulder stock. In terms of popularity, the 1851 Navy was the .38 caliber revolver of its day and by 1855 it had been adopted by the U.S. government as its standard issue sidearm. The Ordnance Department ultimately purchased a total of 35,000 Navy models but the total production of the 1851 Navy (as a percussion pistol) continued through 1873 and amounted to more than 295,000 guns. Of those thousands were equipped with detachable shoulder stocks during their production history.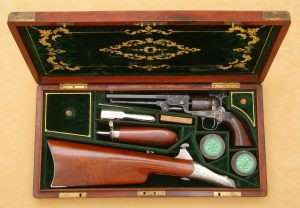 Interestingly, the idea for adding a shoulder stock to the Colt revolvers may have come from the U.S. Secretary of War, under President Franklin Pierce. A Brigadier General in the Mexican-American War, Pierce appointed West Point graduate and former U.S. Army Colonel, Jefferson Davis to his cabinet in 1853. Davis served as Secretary of War throughout Pierce's term, which ended with an unsuccessful bid for reelection. It is believed that Davis suggested the idea of putting shoulder stocks on the 1851 Navy, as well as developing canteen style shoulder stocks, which were used during Civil War. By then Davis was a U.S. Senator from Mississippi but with growing calls for secession and tensions growing between Washington and the Southern States he resigned and accepted the Presidency of the Confederate States of America on February 18, 1861, two weeks before Abraham Lincoln's inauguration! Though it is not an absolute certainty, it is very likely that Jefferson Davis was the man who convinced Samuel Colt to design shoulder stocks for the 1851 Navy and 3rd Model Dragoon, creating the first revolving Carbine-Pistols.

The most successful 19th century Carbine-Pistol
A year before the start of the Civil War, Samuel Colt had introduced the most advanced and powerful medium frame handgun of his career, the .44 caliber Model 1860 Army, a lighter yet stronger gun than its predecessors the 1860 Army was built to withstand the pressures of .44 caliber loads formerly limited to the heavier Dragoons.  Not only was the 1860 Army lighter, but smaller, measuring 13-5/8 inches overall with an 8-inch barrel, compared to the 3rd Model Dragoon at just under 14-inches with a 7-1/2 inch barrel. The extra 1/2 inch in barrel length gave the 1860 Army a bit more weight up front and a longer sight radius.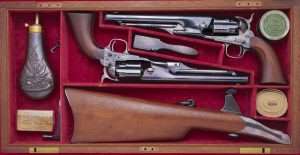 When fitted with a detachable shoulder stock, the military version of the 1860 made a reasonably accurate six shot carbine. Military versions had notched recoil shields, a fourth screw in the frame and a notch in the buttstrap to mount the detachable shoulder stock.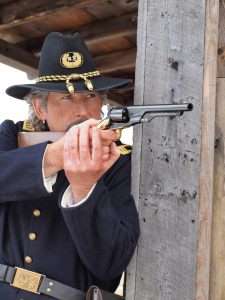 Other stock options
Remington also had a revolving Carbine-Pistol but with a fixed stock, like a rifle, and it was offered as a long barrel version of the Army and Navy revolvers in .44 and .36 calibers, respectively. Beginning in 1868 Remington began converting the long guns to .46 rimfire and .38 centerfire metallic cartridges. The three versions shown in this article are comprised of a .44 centerfire and two .38 rimfire models. The guns were usually fitted with 28-inch octagonal barrels.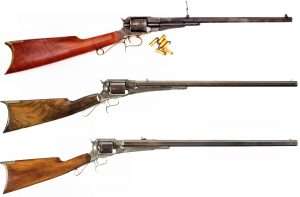 Smith & Wesson was second only to Colt's when it came to the popularity of its innovative handguns in the 1870s. Pictured in this article, are a variety of topbreaks including a Model 320 revolving rifle with detachable shoulder stock. This example has a 20-inch barrel and is chambered in .320 S&W caliber. (The second gun is a Second Model American nickel plated, with an 8-inch barrel in .44 American. The third gun is a rare Ludwig Loewe Russian Model in .44 Russian with 6-1/2 inch barrel. The bottom example is a Number 3 Target chambered .32-44 caliber with a 6-1/2 inch barrel).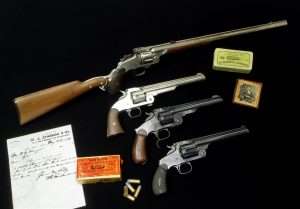 So, there is more than a little history behind this shoulder stocked Umarex S&W Model 586 pellet-firing Pistol-Carbine. Since the original S&W Pistol-Carbine was only a .32 caliber (7.65mm), the 4.5mm airgun is actually closer to the original S&W than any of its larger caliber counterparts!