Umarex S&W 586 Stocked Part 3 Part 2 Part 1
The revolving Carbine-Pistol goes to work
By Dennis Adler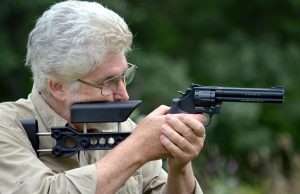 Time has the effect of diminishing some things. Wear and age are not the same and most gun finishes wear unless meticulously stored, age is relative to the gun, what materials were used in its construction and the quality of the finish; some seem to be impervious to time, others can deteriorate whether they are used or not. Heavy use almost always brings about wear. Still we find 100 year old and even 150 year old pistols in excellent condition and similarly dated examples with worn finishes, broken, lost or replaced parts. This is not news to anyone who collects firearms or even follows the gun collecting hobby by looking at auction catalogs. Airguns have similar issues with the passing of time and most mechanical problems can be repaired. One of my original Umarex Walther CP99 pistols had to be sent in to have the seals replaced after 15 years. Another, now 18 years old, is as good as the day I got it. Both were stored the same and had about equal use. But, the diminishing effects of time on the finish and performance of a gun are not what I am most concerned with for this final chapter on the Umarex S&W Model 586-6; rather what happens to a model when it remains in production for an extended period of time.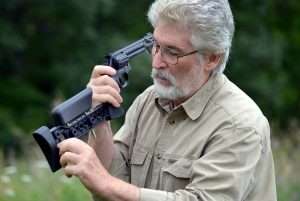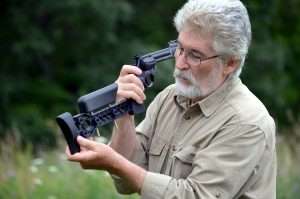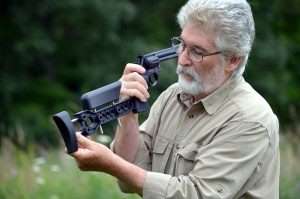 Nineteen Years Later
When I wrote the First Edition Blue Book of Airguns in 2001 the S&W Model 586 was listed as follows: MODEL 586 – .177 cal., CO2, single and double action, 10 shot cylinder magazine, 450 FPS, high-gloss blue finish, checkered black rubber grips, 4, 6, or 8 in. interchangeable barrel, 40-48 oz. New 1999. MSR $200 Add $30 for six-inch barrel. Add $50 for eight-inch barrel. That was then. Today, the guns have a semi-matte blue-black finish, the 6-inch barrel is standard (as it was in 1999) the 4-inch is a separate model and the 8-inch model and interchangeable 8-inch barrel are no longer offered. Time has the effect of diminishing some things. As an odd compensation, we have this new adjustable shoulder stock for the Model 586 (and Model 686).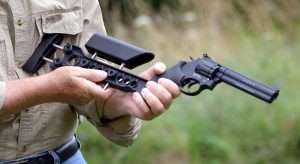 One of our readers, a shout out to Bill, has found an older 8-inch Model 586 to couple with a shoulder stock, so it will be interesting to find out what condition the 8-inch model is in, what finish it has compared to current guns, and how much of a velocity/accuracy increase the longer barrel delivers. With the 8-inch barrel, the idea of the Carbine-Pistol is far closer to its original intent. Umarex still sells the separate 4- and 6-inch barrels, so you can swap those two out, but the 8-inch has been history since 2004. Good find, Bill. One other thing about this old 1999 design, it is a pellet revolver that does not have a manual safety, not even a sliding cylinder release thumb latch safety like some current CO2 revolvers.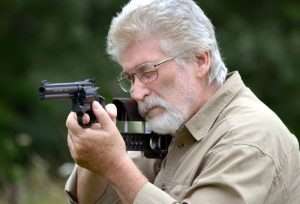 Velocity rechecks
The last time I reviewed the 6-inch Umarex S&W Model 586 it clocked an average velocity of 415 fps with 7.0 grain Meisterkugeln Professional Line lead wadcutters. With a fresh CO2 cartridge the highest velocity the S&W clocked was 429 fps. For this review I am going to run the Model 586 with the same 7.0 gr. Meisterkugeln wadcutters and also with Sig Sauer Match Ballistic 5.25 gr. alloy wadcutters to see how much of a gain in velocity alloy pellets can provide from the 6-inch (actually 5.5 inch) rifled steel barrel.
Through the ProChrono traps the lead wadcutters clocked a high of 428 fps and an average of 412 fps, so within a few fps of the last test gun. The lighter weight Sig alloy pellets punched up average velocity to 458 fps with a high of 470 fps. So the velocity with lead wadcutters has remained consistent with two different Model 586 test guns and shooting alloy wadcutters will give you an extra 40 plus fps average.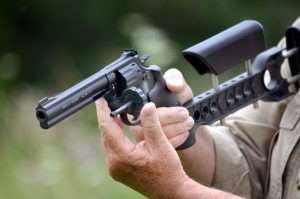 Downrange
My original  test of the Model 586 without a shoulder stock at 10 meters and firing with a two-handed hold, gave me a best 10-shot group at 0.687 inches and a best five shots in one ragged hole at 0.5 inches. That's hard to beat even with a shoulder stock.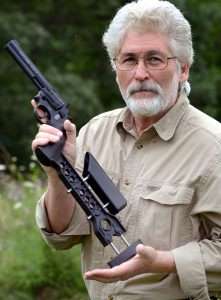 Adding the shoulder stock should improve accuracy, but definitely gives the S&W a different feel. One thing for me is that with the shoulder stock I am forced to shoot with my right eye (I'm left eye dominant) but this is the case for me with any rifle, so not too unusual.
Adjusting the stock length and cheekpiece height was short work and after a couple of adjustments I had it dialed in for length and height to make it a very tight meld. After some test targets and adjusting the rear sight up, at 10 meters I shot a best 10 rounds at 1.125 inches with seven out of 10 in a ragged hole that blew out the paper. That left two rounds just a little lower and right, and one off the upper left edge of the large group. All my shots with the Sig alloy wadcutters still came in below POA even after making the sight adjustment. The 7-round group, however, was 0.625 inches, the diameter of a dime.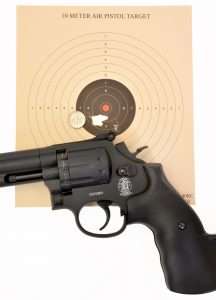 Switching to the 7.0 gr. Meisterkugeln my elevation problem almost evaporated, and my first group was in the bullseye and 10 ring with five shots. I dropped slightly and put the remaining five lower and right for a total 10-shot spread of 1.25 inches and a best five at 0.74 inches. Overall, the Model 586 is no more accurate than shooting without the shoulder stock, but quite a different airgun experience handling the gun with it. Bill, let us know how you do with that 8-inch barrel and shoulder stock. As for me, the Model 586-6 at 10 meters is as good as ever, Lock, Stock, and Barrel.