Umarex Walther CP 88 Part 1
Where it all began 22 years ago
By Dennis Adler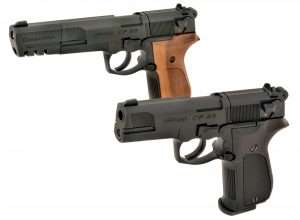 If I were to go back to the very first pellet-firing air pistol I owned I would have to go back to the 1960s when I was in my early teens and had a Marksman MPR, a single shot pellet pistol (it also had a 20-shot spring fed BB magazine making it a repeater, if you call having to pull the slide back to cock it for every shot "repeating"). Pellets, however, had to be inserted individually at the breech. In a lot of ways not much has changed in that respect with single shot pistols and air rifles. The Marksman looked like a Model 1911 and was a good BB/pellet gun for the time, and I have to say, it was also what got me interested in both air pistols and small caliber revolvers and semi-autos. By the time I was in my 20s I was already a collector. I still have the very first .22 caliber rimfire semi-auto I ever owned, an Erma Navy Luger that I bought in 1972. As for the Marksman, it got lost somewhere along the way but amazingly Marksman still manufacturers a version of this same gun, the Model 2002. The MPR was built from 1958 to 1977. More to the point, at least in my case, is that one very interesting or groundbreaking BB or pellet gun can lead to a lifetime of collecting and shooting. In 1996 that happened for many Americans with a company named Walther, (yes that Walther) and an innovative CO2 powered, 8-shot pellet pistol accurately copied from the 9x19mm semiautomatic Walther P 88 model. When it was introduced in 1996, the Walther CP 88 was the first of its kind and the beginning of a new era in air pistol design and manufacturing.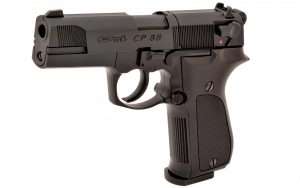 Umarex and Walther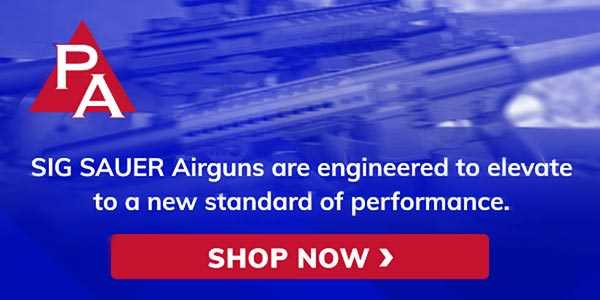 Walther, located in Ulm, Germany, had been a world leader not only in handgun manufacturing as far back as the early 1900s (their first semi-auto pistol was introduced in 1908), but in the production of air pistols and air rifles since the 1950s. (The original Walther factories in Zella-Mehles, Germany, were too badly damaged at the end of WWII and Walther built new factories in the historic city of Ulm, along the Danube). Walther also began building Olympic competition level air rifles. Today the impressive list of Olympic Gold Medal-winning shooters using Walther air rifles and air pistols spans more than 50 years. But these were, and are, very expensive airguns. Enter Umarex.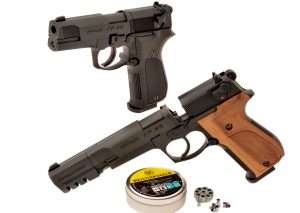 Umarex, located in Arnsburg, began as a manufacturer of "look alike" guns (much more realistic looking than toy guns), which became very popular in Germany since gun ownership laws were and remain very restrictive. The company also manufactured teargas and signal pistols, but in 1979, they began manufacturing air rifles. Over the next decade, the success of Umarex and its airguns eclipsed that of many German armsmakers, and in 1993 Umarex and Carl Walther joined forces to manufacture not only airguns, but through the advanced manufacturing techniques Umarex had developed, .22 caliber rimfire models of Walther and other centerfire pistols. It was a perfect marriage of heritage, technology and marketing that coalesced two years later with the development of a CO2 pistol that combined the look and handling of the very popular 9x19mm Walther P 88. Built using the proven Umarex zinc pressure casting and manufacturing techniques, the result was a sturdy, authentic-looking semiautomatic CO2 pistol capable of firing eight 4.5mm pellets from a rotary magazine loaded at the breech.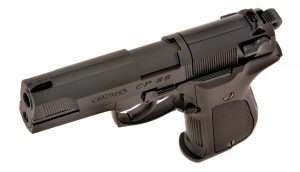 The concept behind the CP 88 was that, "…action shooters, who used center-fire ammunition in their [P 88] pistols, could take advantage of practicing with the CP 88 in their homes, the confines of their basements, or in their yards." It was the birth of the CO2 training gun. Also intended for young adults (over the age 18), as well as seasoned shooters looking for a realistic practice gun, the CP 88 marked the beginning of precision 12 gr. CO2 air pistols as a new and completely different class of high-quality leisure-time weapons.
The impact of the CP 88
As noted in the two volume book set, Walther – A German Success Story, "It was fascinating to observe, back in 1996, the innovation and creativity of the developmental team as they worked to make adaptations to this model. They altered the external usage elements such as the slide catch lever, magazine release button and magazine floor plate of the original P 88 C." With the 8-shot rotary pellet magazine inserted the CP 88 handled like a 9x19mm model firing all eight rounds double action as fast as one could pull the trigger, or the gun could be fired single action by cocking the hammer. With the air pistol's accurate copies of P 88 sights, and near equivalent weight and balance in the hand, it was as accurate as it was good looking.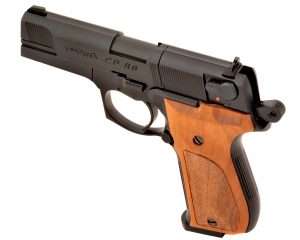 Umarex and Walther had delivered a perfect combination of handgun and airgun with not one, but two CP 88 models copied from the standard 4-inch barrel length P 88 Compact, (at the time still in use by law enforcement), and the P 88 Champion competition pistol with 6-inch barrel and compensator. The two CP 88 versions were offered in blued or nickel finishes (the latter unfortunately discontinued in 2013) and with standard black hard plastic Walther grips or optional Walther walnut grips. Umarex and Walther have since dubbed the CP 88 "the father of modern look-alike pistols."
In Part 2 we will look at the technical side of the CP 88 and its continuing role as one of the most significant CO2 air pistols ever built.