Umarex Walther CP 88 Part 3 Part 2 Part 1
Where it all began 22 years ago
By Dennis Adler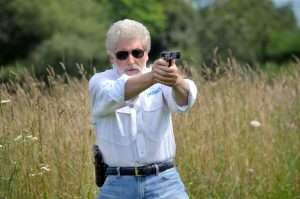 I suppose it is fair to ask why I would spend a week reviewing air pistols that are 22 years old, and the answer to that is simple; after 22 years they are still being manufactured, and precious few pellet-firing, multi-shot air pistols are built as well. Newer air pistols can out perform them in terms of capacity, loading system, and blowback action, but when it comes to hands down manufacturing quality very few modern air pistols can touch them. Those of you who have the Walther CP 88 know what I am talking about, and those of you reading this and wondering if you should get one of these old pellet models, are beginning to realize by this third installment, that these late 20th century Umarex Walther models are tangible proof that "new and improved" can be highly overrated.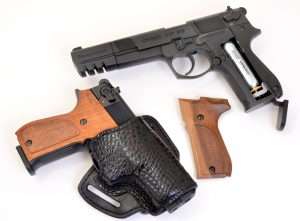 Training for what?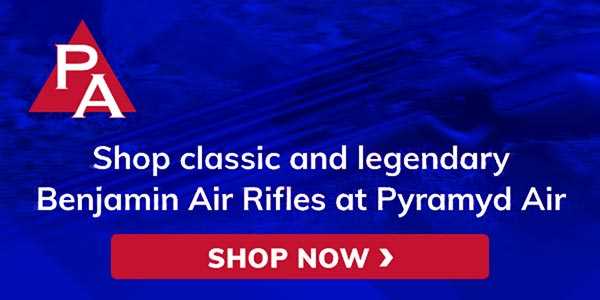 Back in the late 1990s the CP 88 Compact was used as a training gun for German police recruits, as was the CP 99 (a similar internal operating platform based on the then groundbreaking polymer-framed, striker-fired 9x19mm Walther P99). This was a cost-efficient training method for raw recruits before they graduated to handling the actual centerfire pistols. In the U.S. the three Walther models, along with another superb rotary pellet magazine pistol, the Umarex Beretta 92FS, were regarded as among the best and most authentic CO2 pellet models available. The Walther CP 88s and Beretta were also very expensive compared to other pellet firing pistols not built for competitive shooting sports. The Beretta, like the Walther models, was a handcrafted pistol manufactured in Germany. But in the U.S. the idea of using them for handgun training was in its infancy. Training was more traditionally done with .22 Long Rifle caliber pistols and rifles, and had been as far back as WWI. However, air rifles did have a role in military training during Vietnam. Soldiers began training with special Daisy BB rifles in a shooting technique dubbed "Quick Kill", a method of defensive/offensive point shooting. The technique was developed by a civilian shooting instructor named Lucky McDaniel, who sold Daisy on the idea back in the late 1950s. Tom Gaylord has written quite extensively about these special military Daisy rifles and McDaniel's training program for the military. Of course, point shooting was not an invention of McDaniel, or even Mike Jennings, who wrote the book Instinct Shooting published back in 1959. It goes back much further. J. Henry FitzGerald wrote the book Shooting (almost the Bible of law enforcement shooting skills in the day) back in 1930. But like Instinct Shooting and "Quick Kill" they were more a formalization of techniques that had been used by professional shootists as far back as Wild Bill Hickok. So what is the training value of a pellet pistol like the CP 88 in the 21st century when there are far better airguns for the task?
I prefer taking things at a more fundamental level, with the emphasis on fun. Yes, you can learn gun handling techniques and improve basic skills with modern 1:1 CO2 pistols like the Umarex S&W M&P40 and some of the Sig Sauer models, among others, but it is "basic" because there is (a) no appreciable felt recoil, and (b) no sound or relevant dB level equivalent of gunfire. I'm not discrediting everything I have written about training with air pistols, but rather making the point that when airguns like the CP 88 were introduced to the U.S. market, the mindset was different, the times were different, and if you are around my age, you probably have the feeling that people were different, too. The CP 88 and CP 88 Competition were and still are superb CO2 powered, pellet-firing target pistols and that is how I am going to complete this review of both models, not as training guns but as target pistols, the purpose for which they are best suited.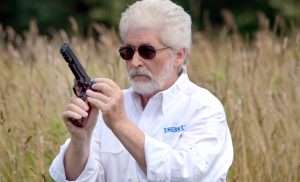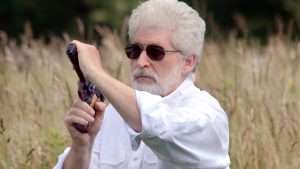 10 Meter range test
When the CP 88 models came out in 1996, pellets were made of lead. And lead pellets still remain the most common for target shooting and hunting. But like the Umarex Walthers, which 22 years ago used an innovative zinc alloy construction for the frame and slide, alloy (aluminum, tin and zinc) are now also used in making 4.5mm target grade pellets, as well as the guns that shoot them. For this test of the CP 88 models, the ammunition is also going to be all alloy; Sig Sauer Match Ballistic wadcutters and H&N Sport Match Green. Both have lighter weights of 5.25 grains vs. lead wadcutters which average 7.0 grains, so right from the start the CP 88 models will be delivering the highest possible velocity for the 10 meter test.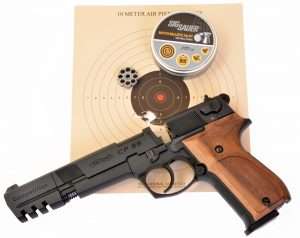 First the CP 88 Competition model was run through the chronograph. The lighter weight Sig Sauer and H&N Sport cast alloy pellets cleared the ProChrono traps at 491 fps and 489 fps average, respectively. The guns were factory rated by Walther with muzzle velocities of 426 fps back in 1996.  The CP 88 Compact with its 4-inch rifled steel barrel, vs. the Competition model's 6-inch rifled steel barrel, clocked an average velocity of 445 fps with Sig and 453 fps with H&N, so I had an average gain of from 36 to 46 fps with the longer Competition barrel and alloy wadcutters. Walther published a muzzle velocity of 393 fps in 1996.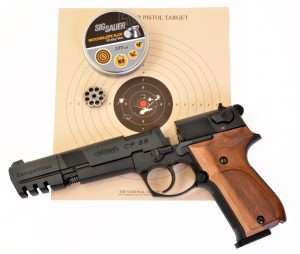 The CP 88 trigger design is a DA/SA, while the 9x19mm Champion model used a SAO target trigger. Since the only way to fire the CP 88 without manually cocking the hammer is double action, it is functionally, (as a semi-auto pistol), a DAO. Firing single action does reduce the average trigger pull from 8 pounds, 15 ounces, to a still heavy but smooth 7 pounds, 10.5 ounces. I actually find it easier to shoot the pistol double action. The trigger requires a full inch of take up with heavy stacking; most of the take up is used to rotate the internal magazine and lock the hammer back to a staged position, just like a double action revolver. A straight, smooth pull through of the trigger from there is no harder than manually cocking the hammer for each shot, since the final 0.315 inches of resistance is still north of seven pounds. Once you get a rhythm for handling the long, heavy trigger pull on the CP 88, it is a very predictable gun to shoot.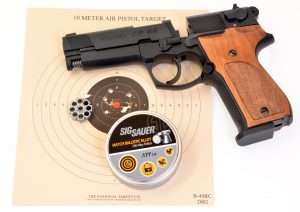 At 10 meters the CP 88 Compact shot well (after a slight rear sight windage adjustment), but still not in the tight groups I had anticipated. My best 8-shot target with H&N had a total spread of 1.5 inches, all in the black but nothing in the 10 ring. I started another series of targets with Sig Sauer Match Ballistic wadcutters. The CP 88 Compact liked these better (or I just did a better with them). My best 8-shot target also measured 1.5 inches total spread, but with five out of eight shots in the 9 and 10 rings at 0.875 inches. I had one flyer to the left at 9 o'clock that clipped the edge of the 6 ring, and two high shots in the 8 ring at 11 and 2 o'clock. Still no bragging rights attached.
Needless to say I had greater expectations for the 6-inch Competition model. Starting with Sig Sauer Match Ballistic I dropped all eight shots terribly low but into an almost overlapping 0.687 inches. I ran another eight and put the total spread at 1.5 inches with six of eight at 0.81 inches.
The final target was shot with H&N which gave me a best eight shots at 1.375 inches with six of eight, including two shots in almost the same hole, measuring 0.75 inches. Once again I was off the bullseye hitting high and left with two dropping low in the 10 ring (cuting the 9 ring) to open up my total spread. Not one of my better shooting sessions, but I can't blame the CP 88, it puts the shots where you aim them, you just have to aim better.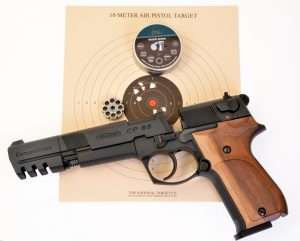 After 22 year in production, the Walther CP 88 Compact and Competition still rank among the best multi-shot CO2 pellet pistols you can own. Guess that's something.