Umarex Walther P.38
Recreating one of the most influential semi-auto handgun designs of the 20th Century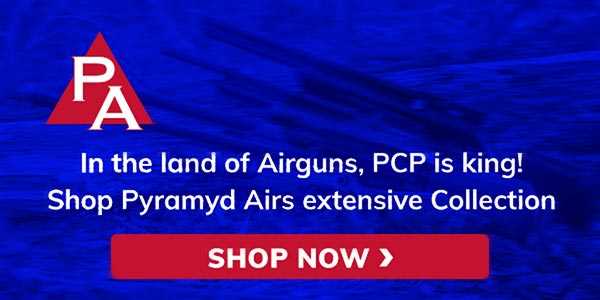 By Dennis Adler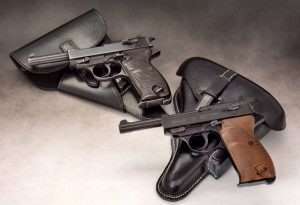 I have to admit a certain prejudice for this Umarex model because I collect Walther P.38 pistols, and when I first saw this .177 caliber version a few years ago it immediately went to the top of my must have list. If you have any interest in legendary German handgun designs or the evolution of handguns in the 20th Century, it should go to the top of your airgun list as well. Here's why.
Collecting is a verb!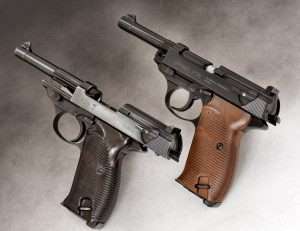 The Walther P.38 is among the most collectible of all WWII-era German handguns (along with the P.08 Luger) making it an ideal choice for Umarex to manufacture as an air pistol. That, and the fact that Umarex is the parent company of Carl Walther GmbH, so these CO2 powered P.38 semi-auto airguns are actually real Walthers!
A Little P.38 History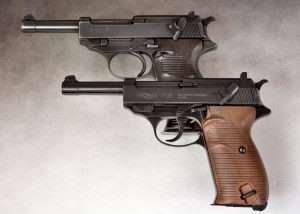 Carl Walther introduced his first semiautomatic pistol 108 years ago in 1908. The company's continuing success throughout the 1920s and 1930s reached its pre-WWII zenith in 1938 when Walther introduced the world's first 9mm DA/SA (double action/single action) semiautomatic pistol. It was called the Pistole 38 or Walther P.38. In addition to its innovative DA/SA trigger, the new model featured a short open top slide, was equipped with a manual safety lever that also functioned as a decocking device, and introduced an integral loaded chamber indicator, something that is almost mandatory in semi-auto handgun design today. Perhaps the only backward element of the entire design was a traditional European magazine release located at the bottom rear of the backstrap, instead of the more Americanized magazine release button on the side of the frame.
Shortly after the P.38 was introduced it was being sold in the United States by A.F. Stoeger, which listed the new German-made semi-auto in its 1939 catalog for $75. In fact, the German military didn't adopt the P.38 until a year after the outbreak of war in Europe.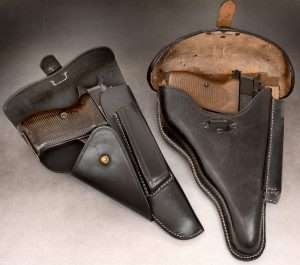 Hardly considered a rare gun today, production during WWII reached a staggering 1.4 million by 1945, including models made by Mauser and other wartime manufacturers (just as Colt Model 1911s were built in the U.S during the war by Remington and other licensed manufacturers). Today, the innovative P.38 is one of the most readily available classic military pistols in the world, and it was put back into production in 1950 at the Walther factory in Ulm, (in what was then West Germany).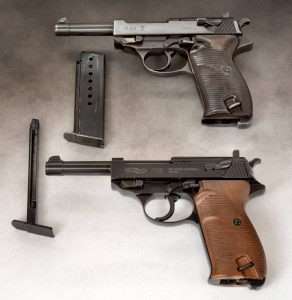 Postwar P.38 models featured the same 5-inch barrel and 8-shot capacity magazine, along with a new alloy frame for lighter weight, (approximately 28 oz.) and an aluminum-frame variant of the P.38, called the P1, that served as a standard issue sidearm of the postwar Bundeswehr (West German Army).
Umarex Walther P.38 Range Test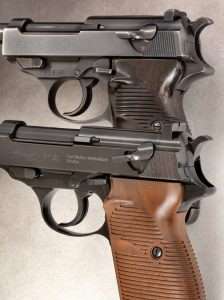 The Umarex Walther P.38 is a blowback action BB pistol that fires up to 20 steel BBs from a stick magazine inserted into the grip frame's magazine well. While the CO2 is housed separately in the grip frame (by removing the left grip panel) the stick magazine looks correct from the outside because it has a full-size P.38 floorplate. The airgun's all metal construction adds to the authentic look, weight and balance in the hand. Barrel length is slightly shorter (internally) at 4.75 inches, overall length of the gun is 8.5 inches and carry weight 30.5 ounces; very close to the original P.38's weight of 33.5 ounces. For Walther collectors having an airgun that is almost indistinguishable from a 9mm original has a lot of appeal. And Umarex has done a first class job of giving the P.38 a deep polish and gloss blue black finish contrasted by brown plastic grips, which are complete with a proper lanyard loop on the left panel. (Original guns can be found with brown or black grips). It has the correct front and rear sight design, left side slide release, the correct trigger design, thumb safety (but not decocker) and takedown lever. Yes, the airgun even disassembles similarly (but not the same) as the 9mm pistol. There is actually no reason to do so, and can be problematic to reassemble because the blowback action's internal design is quite different from a cartridge-firing P.38.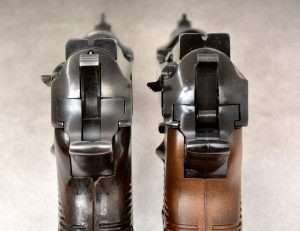 As for loading and shooting the P.38 airgun, that's a different world from the 9mm P.38. To give the Umarex a realistic test I opted for some of the best .177 caliber steel BBs around, Hornady Black Diamond, and an Umarex 12 gr. CO2 cartridge for power.
With blowback action semi-autos, accuracy is generally point of aim at 7-yards (21 feet); beyond that, groups tend to open up but you can still be punching paper at 10 meters or more. At 7-yards my average 10 shot groups measured 1.20 inches with a best five at 0.75 inches and a total of 20 shots inside 1.95 inches. All shots were fired offhand using a two-handed hold (unlike the photo below where I am using a classic one-hand target shooting stance.)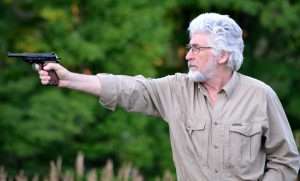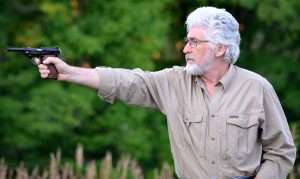 The P.38 is rated at a maximum velocity of 400 fps. Trigger pull is crisp with an average weight of 8 lbs. 14 oz. and there is just a little stacking at the end of the two-stage trigger pull. A 9mm P.38 single action trigger pull averages 8 lbs. 2 oz. so the air pistol is right in the ballpark. It is important to know, however, that the double action trigger on the airgun isn't really a double action, you have to rack the slide to chamber the first BB and in so doing you cock the hammer. Every subsequent shot with a blowback action semi-auto re-cocks the hammer and the gun then fires single action. Even if you de-cock the airgun manually, the trigger won't work until the hammer is cocked; it's the biggest departure from the 9mm model's design. Outside of that, it is one very neat looking, handling, and shooting air pistol.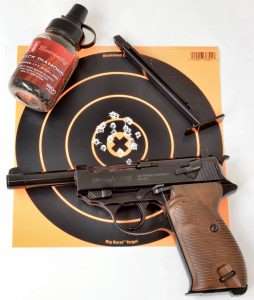 So why, you ask, would someone who has the real guns spend $100 for an authentic Walther branded airgun version? Who wouldn't? Remember, "Collecting" is a verb!