The Valentine's Day Airgun
Walther PPK/S and ISSC M22 – A pair of CO2 Models to replace Cupid's arrow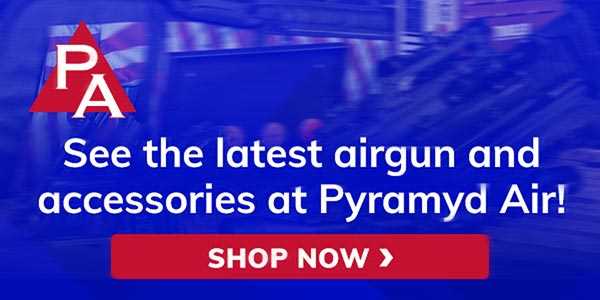 By Dennis Adler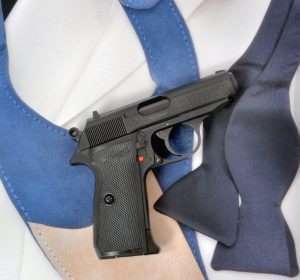 OK, I'm not saying this is going to work for all of you guys out there, but one year for Valentine's Day I gave my wife a hand engraved Henry Rifle with her initials on one side of the receiver and mine on the other side. This is still known around our house as the second St. Valentine's Day massacre. But let's just say that you and your significant other share an interest in air pistols, so how about picking two that can become a fun way to learn about shooting. Nothing brings a couple closer together than teaching someone a two-handed hold with a semi-auto pistol, (this goes with the assumption that your wife's arms are not longer than yours).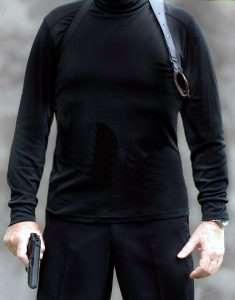 For example number one, I would like to suggest a small, blowback action air pistol like the recently updated Umarex Walther PPK/S. Once again, I have to make a suggestion that using the, "It's James Bond's gun" approach only works if your partner likes James Bond films, (the likelihood of this, unfortunately, is about the same as Star Trek), but there is always the honest truth that the PPK/S is one of the most famous handguns in the world and both the PPK and PPK/S have been used by police officers as backup guns for more than 50 years. It is also an ideal first airgun for learning how to shoot and handle a small caliber semi-auto.
The Umarex Walther PPK/S is also something of an historic airgun in its own right having been the very first blowback action CO2 model introduced. That was 16 years ago and the fact that it is still manufactured today says a lot about the popularity of this CO2 pistol.
The latest version looks almost the same, with the exception of having eliminated the CO2 seating screw from the bottom of the grip frame, replacing it with a hex head tool. The Umarex Walther PPK/S has a 3-1/2 inch smoothbore barrel, which, like the PPK/S .32 ACP and .380 ACP cartridge models (as well as the .22LR model), is affixed to the frame and surrounded by the recoil spring, thus making the blowback action airgun identical in operation. The slide also locks back after the last round is fired. Unlike the cartridge models, the Umarex version has a single action only (SAO) trigger, so there is no capability of de-cocking the gun and using the trigger to fire the first shot double action like the real PPK/S. To fire the first round with the CO2 model the slide either has to be racked or the hammer manually cocked. Average trigger pull on the air pistol is a feathery 2 pounds, 5 ounces. Single action trigger pull on a real PPK/S averages 5 pounds, 6.5 ounces.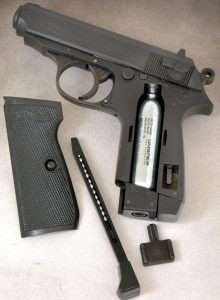 The grip contour is just slightly longer but very close in size and shape with the finger extension base plate on the 15-round stick magazine. One big operational difference is that the airgun uses a totally different safety design. The slide-mounted thumb safety, copied from the real gun, is cosmetic only. The Umarex has a very nice manual trigger finger safety on the right side of the frame, just in front of the grips. The good point is that it still teaches proper gun handling techniques and how to engage and disengage a manual safety.
This is a very light recoiling gun (even for a blowback action CO2 pistol), with a carry weight of just 19.2 ounces (about 6-ounces lighter than the .380 ACP), so it is an easy first gun to use for learning how to shoot at close distances. A range of 15 feet is about as far as you can step back and still maintain accuracy with this short, smoothbore barreled semi-auto. Velocity with .177 caliber steel BBs is around 295 fps. A sub-300 fps air pistol is really entry level, but still an excellent place to start. With the history of the Walther, it is one air pistol that needs no introduction. As for accuracy, if you can get all or most of your 15 shots in the 10 and X rings from 15 feet, you're learning how to aim and shoot consistently. With a price of under $80 you're not spending a lot for this airgun experience.
My second suggestion is a little further up the scale for CO2 models, about $10 more, and still a very affordable small airgun for entry level use and target practice, the ISSC M22. Like the PPK/S, it is also based on a real gun, only this one is a .22 long rifle pistol, so you are literally just one step down from the real ISSC M22 semi-auto. The blowback action CO2 version is a 1:1 reproduction of the M22 and is also a fully licensed design, so it bears all of the .22LR model's markings, including cal. 22lr on the slide, but when you depress the magazine release and a combination CO2 and BB magazine drops out, it's pretty clear this is the BB gun. It is identical in size, weight, and general operating features and also uses a polymer frame and metal slide and like the .22LR.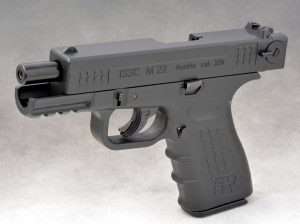 It has a blowback action slide; molded-in finger grooved frontstrap, a working hammer, and blade trigger safety. Oddly, for the airgun, the ambidextrous manual thumb safeties used on the .22LR model are non-functional and just molded into the slide like those on the PPK/S. While the Walther has an alternate safety design, the ISSC does not, nor does it need it, since the manual safeties are actually a redundant feature on the .22 caliber version; both guns use a Glock-type blade safety trigger. Although it is not touted as such, since it is a hammer-fired pistol, both the ISSC .22LR and .177 caliber CO2 airgun are very close in design to a striker-fired Glock, so training here is quite a bit broader in scope, as the general layout of the airgun resembles a Glock subcompact, if you overlook the exposed hammer.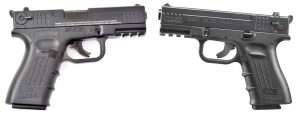 The ISSC is also a smoothbore BB model with a slightly longer 4-inch barrel. The airgun's weight is a modest 22 ounces (empty), which is within half an ounce of the .22LR. As for accuracy, the airgun has a number of Glock features, the blade safety trigger, white outline notch rear and white square blade front sights, an identically-shaped and positioned magazine release, and a beveled ledge below the slide release to avoid unintentional contact while firing. Trigger pull on the ISSC averages 8 pounds, 6 ounces fired double action (for the first shot) and 7 pounds, 3 ounces single action thereafter. This is heavier than the DAO Glock trigger, which has an average resistance of 5 pounds, 8 ounces, but you are still learning the feel and operation of a blade safety trigger. With white dot sights and a better trigger, you can also be quite a bit more accurate downrange with the ISSC than the PPK/S, plus you can step back to a proper 21 feet and still get tight groups with an average velocity of 385 fps.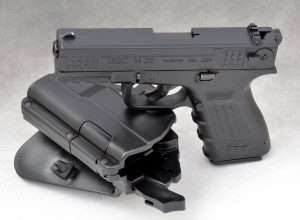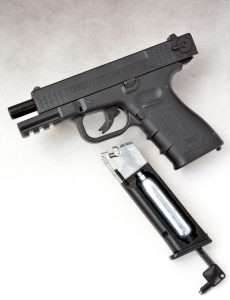 My best target with the M22 put a pair of 5-round groups at 1.0 inches and 0.95 inches. Another target had10 shots grouped into two 1.5 inch clusters with several overlapping that tore out a 0.895 inch strip in the target. Overall at 21 feet the M22 was easily capable of 1 inch average groups fired offhand using a two-handed hold.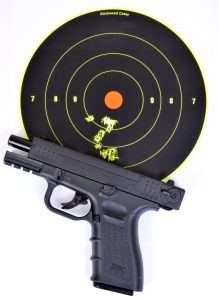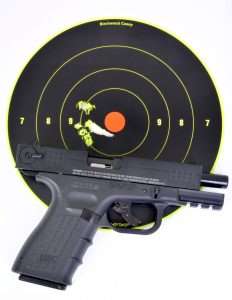 The PPK/S is not quite as accurate and shoots best at 15 feet, delivering 10 rounds with five shots at 1.25 inches in the 8 and 9 rings and five at 1.75 inches in the 10 ring. At 21 feet groups open up to an average of 2.25 to 2.75 inches for 10 shots (and you need to correct POA by holding over about 2-1/2 inches).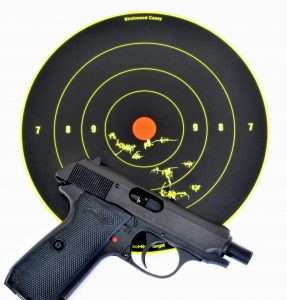 Neither gun is a target pistol, nor is intended to be, but both CO2 pistols will get you started on the road to training with airguns and learning good firearms handling skills for under $100. Are either of these the perfect Valentine's Day gift for your lady? If she's into air pistols, I think you're good, but just to be sure, throw in a dozen roses and a box of candy.
As for the Henry, she really did like it, just not as a Valentine's gift. Did you know they actually make solid milk chocolate Colt Peacemakers?
A word about safety
Blowback action airguns provide the look, feel and operation of their cartridge-firing counterparts and this is one reason why they have become so popular. Airguns in general all look like guns, blowback action models more so, and it is important to remember that the vast majority of people can't tell an airgun from a cartridge gun. Never brandish an airgun in public. Always, and I can never stress this enough, always treat an airgun as you would a cartridge gun. The same manual of operation and safety should always apply.