War Dogs – The Classic German Luger and Mauser Part 3 Part 2  Part 1
Downrange with the WWII Mauser Broomhandle Model 712 and Luger P.08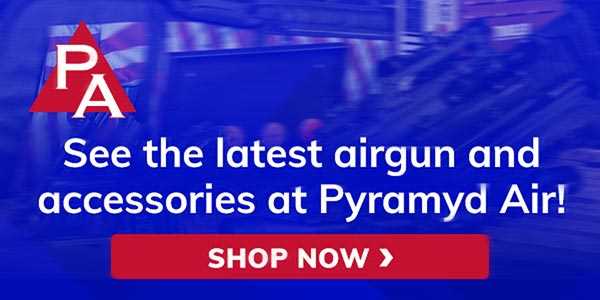 By Dennis Adler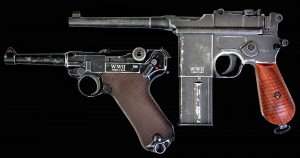 The idea of a selective fire machine pistol (a fully auto handgun as opposed to a fully auto submachine gun) dates back to the very early 1900s. There had been several German models, like the Steyr M1912, offering selective fire mechanisms long before the Broomhandle Mauser in 1932. The Model 712 came with a standard 10 round magazine allowing the pistol to fit inside the wooden shoulder stock and an extended capacity 20 round magazine, which was advantageous when discharging the gun on full auto.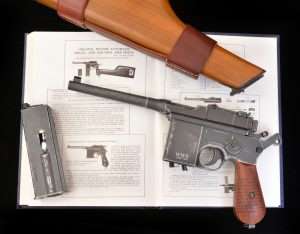 According to Mauser literature, the Model 1932 was capable of firing 15 to 16 rounds per second. With 20 rounds and that rate of fire a full burst could only be sustained for less than 2 seconds. In the 712 literature it states, "On account of the extreme rapidity of automatic fire (15 to 16 rounds a second) the pistol should then always be issued with butt, and rested on some solid object whenever possible, in order to obtain satisfactory fire effect." Feathering the trigger to fire in short bursts was also advised in the instruction manual.
The Umarex Mauser Model 712 has a capacity of only 18 rounds in the CO2 BB magazine, and firing full auto will empty the magazine's .177 caliber cache in a couple of seconds. Due to the CO2 BB magazine's design there is no way for the follower to lock the bolt open on an empty magazine and the M712 will contine to fire. This is the one design flaw in reproducing the Mauser, but considering the entire pistol's attributes it becomes almost insignificant. The trigger pull on the M712 airgun has an average pull of 4 pounds, 12.3 ounces allowing one to manage short bursts of fire just as recommended for the 7.63mm model.
The P.08
Once again Umarex has done an excellent job of recreating a legendary early 20th century semiautomatic pistol. The CO2 model is accurate in even the fine details of the trigger and trigger plate, forward and rear toggle link, safety lever, basic disassembly with operating take-down bolt, and a lower grip extension for mounting a shoulder stock. (This is one option I haven't been able to try with the Umarex P.08 not having access to an original Luger Parabellum shoulder stock). The self-contained CO2 BB magazine is authentic in style and is one of the easiest of all magazines to load with a large follower and a dedicated round loading port that works well with an Umarex speed loader. Capacity is 21 rounds. As a CO2 model it could not be more accurately reproduced or easier to handle. The airgun weighs 31.5 ounces with empty magazine inserted. Trigger pull on the test gun averaged 4 pounds, 8.6 ounces.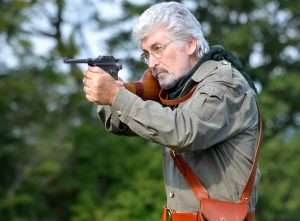 Steel and air downrange
Beginning with the M712, average velocity clocked 373 fps with a freshly inserted CO2 cartridge. Out of 10 rounds, high was 380 fps with two shots at 378 fps, and consecutive shots at 373 fps, 374 fps, and a low of 363 fps. The manufacturer's average rated velocity is 360 fps, which was exceeded by every test round.
The Umarex Legends P.08 Parabellum is a little anemic compared to the M712 delivering an average velocity of only 275 fps with a high of 284 fps, and a low of 265 fps. The manufacturer's average rated velocity is 300 fps.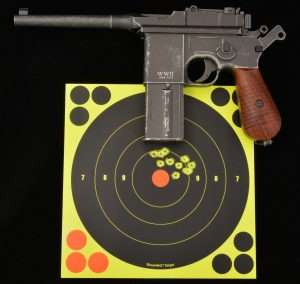 The 21 foot test for the M712 fired offhand on semi-auto netted a best 10 rounds at 1.68 inches and a best 5-shots measuring 0.75 inches. The sights are not easy to align and at 21 feet the M712 shoots a little high. My hold under was 2 inches. I shot a second target at 21 feet on full auto using the Mauser shoulder stock. I was able to manage what I estimated as 6-shot bursts, with a few seconds pause in between, and with two magazines in succession I put all 36 Umarex .177 caliber steel BBs in the center mass of a Shoot-N-C silhouette target. My hold under for the gun on full auto was about 4 inches and this put a majority of rounds inside the 10 and X, which on this target is an area measuring 4×6 inches. My total spread for 36 full auto shots was 5.25 inches with multi-round groups (an average of 3 shots per) at 0.5 to 0.75 inches. The shoulder stock definitely helps to keep the M712's groups reasonably tight. (The average price I have seen for reproduction shoulder stocks is from $50 to $60, all made in China. As to a perfect fit, it is not guaranteed. A real German Mauser stock, which is quite a bit more expensive, will absolutely fit.)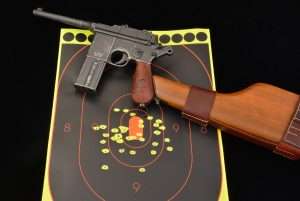 The P.08 magazine holds 21 rounds; I loaded and fired 15 rounds at 7-3/4 inch diameter Shoot-N-C targets. My best group (using a two-handed hold) had a spread of 3.25 inches starting with a bullseye but as I continued to shoot what would be my best target for the P.08, I started hitting to the right with consistency and continued until the toggle locked back. Out of the 15 rounds a total of 11 were at 1.75 inches with a best 5-shot group clustered into 0.94 inches. Not a great target but the P.08 is no target pistol, even at 21 feet. However, the feel of this airgun when it shoots, the bump of the toggle action, and decent accuracy for a CO2 blowback action semi-auto pushing steel downrange under 300 fps, is good enough for this historic looking air pistol.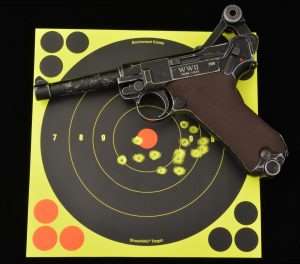 Out of the two I would definitely call the WWII edition Umarex Broomhandle Mauser Model 712 a solid keeper. It looks, handles and performs like a Mauser, and still ranks in my book as the best historic blowback action air pistol you can own. The WWII finish is icing on the cake.