War Dogs – The Colt Model 1911A1 Part 2
Recreating the Remington version WWII 1911A1 in .177 caliber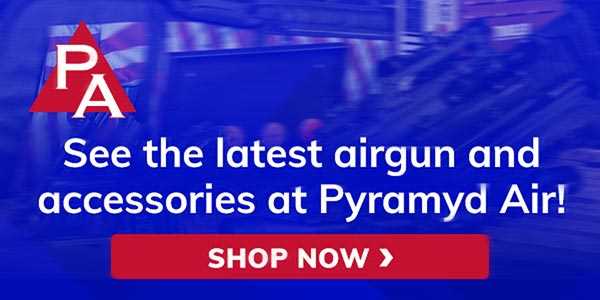 By Dennis Adler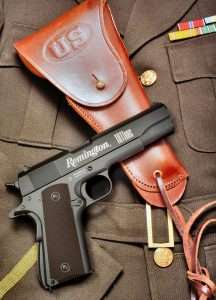 Two World Wars increased demand for the Model 1911A1 beyond Colt's production capacity requiring the company to license other manufacturers to produce guns to meet military quotas. The first request came in 1914 (three years before the U.S. entered WWI) with approximately 30,000 guns being produced at the Springfield Armory through 1915. In 1918-1919 Remington-UMC manufactured over 21,500 Model 1911s. An additional 100 were produced by North American Arms Co. in Quebec, Canada, in 1918.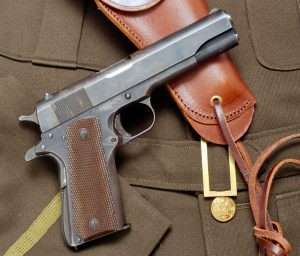 The military demands of World War II completely outstripped Colt's capacity, and guns were made from 1943 to 1945 by the Ithaca Gun Co. and Remington Rand. The combined total of 1911A1 models produced outside of Colt by these two manufacturers was over 1.3 million. In 1942 Singer (the sewing machine people) began manufacturing the 1911A1 as well but only produced about 500 guns, and in 1943, US & S Co. (Union Switch & Signal Co.) produced as many as 400,000 additional 1911A1 models for the war effort. These guns all bear their maker's name and markings. Wartime Colt's also bear special stampings including United States Property and specific branches of service stamped on the right side of the slide: Model of 1911 U.S. Army; Model of 1911 U.S. Navy; and Model of 1911 U.S. Marine Corps.
The Remington 1911RAC
The Remington 1911RAC is a fully licensed Remington Arms Co. product and accurate down to some of the smallest details. Closely duplicating the physical appearance, weight and balance of the cartridge-firing WWII model, the Remington 1911 RAC operates with a single 12 gram CO2 capsule contained within the full 1911-sized, 18-round BB magazine. (Extra magazines are a definite advantage for shooting practice.)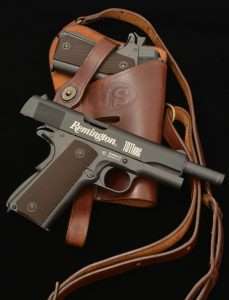 As with all blowback action air pistols, the CO2 cartridge performs two functions, propelling the .177 caliber steel BB down range at an average velocity of 325 fps (feet per second) and making sure the slide recoils with each shot to re-cock the hammer and stage the next BB for firing. The Remington 1911 RAC's all-metal construction (including the magazine) provides a hefty feel in the hand (34 oz. loaded) approximating a real 1911. The air pistol also has a correct early style 1911 hammer and trigger, early-style front and rear sights, and checkered plastic wood-finish grips with the correct checkering pattern.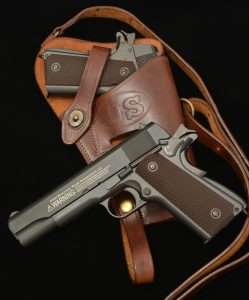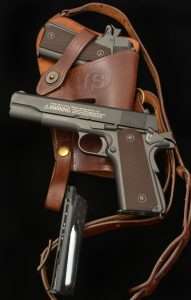 During WWI and WWII Remington manufactured Colt-model 1911s under license to meet U.S. military demands and today Remington manufactures its own .45 ACP R1 series 1911 models, as well as lending its famous name to the air pistol version. Both models have a military tether ring at the bottom of the backstrap.
After more than a century the Colt Model 1911 is still one of the most significant firearms designs of all time with dozens of manufacturers today, including Colt, and there is no sign that this handgun will ever go out of style, in any caliber! That is the ultimate definition of success.
Saturday in Part 3 it's time to lock and load and put the Remington 1911 RAC and Tanfoglio Witness 1911 in a head-to-head shootout.