War Dogs – The Colt Model 1911A1 Part 3
Racking and stacking the .177 caliber Remington 1911 RAC and Tanfoglio Witness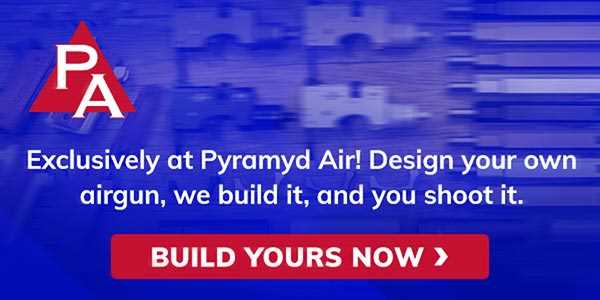 By Dennis Adler
The guns of World War II are generally out of date by contemporary standards, and most have become venerated collectables like the M1 and M1A1 carbine, M1 Garand rifle, Winchester Model 1897 trench gun, and Colt Model 1917 revolver, but one gun from WWII is still regarded as a modern weapon, the Colt Model 1911A1. This timeless design is still found in the holsters of elite U.S. military forces, albeit a more militarized 21st century variation, but still at its core a Model 1911.
Recreating the second version c.1924 of the John Browning designed .45 ACP semi-auto in .177 caliber has only been done by one manufacturer, which produces this early style 1911A1 for both the Remington and Tanfoglio branded versions. Were it not for the brand names on the all-metal (alloy) construction frames and slides, you would have a very close copy of the original design 1911A1.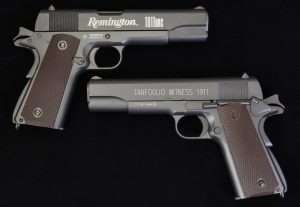 The two CO2 blowback action air pistols are almost identical in every respect, however, how the two brands approach the markings of their respective pistols is different, and here the Tanfoglio has a slight advantage being a little less overly decorated. A lot of people like logos or brand names on their guns, and neither Remington nor Tanfoglio are shy about it on their .177 caliber offerings. The really good news about the two guns coming from the same manufacturer is that their magazines are interchangeable and that means the Tanfoglio's extended capacity 27-round magazine works in the Remington. It also works in the Umarex Colt 1911A1 Commander model, which makes it into one very cool looking tactical pistol! Point is, these three 1911 models all share the same design, so there isn't too much differentiation between them except in small details.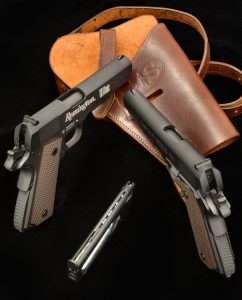 Steel BB Challenge
I decided since these are old style 1911s, to go old school for the test and wear a World War Supply US M7 shoulder holster (like William Holden wore in The Wild Bunch). Drawing the Remington and Tanfoglio, respectively, from the M7, I followed the procedure from loading a magazine and racking the slide, to releasing the reset safety, acquiring the target, firing until empty, and reloading a fresh magazine. These steps help to reinforce good gun handling habits, even with .177 caliber air pistols.
As a point of interest, both guns weight exactly 32 ounces (w/empty magazine). The trigger pulls on both guns are almost identical, the Tanfoglio averaging 4 pounds, 15 ounces, the Remington an average of 4 pounds, 13 ounces. For a third comparison I tested the skeletonized target trigger on the Umarex Colt Commander, it averages a remarkably light 2 pounds 13.2 ounces. The sights on the Remington and Tanfoglio are identical, a military style u-notch in the rear and a shallow blade front. Also 1:1 are the checkered spur hammers, magazine releases, grips, checkered arched mainspring housings, grip safeties, and design of the original-style small thumb safety. If there is any advantage, it goes to the Tanfoglio for not having telltale letters and arrows on the thumb safety.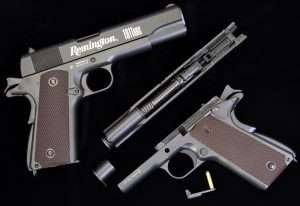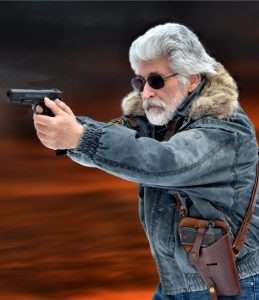 With a target placed out at 21 feet on the indoor range, the accuracy of the Remington 1911 RAC and Tanfoglio Witness was consistent with the Tanfoglio giving me just slightly better groups. I started a 10 shot run with the 1911 RAC hitting the target at 10 o'clock with eight of 10 shots at 1 inch and then pulled two shots low into the X increasing my spread to 1.74 inches. The Tanfoglio was fired at a larger Birchwood Casey Big Burst target and 10 shots grouped at just under 1 inch and blew out part of the X. I went back for another try on the smaller targets and the Tanfoglio delivered a slightly larger 1.25 inch group. Both guns at 21 feet are capable of offhand groups under 1 inch. Both have average velocities of 320 fps.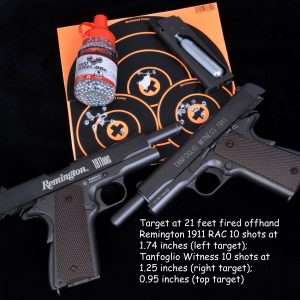 On a point by point basis these two have strengths and weaknesses. The Remington, for example, has a far better instruction manual with specifics on handling, cleaning, etc., but it comes in a blister pack that has to be almost destroyed in order to remove the gun and instructions. The Witness comes in nice box with a French fit molded liner for the gun, up to two additional 18-round magazines, and the hex head tool. (If you are wondering how import boxes are, look at all the repro Colt and Remington boxes for sale online.)
My personal choice (if I wanted a 1924-era 1911A1 style pistol) would have to be one of these two models. Overall, both guns are excellent (as well they should be since they are essentially the same), but aesthetics still have some sway when making the final choice. The first airgun maker to clean up their slides (unless it is the proper Colt patent dates, name and Rampant Colt emblem), make it a correct early-style 1911 or 1911A1, with the right hammer, trigger, small thumb safety, military sights, arched or flat mainspring housing, and put it out in a polished nickel finish, will be the biggest winner of all. Until then, it's the Tanfoglio.
The Airgun Experience will return on January 5 with a surprise! Happy New Year!
A word about safety
Blowback action airguns provide the look, feel and operation of their cartridge-firing counterparts and this is one reason why they have become so popular. Airguns in general all look like guns, blowback action models more so, and it is important to remember that the vast majority of people can't tell an airgun from a cartridge gun. Never brandish an airgun in public. Always, and I can never stress this enough, always treat an airgun as you would a cartridge gun. The same manual of operation and safety should always apply.