War Dogs Part 4
The German Equation – Luger P.08 vs. Walther P.38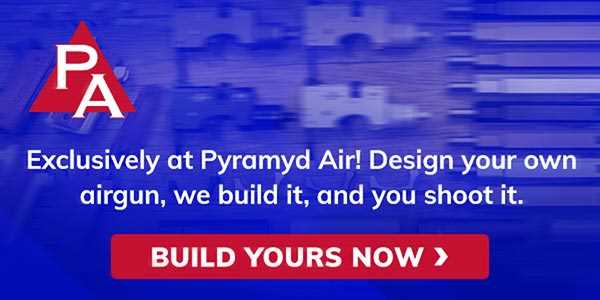 By Dennis Adler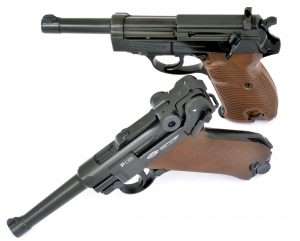 It is a foregone conclusion which handgun was the greatest American semiautomatic pistol of WWII, not quite so easy on the European front where Germany had two very successful and popular sidearms at their disposal, one, like America's Colt Model 1911A1 came from an earlier era and had already proven its mettle under fire in WWI. This was the famous Luger Parabellum introduced in 1900; the P.08 version (without the grip safety) was introduced in 1908.
Germany also had a relatively new handgun, the innovative Walther P.38, the first double action/single action 9mm semiautomatic military pistol. Both of these famous German models exist today in .177 caliber blowback action versions, and both have been discussed before in the Airgun Experience, but not tested head-to-head.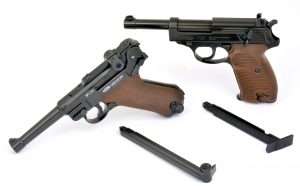 I could make this a very one sided affair by putting the Umarex Luger Parabellum P.08 up against the Umarex Walther P.38, but I'm not going to do that. Instead of comparing apples to oranges (these two Umarex models use different BB and CO2 loading systems and thus are not equals), I'm going to compare apples to apples and pit the Umarex Walther P.38 against the Gletcher P.08 Luger (also offered by Umarex as a  lower-priced Legends Parabellum P.08 model). I just happen to have the Gletcher version on hand for the test.
Bearing fruit
 I've never been a big fan of the apples to oranges analogy, but it works here because both the P.38 and P.08 share similar CO2 and BB loading designs with the 12 gram cartridge fitting inside the grip frames, and the BBs in separate 20 and 21 round, respectively, stick magazines. This knocks both guns down in authenticity compared to the top-of-the-line Umarex Luger Parabellum P.08, which uses a correctly-sized and shaped self-contained CO2 and BB magazine. (To be perfectly fair, Gletcher also makes an identical model to the Umarex Luger Parabellum P.08, so they both have two versions. Pick your favorite brand).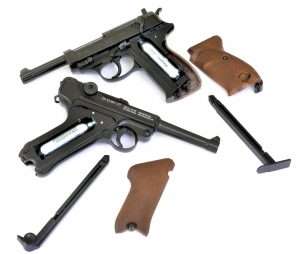 On the plus side, the P.38 and P.08 stick magazines have full sized floor plates so they look correct when inserted into the grip. The other advantage to this design (at present) is that models using separate CO2 and BB magazines produce higher velocities. The P.38, in fact, is renowned for its 400 fps average velocity.
P.08 v P.38
There's one thing I really like about the looks of this particular Gletcher model P.08 over the Umarex version, and it is the grips, which are a brown checkered synthetic to look like original Luger wood grips. The downside to this model is that the toggle does not lock back on an empty magazine. And Gletcher also slathers its name and emblem on the left side of the pistol after doing a nice job of putting P.08 on the trigger plate and using the correct German GESICHERT (in military usage "secured") stamped under the safety lever. The word appears when the lever is moved to the SAFE position. Less eye catching is the screw under the grip cutout, which is a bit smaller than the original guns, and the trigger and trigger spring which are set too far forward from the frame.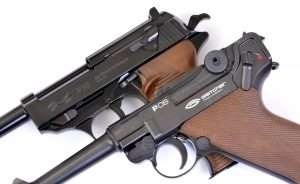 This is an all-metal gun like the Umarex P.38; it is fitted with a correct 4-inch barrel (external length) for a standard Luger pistol, it has the aforementioned wood grain (brown plastic) grip panels, and a brighter, non-military finish, which again is much like the P.38's. Overall it is a good looking air pistol, especially for the price (less than $100).
Walther's Walther
The P.38 has an equally storied history, and has always been an ideal candidate for a CO2-powered, blowback action airgun. Like the Luger, the P.38 is one of the most recognized handguns of the 20th century. As an air pistol the Umarex Walther model has one of the best finishes of any blowback action airgun on the market, price notwithstanding, with a high polish deep blue black sheen. I would love to see this gun with more authentic to the original P.38 composite grips, but overall this is another exceptional blowback action air pistol for the price. The Umarex uses the original-style magazine release at the heel of the grip frame, which was a common European design, as opposed to the American approach with a magazine release button on the frame. This style of magazine release is slower and a bit awkward to operate, and almost impossible to do one-handed; interestingly, Georg Luger did not use it on his pistol design but rather a frame-mounted release button (and this was prior to the John Browning-designed Colt Model 1911 by more than a decade). For reloading speed the c.1908 Luger had an unquestionable advantage over the more modern c.1938 Walther P.38. This is equally true for the air pistols.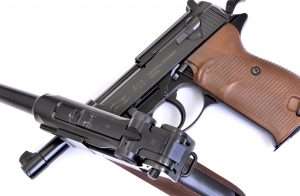 The Umarex P.38 model has a correct 5-inch barrel (external length) but the trigger, while appearing to be a double action, single action design, like the original gun, is actually a single action only trigger in function, with a longer double action pull.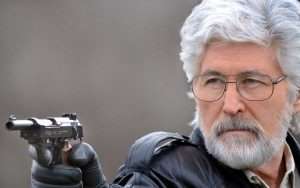 Both of these air pistols are based on iconic WWII era German handguns that have become highly collectible. As airguns they have the distinct advantage of offering an affordable, authentic alternative to their cartridge-firing counterparts.
In Part 5 of War Dogs, the P.38 and P.08 weigh in, load up, and shoot it out.  
A word about safety
Blowback action airguns provide the look, feel and operation of their cartridge-firing counterparts and this is one reason why they have become so popular. Airguns in general all look like guns, blowback action models more so, and it is important to remember that the vast majority of people can't tell an airgun from a cartridge gun. Never brandish an airgun in public. Always, and I can never stress this enough, always treat an airgun as you would a cartridge gun. The same manual of operation and safety should always apply.