War Dogs Part 5
On the firing line – Luger P.08 vs. Walther P.38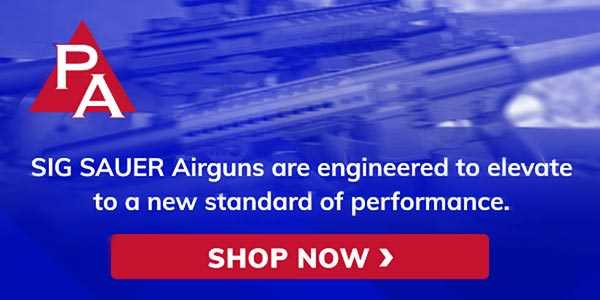 By Dennis Adler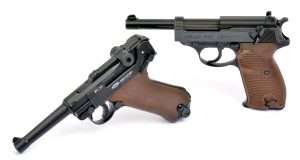 Between the Walther P.38 and Luger P.08 we have two preeminent German handgun designs; two very different approaches to a 9mm military sidearm, nearly half a century apart from each other and  built by two of the most famous armsmakers of all time. Packing all that history into a pair of CO2- powered, .177 caliber blowback action handguns is a tall order, but Umarex and Gletcher have managed to do exceptional work on each design.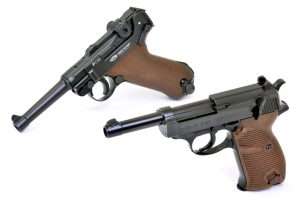 The Umarex P.38
The airgun's all metal construction adds to the authentic look, weight and balance in the hand. Barrel length is slightly shorter (internally) at 4.75 inches, overall length of the gun is 8.5 inches and carry weight 30.5 ounces; very close to the original P.38's weight of 33.5 ounces. As previously noted in War Dogs Part 4, the trigger design on the P.38 looks correct but has a double action only trigger pull even when the slide's recoil has pre-cocked the hammer. This makes the trigger pull a lengthy 8 pounds, 8.5 ounces. Not heavier than many double action/single action Walther models; a PPK has a dreadful double action trigger pull of almost 14 pounds, countered by a single action pull averaging 6 pounds 1.0 ounces. The single action trigger pull on a 9mm Walther P.38 averages 7 pounds, 14.0 ounces. So, in comparison, the double action trigger pull on the .177 caliber Umarex Walther P.38 isn't that different from the 9mm model's.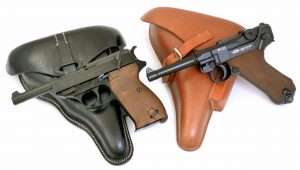 The finish on the Umarex Walther P.38 is second to none and one of its strongest assets, combined with an average velocity of 400 fps (the average for blowback action pistols is 310 to 325 fps). The gun bears authentic Walther markings, and the mandatory verbiage on the right side of the slide is done in small letters that blend in with the polished finish. On these points alone the Umarex exceeds most expectations compared to the majority of blowback action CO2 pistols.
The Gletcher/Umarex P.08 Parabellum (Mod 1)
I have decided to call the Gletcher and Umarex models with separate CO2 channels and stick magazines (which is comparable to the P.38) as a (Mod 1) in order to differentiate them from the more costly models with self-contained CO2 BB magazines.
A 9mm P.08 weighs in at 36 ounces with standard barrel length and empty magazine, has an overall length with the 4-inch barrel of 8.74 inches, and an average trigger pull of 2.25 pounds. A P.08 is also a single action only pistol, whereas the P.38 is a double action/single action design. The Umarex/Gletcher (Mod 1) models have an average trigger pull of 8 pounds, 4 ounces, almost double that of a 9mm model but commensurate with the double action trigger pull resistance on the Umarex Walther P.38.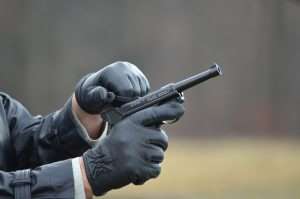 As for fit and finish, the Gletcher being tested has a pleasant, polished finish with a deep blue black sheen, but not as bright as the P.38's, and far from the level of finish found on original excellent condition 9mm P.08 models. Still, compared to other WWII era airguns with flat black finishes, this is a superior look for the P.08.
Ready on the firing line
Both guns were chronographed before the tests with the Umarex Walther P.38 maintaining its reputation with average velocities ranging from 389 fps to 409 fps. The P.08 (either Gletcher or Umarex Mod 1 versions) generate higher average velocities than self-contained CO2 BB magazine models, and the test gun put rounds through the traps at an average of 356 fps to 386 fps. Average velocity for the Luger P.08 models with self-contained CO2 BB magazines is 285 fps to 300 fps.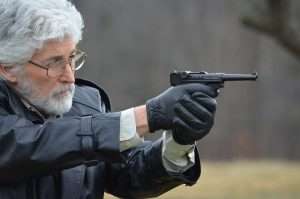 Both military-style pistols have rudimentary notch rear and ramped blade front sights, the P.38's pinned and the P.08's dovetailed. The P.38 has a much larger and easier to acquire rear sight at the back of the slide, whereas the Luger rear sight is integral with the toggle link and rotates out of view with each shot. It is also a much smaller, notched rear cut and significantly more difficult to reacquire after each round. This is the same on original 9mm models.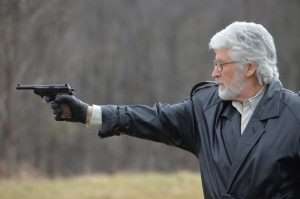 Tests were shot at a range of 21 feet using a Weaver stance and two-handed hold (as shown in the shooting photos of the P.08). The guns were loaded with 15 rounds each (the P.38 actually holds 20 and the P.08 21). The P.08 out shot the P.38 by a slight margin with a smoother and slightly lighter trigger pull that landed 15 total shots within the A-Zone of an IPSC target, with a center-to-center measurement of 1.50 inches, and a best group (in one ragged hole) of 9 shots measuring 0.75 inches edge to edge.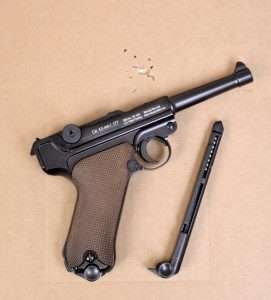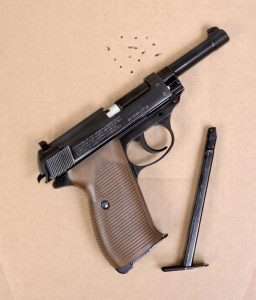 The P.38 has a longer, harder trigger pull combined with a fair amount of stacking. The pistol delivered a best 15 shots in the A-Zone of the IPSC target measuring 1.75 inches, and a best group of 5 rounds at 0.625 inches. Both guns shot close to POA, but the P.38 is not quite as precise as the P.08 at 21 feet.
Once more the age old battle between double action and single action triggers rears its head. A lighter, shorter single action trigger pull, even with a more difficult to define rear sight, can still out shoot a heavier double action when it comes down to pinpoint accuracy, at least with these two very authentic WWII era blowback action airguns.
A word about safety
Blowback action airguns provide the look, feel and operation of their cartridge-firing counterparts and this is one reason why they have become so popular. Airguns in general all look like guns, blowback action models more so, and it is important to remember that the vast majority of people can't tell an airgun from a cartridge gun. Never brandish an airgun in public. Always, and I can never stress this enough, always treat an airgun as you would a cartridge gun. The same manual of operation and safety should always apply.