When good guns go away
Losing the Tanfoglio Limited & Gold Custom
By Dennis Adler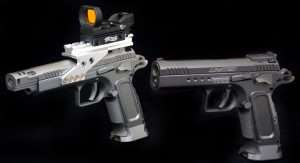 I have been sitting on this for awhile. I have certain favorite air pistols that I bring into articles from time to time because they are worth a second or even third mention, because someone might not have read the original articles, or might be new to airguns and are looking for a really great pistol. These were really great air pistols. There are, in fact, a lot of really impressive air pistols today, some introduced just this year, that are almost game changers for blowback action CO2 models. But over the past half dozen years there have been several equally impressive blowback action models, and now two of them are conspicuously gone. I was hoping that the Limited Custom would come back as models sometimes do, but I don't think it will, especially since the Gold Custom is gone as well. The Limited Custom was, in my opinion and that of individuals who own them, one of the most accurate and best built blowback action CO2 pistols since blowback action air pistols were introduced 19 years ago. And there is a certain irony in that, as the first blowback action CO2 pistol, the Umarex Walther PPK/S, is still being manufactured almost two decades later, while the Tanfoglio Limited Custom, introduced in 2012, is nowhere to be found. Every online retailer that still has a listing, shows it as "out of stock" or "no longer available" and that pretty much spells "out of production."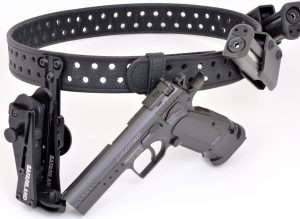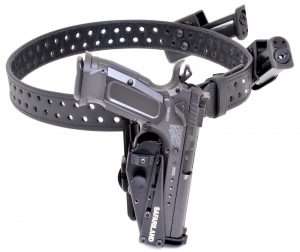 Why are we missing this one so much?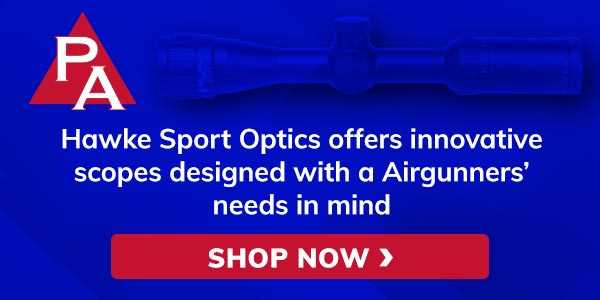 If you look at some of the very latest CO2 models, like the Umarex Glock 17 Third Gen, one of a handful of new air pistol designs based on an actual firearm, or the Springfield Armory XDM 4.5 and 3.8, you have new, innovative designs that haven't been previously built as CO2 models; they are not the same old 1911 rehash (not that I don't love 1911s, but you really have to go some to reinvent that wheel, like Sig Sauer did with the We The People), but in 2012 the Tanfoglio was the "new gun" based on an existing centerfire pistol. It was followed a year later by the Tanfoglio Gold Custom based on the 9mm competition model. So why are the Limited Custom and Gold Custom gone?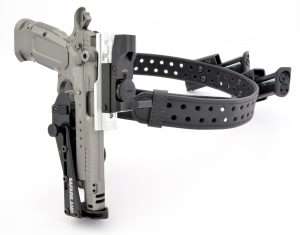 The Gold Custom was a totally dedicated competition pistol, while the Limited Custom was straddling the line between target pistol and competition gun, much the same as its 9mm counterpart, though it depends upon what level and classification of competition you are interested in! While Tanfoglio firearms are manufactured in Italy, the air pistols are (were) made under license to KWC in Taiwan. The centerfire models are imported for the US market by European American Armory (EAA), which sells the latest centerfire version of the Limited Custom, as well as the Extreme Limited, which happens to look a lot like the CZ 75 SP-01 Shadow Blue 9mm and CO2 series models, (and well they should, since Tanfoglios are all based on the CZ 75 design). Tanfoglio also still sells the Gold Custom, which remains one of the most successful competition pistols in the world.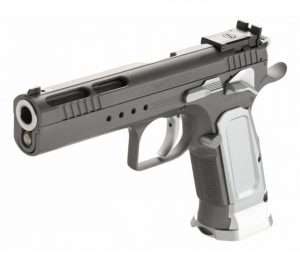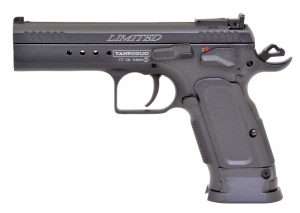 I liked the CO2 version of the Limited Custom because it had a very close relation to the centerfire model with a Bomar-style adjustable rear sight that allowed you to dial in POA accuracy. At 21 feet, the Limited Custom could only be out shot by the Gold Custom fitted with a reflex sight.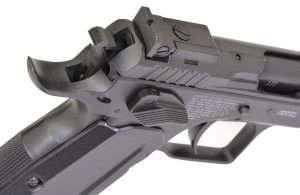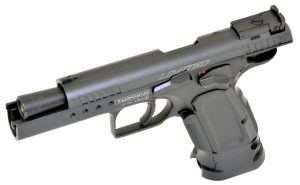 While Tanfoglio and EAA still see the virtue of offering a greater variety of models, it seems airgun retailers and importers don't have that option. I will never find fault with either of these air pistols. They are still the gold standard for blowback action CO2 pistol accuracy. Practical pistols like the Glock 17 Third Gen and Springfield Armory's XDM models may be the biggest and brightest stars this year, but the guns that are gone, the Tanfoglio Limited Custom and Gold Custom, would still be in a class of their own. They are air pistols that, if you own them, are keepers and near perfection in blowback action CO2 pistol design, one that deserved a longer history.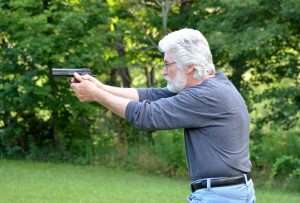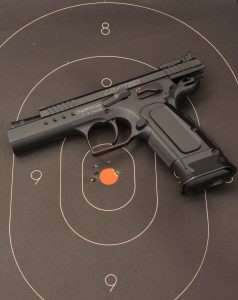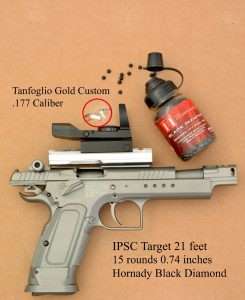 The lessons here are that the bottom line and the bullseye are not always on the same page, and when an airgun comes along that you like, you would do well to buy it.
A word about safety
Blowback action airguns provide the look, feel and operation of their cartridge-firing counterparts and this is one reason why they have become so popular. Airguns in general all look like guns, blowback action models more so, and it is important to remember that the vast majority of people can't tell an airgun from a cartridge gun. Never brandish an airgun in public. Always, and I can never stress this enough, always treat an airgun as you would a cartridge gun. The same manual of operation and safety should always apply.