Winning the Cold War
The battle between CO2 and the thermometer Part 3 Part 2 Part 1
By Dennis Adler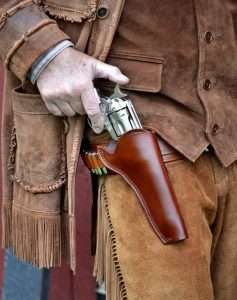 Using Nitrogen in place of CO2 has its benefits if the temperature is well below minimum for CO2. But there is another question, CO2 super cools when rapid firing is involved, this could be fanning a single action, like the 5-1/2 inch Umarex Colt Peacemaker or using a select fire semi-auto, such as the Umarex Model 712 Broomhandle Mauser. I have put these two classic 19th century handguns (the Broomhandle was initially developed in 1895), into a 21st century battle to see how well Nitrogen survives the ultimate test of an air pistol.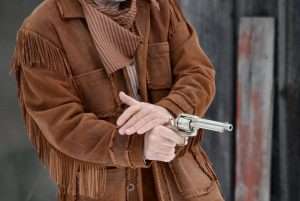 I am going back to the first gun that gave me fits when the mercury dropped well below the minimum for CO2, a BB firing Umarex Colt Peacemaker. The second part of this test is two fold, a different type of semi-auto than the Tokarev TT to see how well CO2 performs in freezing temperatures with a self-contained CO2 BB magazine, and how well Nitrogen performs on full auto, or fanning a sixgun. CO2 has a quick drop in velocity (and accuracy) when a pistol is fired rapidly. Nitrogen should not, but how many rapid fire shots can you get on just 1.8 grams vs. 12 grams?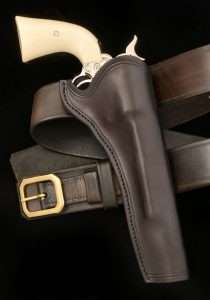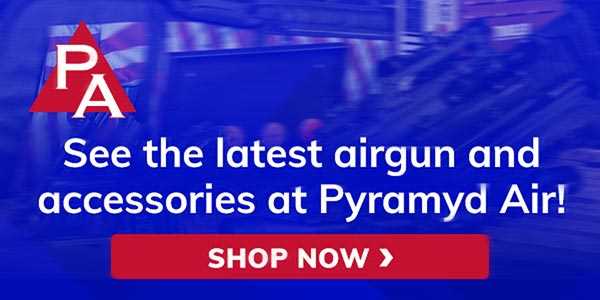 The Cold Test
The weather for this series of tests has been most inhospitable, snow followed by freezing rain. Today, for this final round of cold weather testing with the Umarex 5-1/2 inch Colt Peacemaker and Model 712 Broomhandle Mauser, the temperature is 25 degrees. For the Single Action test I used Umarex steel BBs and Sig Sauer CO2 cartridges with a target board set out at 21 feet firing half the test single handed, almost the entire second half double handed, fanning a dozen rounds. After firing 72 shots I chronographed the gun, which still delivered an average velocity of 350 fps. I shot another dozen rounds with the same accuracy as the first six, at which point I saw no logical reason to duplicate the test with Nitrogen since it can not deliver the same total number of shots. I went back and chronographed the Peacemaker one last time and it averaged 353 fps. Once again I am surprised by how well CO2 has worked in this Peacemaker at 25 degrees. I fired a total of 102 shots on one CO2 cartridge all within 350 fps to a high of 389 fps.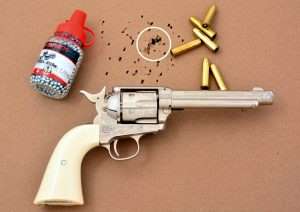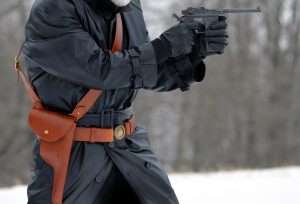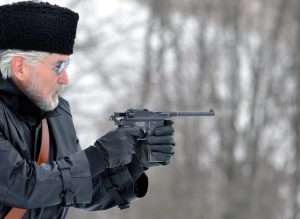 Shooting the Mauser in the same temperature I got two 18 round magazines off single action and a third feathering the trigger on full auto. That exhausted the CO2 in the magazine. So here a total of 54 shots. I switched to the Leland Nitrogen and repeated the test. Nitrogen will only run one magazine on semi auto but it runs it hot at an average of 400 fps. I ran a second magazine on full auto and Nitrogen sends that bolt back with enough kick that you know this gun is running through ammo. I definitely got my $2.50 worth out of that magazine load.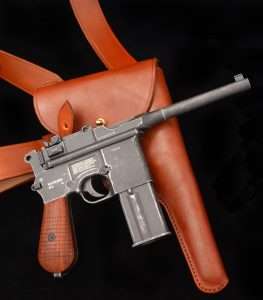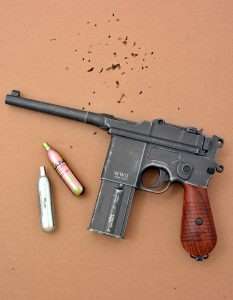 At the end of the day, Nitrogen will do a great job in cold temperatures but in the overall scheme of things, with the right air pistol, at least the three I chose, CO2 will hang in there just as well, not as long as it would in optimum temperatures, but longer than Nitrogen. And the bottom line after this entire series…nothing is faster on the draw or more accurate fired single action at 21 feet, than a Peacemaker. The Tokarev comes in a close second and the Broomhandle a distant third. Which of the three is the most fun to shoot? All of them!