Sig Sauer builds a P226 ASP competition model
By Dennis Adler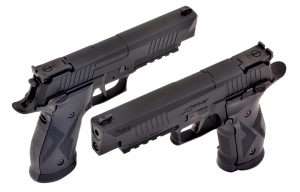 The new Sig Sauer X-Five ASP is a significant variation of the Sig Sauer P226 ASP, making it a dedicated competition version based on the 9mm X-Five. This version had an SAO trigger, extended frame and slide for a 5-inch barrel length, ambidextrous thumb safeties, extended magwell, and low profile adjustable sights. The new Sig Sauer CO2 pellet model also closely resembles the P226 X Match, which was only produced in 2014.
You may have noticed that I have switched the designation for the new Sig Sauer CO2 model from ASP X-Five as I had it in Part 1 to X-Five ASP, and the latter is how it is being marketed. The two-tone version with natural steel finish (alloy) frame and slide and black X grips, will be added shortly, but both models are otherwise identical.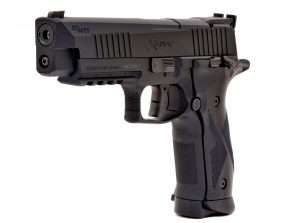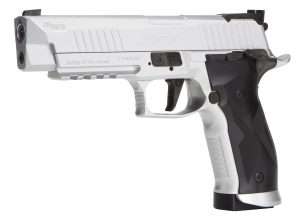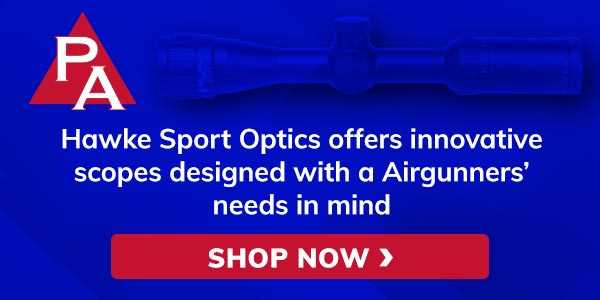 Handling and operation
I have to admit a certain level of prejudice for this Sig Sauer CO2 model because it checks a couple of boxes that neither the original P226 ASP nor last year's P320 ASP managed. First, I prefer hammer-fired guns over striker-fired models because I like a pistol I can de-cock (and yes there are some striker fired models that can be de-cocked) but there is still something to be said for a hammer at the back of the slide! I like the X-Five ASP's hammer design; it is small yet easy to thumb back and has enough knurling on the spur for a solid thumb hold to de-cock the gun. I also like the very crisp, though long pull SAO trigger on this new model, extended beavertail, undercut triggerguard, and of course, the adjustable sights. At first glance there is actually nothing about this new Sig model not to like, especially the use of the P320 CO2 model's 20-shot rotary Rapid Pellet Magazine (RPM) over the old-style reversible 8+8 rotary stick magazine used for the P226 ASP models.

There are only a few things about the new Sig Sauer X-Five ASP pellet model that are a little off putting. First, and this is just the nature of the design because this is a very large handgun, the X-Five ASP is just slightly wider than the P226 ASP by 0.0625 inches and 0.687 inches longer overall (it is also 0.375 inches taller). This doesn't sound like much but with the longer slide and dustcover rail this model will not fit into a standard P226 holster.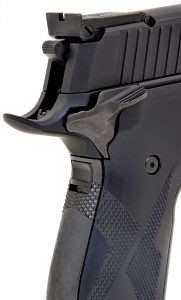 Sig Sauer also has held steadfastly to its non-functional slide release, which, while looking exactly as it should, is fixed in place since the slide cannot lock back with the rotary pellet magazine; one hurdle that the designers have yet to clear. And lastly the use of a one-piece slide with an integral (molded in) ejection port, so there is no visual means of checking the chamber. This is an ASP design feature on all of the P-Series pistols. On the very serious plus side, are fully-functioning ambidextrous thumb safeties and an excellent magazine release (unfortunately good news only for right-handed shooters).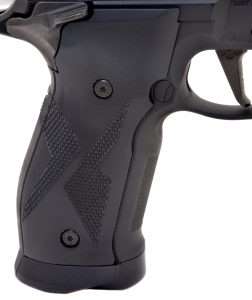 I did mention that this is a big gun, and it weighs in at a solid 44 ounces, just 2.7 ounces shy of the 9mm X Series pistol. In size, the X-Five ASP has an overall length of 8.7 inches, height of 5.94 inches (base of magwell to top of rear sight) and a slide width of 1.0 inches. Width at the edges of the ambidextrous safeties is 1.625 inches. Sight radius is a very lengthy 7.06 inches with a flat surface, matte black rear sight and white dot blade front sight.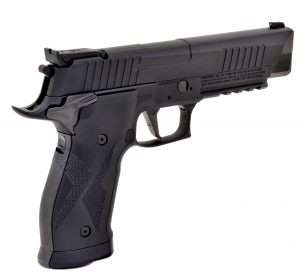 As a dedicated target pistol the X-Five ASP uses the centerfire X-Five-type SAO (single action only) trigger design rather than the DA/SA P226 trigger. The SAO trigger was used on the centerfire X-Five Competition, X-Five Tactical, and X-Series Classic, Entry, X Match, X Match Open and X Super Match 9mm and .40 S&W models.
Among authentic features that are nicely incorporated is the X Grip, a hard plastic grip with a distinctive X checkered pattern. The backstrap is smooth with a checkered panel just below the beavertail (this is also where Sig places the backstrap release for loading the CO2) and the frontstrap has an inset checkered panel at the point where the strong hand fingers wrap around the grip. The triggerguard, as previously noted is deeply undercut which allows a higher hand position on the grip. This lowers the gun in the hand and lowers the bore axis (keep the bore of the gun closer to the top of the shooter's hand). The grips on the X-Five ASP are also big and the magwell flare is almost below the base of my hand, so this grip will be great for shooters with large hands, but it's a lot of real estate for smaller hands to cover. (The Sig Sauer P226 is regarded as having a high bore axis, so the undercut triggerguard is a noteworthy modification).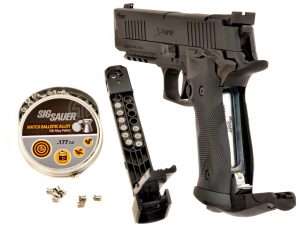 As a training and pellet-firing target pistol the X-Five ASP brings a lot to the game, which Joseph Huston, Vice President and General Manager of the Sig Sauer Airgun Division explained as being "…an outstanding training tool… for more flexibility as to where you can shoot, such as your back yard, and more and more professionals are buying airguns for this very reason. Airguns are also perfect for teaching beginners firearms safety and the fundamentals of shooting."
In Saturday's Part 3 conclusion we will run the numbers for trigger pull, velocity and accuracy at 10 meters for this exciting new Sig Sauer CO2 model.