Sig Sauer builds a P226 ASP competition model
By Dennis Adler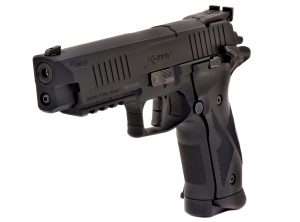 Sometimes with a new model enthusiasm gets the better of you and little things get overlooked but I cannot say that about the Sig Sauer X-Five ASP, because Sig builds all their ASP models to the same standard and while we may not agree with what that standard represents (non-functioning slide releases and takedown levers, and molded in barrel ejection ports), none of these things actually have a role in operating this pistol because the slide cannot lock back due to the magazine design, the gun is not designed to be disassembled, and there are no spent shell cases to be ejected. Sig Sauer logic dictates that these pieces having no function are not important. They are important enough for the slide release and takedown levers to look 100 percent authentic, but left in a fixed position. And I can live with that. The molded-in barrel slide ejection port interface, not so much. The old Beretta PX4 Storm blowback action 8+8 pellet firing semi-auto introduced 11 years ago has an opening in the slide even though it only exposes the top of the barrel when it retracts. It is just an aesthetics issue for me, but if you can overlook that call by Sig designers the heart of this new CO2 pistol is as well grounded as any blowback action pellet-firing model on the market.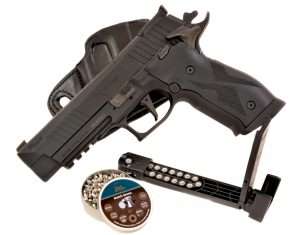 Handling the X-Five ASP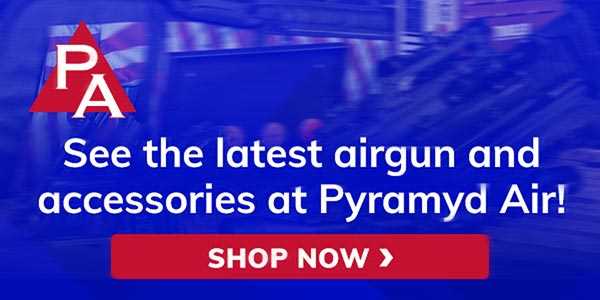 As I pointed out in Parts 1 and 2, this new model is a big gun that fortunately isn't priced commensurate with its weight and mass, otherwise it would be quite a bit more expensive. For its, I think, modest MSRP of $139.99 this is a heck of a lot of air pistol in terms of practical working features, design and handling. It comes very close to the actual Sig Sauer centerfire models. The X-Five as previously mentioned is too big to fit standard P226 holsters but I did manage to find a Galco Quick Slide for the P226 Rail that works with the X-Five. Weighing just shy of 3-pounds, when you strap this gun and holster on your hip you know you're packing, so it is a good training aid for finding out just how much gun you can comfortably wear around your waist.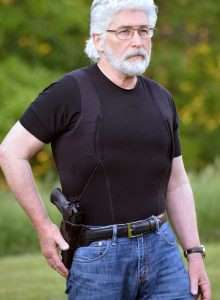 Training being the operative word with all of Sig Sauer's ASP models, it is time to let the X-Five step up and face the trigger gauge and chronograph before heading down to the shooting range. Sig lists the X-Five ASP with an "authentic X-Series style flat trigger" and a velocity of "up to 430 fps" depending upon ammo weight, temperature and altitude.
I don't have a centerfire X-Series model for comparison but the SAO trigger on the CO2 model has a long two-stage pull of 0.625 inches, the first 0.437 inches has virtually no resistance until you feel two distinct clicks, from which point there is firm stacking for the remaining 0.188 inches, dropping the hammer with an average press of 5 pounds, 8.5 ounces (factory spec is 5.5 pounds). The target trigger takes almost a full release to reset and you can feel the same two clicks as you run the trigger out. After the second click you can shoot again, but it is just as easy to give the trigger a full let off before firing.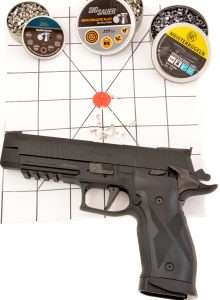 Initial velocity tests using Sig Sauer 5.25 gr. alloy pellets delivered an average velocity of 395 fps with a high of 434 fps followed by 420 fps, 399 fps, 398 fps and 390 fps with lows of 385 fps and 384 fps for 10 consecutive rounds fired at 10 second intervals. A second test was shot using Meisterkugeln 7.0 gr. lead wadcutters and average velocity clocked 350 fps with a high of 380 fps and a low of 343 fps for 10 consecutive shots. A final 10-round velocity test was shot using H&N Sport 5.25 gr. Match Green alloy pellets which clocked an average velocity of 420 fps with a high of 449 fps, followed by 429 fps, 426 fps, 421 fps, and 420 fps with a low of 415 fps out of 10 consecutive shots.
One of the truly interesting things about this Sig model is the sound it makes when fired. It has a nice kick to the slide's rearward travel, which is close to a .22 Short rimfire pistol, but the sound is different, very metallic, and not unfamiliar to my ears having tested .45 ACP and 9mm semi-autos with sound suppressors. It is the subdued report and sound of metal components in operation that a sound suppressor cannot silence, even with a .22, and that is the sound you hear when the X-Five ASP is discharged. If the air pistol had a faux suppressor on the end of the barrel, it would almost sound like the real deal.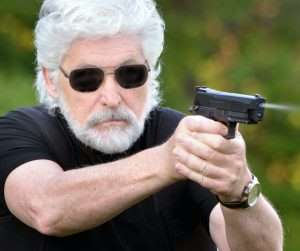 The deal with this CO2 pistol, however, is not just in how it feels and sounds but delivers on accuracy at 10 meters with enough velocity to make it a very worthy competitor for shooting reactive metal targets. For starters, my velocity test target, which was one of my sighting targets so I could see where the gun was hitting without any windage or elevation adjustments, had 30 shots spread over 2.0 inches with the majority of hits (combining all three brands of 4.5mm pellets tested), packed into 1.25 inches, and this was not serious aiming, just centering on target for the pellet to pass through the infrared screens on the chronograph. From this I was able to determine that the gun was shooting about 1.25 inches below POA and almost dead center for windage.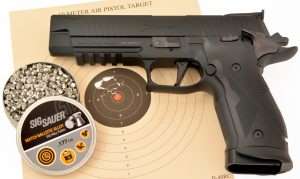 The 10 meter test
I ran my first test with the Sig Sauer Match Ballistic alloy pellets and my best 10-shot group from 10 meters firing offhand measured 0.875 inches from the bullseye to the 7-ring at 11 o'clock with a best 5-shots grouped into 0.53 inches. The gun shot low and I had to hold just center on the bullseye with the rear sight dialed all the way up. This could just as easily be me and not the gun. It is not a big correction and in fact I began hitting high by 0.5 inches toward the end of the target. My next target was shot with the H&N alloy pellets which also weigh 5.25 gr. I went back to a 6 o'clock hold and shot a little low but punched eight of 10 H&N rounds into one jagged hole measuring 0.59 inches. To wrap things up I shot one final round with Meisterkugeln 7.0 gr. lead wadcutters. My best 10 shot group measured 0.75 inches, with a best five shots inside one large hole at 0.5 inches.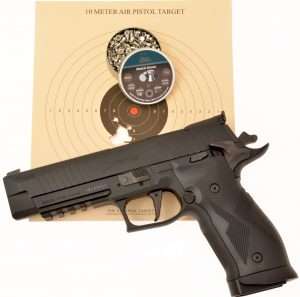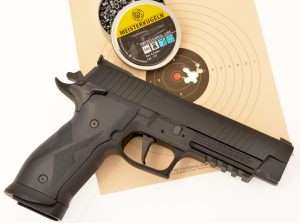 Conclusions   
Overall accuracy is excellent. The target-style trigger is heavy but very consistent from shot to shot. The gun does go through CO2 at an average of 60 shots but at the higher velocity this pistol is delivering, not too much of a tradeoff. The feel, balance and sound of this ASP model is all part of the package, and despite its few shortcomings, it is a solid 4.5mm target pistol just begging to go after reactive metal targets and the best Sig Sauer ASP yet.