I did a lot of things last weekend, but the only thing that I did worth telling you about is the Airsoft game I participated in.

It was at a local field in the Southern California region where I now currently inhabit. It was a pretty phenomenal day. I brought three of my AEGs with me along with an assortment of GBB pistols. I was very anxious and excited to put my two latest projects to the real test. I decided to start the day with my Tokyo Marui M14, which Echo1 did a pretty decent clone of, in case you were not aware. My "M(arui)14", as I call it, is not just your average, run-of-the-mill stock Airsoft M14s. I've spent considerable time and money upgrading and tuning, getting creative with various mods, fixing & repairing or reversing poorly designed or executed mods, and then tuning some more so that I could get it into its current condition of "Awesome."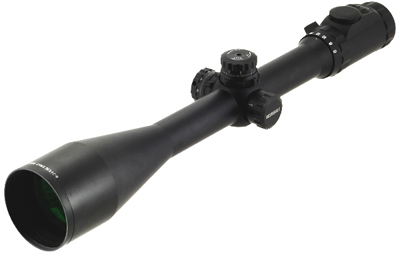 I mounted a giant, over-compensating 56mm Leapers Scope to it to add to the intimidation factor when I brought it out to the field for the first time. Let's just say it executed its primary objective like a true boss. Even though I would classify my M14 as more of a "designated marksman rifle" (aka DMR), I had already been designated the field's "sniper" before anyone had chrono'd my M14 or seen it shoot at distance. For all they knew, I could have brought out an LPEG and mounted that scope to it. The thing that absolutely tickled my Airsoft fancy was that I was actually able to back up a bit of that parking lot intimidation factor once out on the field. There were approximately 30 players (15 or so per side) attending this little pick up game and I most certainly did more than my fair share of cleaning up the opposition. I did so well, in fact, that upon arriving back to the staging area following the end of the first game, which was simply a single-elimination death match to get everyone warmed up, one of the OPFOR asked his teammates if there was anyone who did NOT get shot out by the "sniper" (that'd be me, remember?) because apparently I had taken out all members of his 5 or 6-man squad. Of course, there were a number of OPFOR that did not have the privilege of being gunned down by yours truly, but still, my M14 & I were force multipliers. Here's a shot of my beastly beauty in all her glory...

So I was all amped to the next game started, when I decided to take a few practice shots in a safe area away from the staging area. I noticed the tell-tale sound of a dry-fire coming from my AEG. I first checked the fresh mag I had just inserted (didn't bother to refill the mag from game 1). The mag not only had BBs in it, but it was sufficiently wound (it was a hi-cap). So then I checked the inside of the tube that feeds BBs into the hop-up chamber and sure enough, there was at least one BB stuck in there. I point the gun at the dirt on the ground, fire a few shots to see if I could clear the BB out of the chamber, when I noticed that not only was the BB NOT exiting the rifle, there was no air exiting the muzzle either. It was, however, coming out of the exposed feed-tube, since I did not have the magazine in while firing. Of course, I did not bring my unjamming rod with me, and nobody else at the game had one long enough for the
M14
. So, very sadly, I was forced to retire the
M14
for the day and run another gun. Which was fine, because I brought some excellent backup options, but I was having so much fun with the
M14 DMR
, it was hard to let her go for the day. I have not yet had the chance to confirm whether the BB I was using caused the jam or if something else has gone awry, possibly with either the hop-up unit or the air nozzle/tappet plate, for example.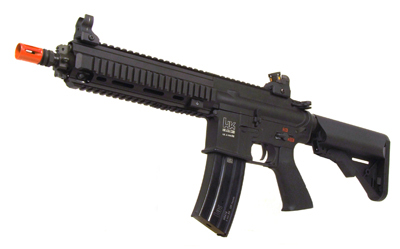 So I opted for the
VFC HK416 CQB
that I have
raved about earlier on the Pyramyd Airsoft Blog
. I'm not sure what the heck I was thinking, but I opted to fill four hi-capacity magazines for the
HK416 CQB
with
.20g BBs (Air Venturis, in fact)
. It was hot, I had not begun hydrating well enough in advance, and I did not eat very much that day. That's really the only thing remotely close enough to be called a reason for making such an error in judgment.
The issue was not the brand of BBs
, it was simply that they were too light for the gun I was using. I should have been using at LEAST a .25g, but ideally a .27g or .28g. So naturally, when it came to game time, we made our first enemy contact and I began to fire at the OPFOR. However, my BBs were over-hopping like there was no tomorrow. I was able to adjust the hop-up dial to get them to flatten out to a satisfactory level, but there were still some consistency issues that I was almost certain could have been avoided with a heavier BB. I was so certain that once the game was over, I ran back to my car to try some .28s. Sure enough, much more stable and consistent flight path. So I emptied all AEG mags filled with the .20s and refilled the mags with the
.28g King Arms Platinum BBs
I had with me. The third game went much better for me and I would have to attribute that to the heavier weight of BBs I used. After that I left, because I had a ton of other things I had to get done before the day was done.
Lesson learned: use at least a .25g BB in any AEG, even ones like my
HK146
that only averages
360 FPS
Also, Rule #76: No excuses. Play like a champion.
Airsoft.