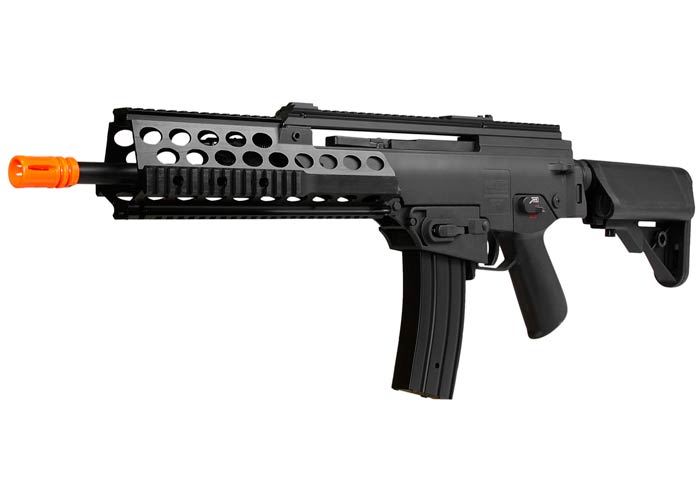 The
Echo1 USA MTC 2 Airsoft AEG
(and the more compact,
Echo1 USA MTC 1 Airsoft AEG
) showed up on the scene around October/November-ish of 2011 as an answer to a pesky little lawsuit involving HK and pretty much most of the Airsoft industry at the time. Since the HK G36 was now off-limits for production by anyone else other than Umarex, who holds the license for HK products worldwide, Echo1 opted to take that design, mix it up enough to get passed the trademark/trade dress rules and voila!
The Echo1 USA MTC (Modular Tactical Carbine) Airsoft AEG was born.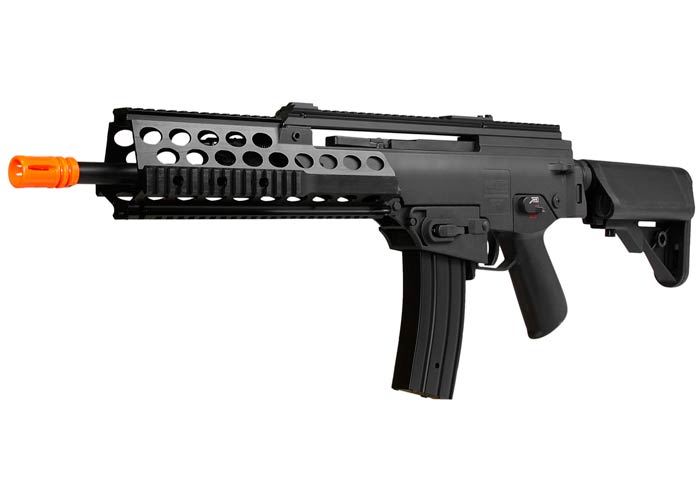 As per usual hitherto wherein, the Echo1 MTC 2 comes in a nicely packaged box full of foam and excitement. There are tools to convert the magwell from accepting M4 magazines to G36 magazines (and vice versa), two high-capacity magazines, 9.6V 1,500mAh nunchuck battery, and a battery charger. Oh yea, the gun comes in the box, too. Weird.
Check out the full sit rep on this unique piece after the jump,
where I whisper sweet nothings in your ear about it.
Ok, great. You jumped. And you stuck the landing. Very nice. So let us continue, shall we?
In looking at the image above, you'll notice I left that tag on the gun for this shot. That is because I'd like to bring up a subject that I haven't seen anyone else address and that is this: Is there a NON-hop-up Version? Cuz I sure as heck haven't seen one. So why go through the trouble of not only making the tag, but take the time to attach it to every one of these guns? And this is not just an Echo1 thing. I've seen numerous other manufacturers do this and it boggles my mind. It's almost like an Engrish thing, yet not actually an Engrish phrase. I don't know. Just a funny thing I noticed. But I digress. Let's talk more about this nice gun.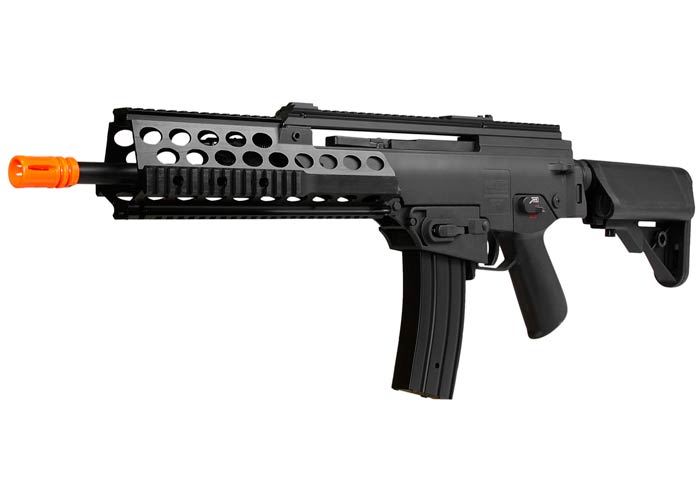 Just like virtually every rifle that's ever come before it, save for a few incredible machine guns, the
MTC 2 AEG
has a safe, semi & full-auto fire selector switch. In fact, it's ambidextrous. Always a plus. But the ambidexterity doesn't stop there.
Enter Mr. Ambidextrous Charging Handle. He decided to show up to the party to prevent Mr. Ambidextrous Fire Selector from having all the fun. This next shot highlights something interesting about this rifle.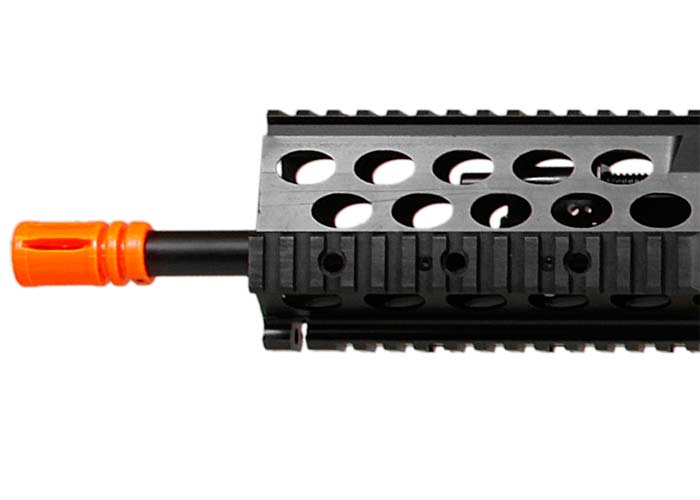 There's that smooth portion of the rail that curves out into the Picatinny rail slots, see it? That's actually a great place to hold the front end of the rifle, with your thumb resting where the rail starts to curve. It doesn't really look like it, but it's quite comfortable.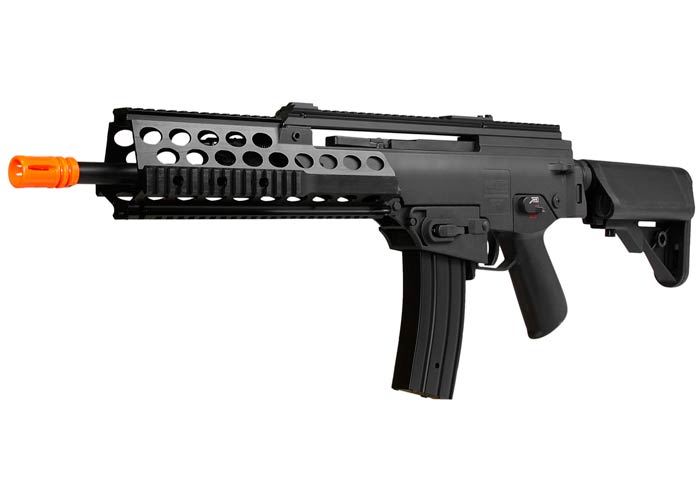 Just in case your optic fails you or perhaps you never had an optic to begin with (shame on you), the
Echo1 MTC 2
comes with very low-profile back-up sights on the top rail. Sweet.
Do me a solid and look below. See that notched, wheel thing? That'd be the hop-up adjustment wheel. Easily accessible by simply pulling the charging handle back and holding it there.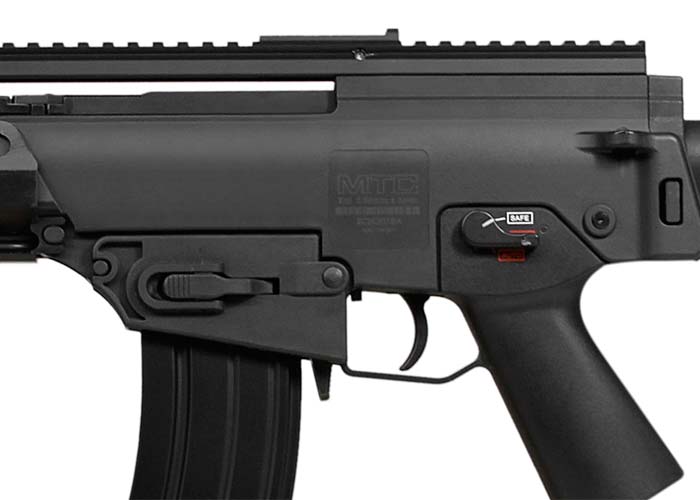 Another common feature seen on pretty much all the Echo1 rifles I've reviewed before is the presence of that little hold on the side of the high-cap magazines. Using either the tool provided in the box or your own Allen wrench, you can quickly wind up your mag and get back in the game. Did mention the
Echo1 MTC 2
comes with not one, but TWO high-cap mags? Cuz it does.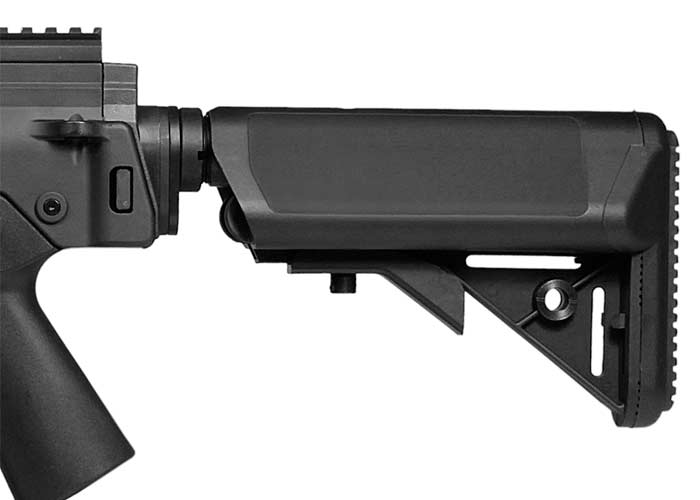 Ah yes. The markings. There's a lot going on here. Look closely. You'll notice the rifle is not on safe mode. Technically, I'm violating one of the fundamental rules of gun safety and I do apologize. No excuses. Then you'll see the MTC markings, along with "Kal 5.56mm x 6mm" (get it?). Next, you'll see "Echo1USA," and identification of who made this fine piece. Lastly, and perhaps most interesting, is the serial number. "FHK2011" A rather unique serial number. Think about it.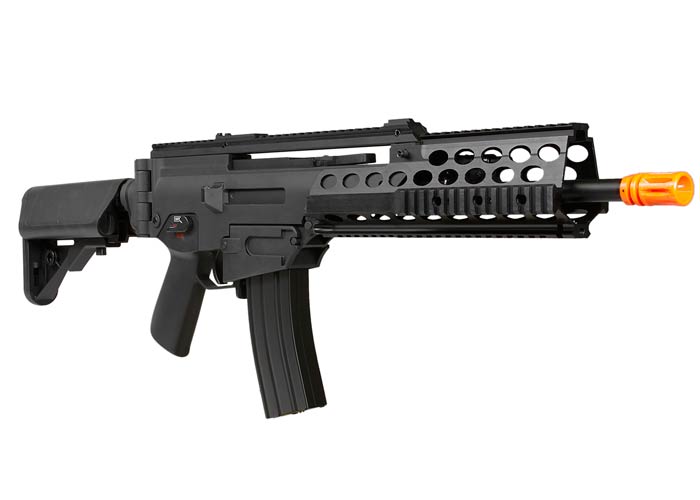 Unlike the standard HK G36, the
Echo1 MTC 2
comes with an M4-style crane stock, which is where the battery is housed during operation. The stock is adjustable for length of pull in 5 or 6 positions.
There. Right there. Below. Do you see it? Do you know what I'm going to talk about next?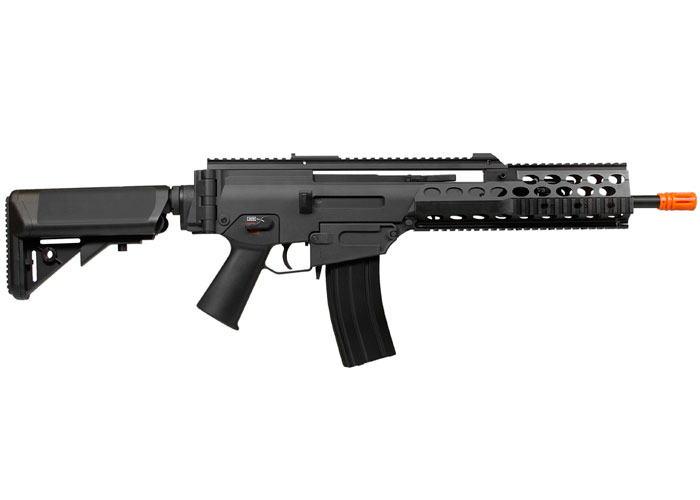 If you guessed that I'm going to highlight that sling attachment point loop thing at the back of the receiver, then you, my friend, have clearly been reading a lot of my blogs and for that I thank you! Even if it was simply a lucky guess, just play along so that I feel good about myself.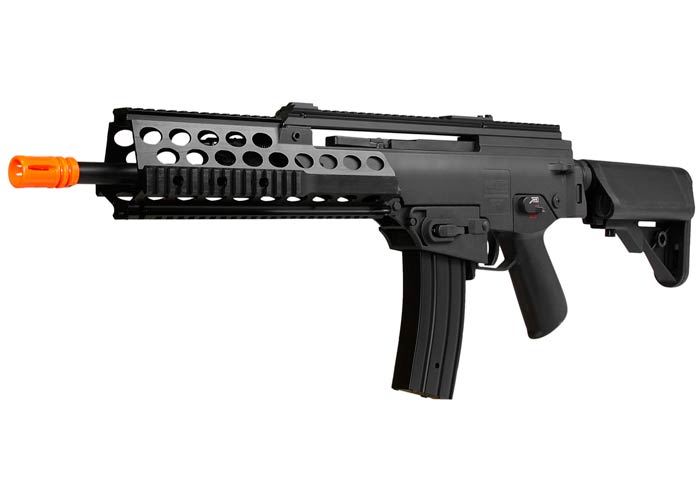 Lastly, we have the magwell. It's modular, in that you can swap out a few things to convert it to accept G36 AEG magazines, should you be so inclined to use such a magazine.
That would conclude the overview of the features of the
Echo1 USA MTC 2 Airsoft AEG
. So far, I think this is a pretty well-made rifle and according to CrazyNCman, it shoots very well, too. So we'll have to take it out to the range this week and see how she does. Until that time, stay frosty and check us out on Facebook & YouTube. Links below.
-------------------------------------