Actually, I have no scientific data to prove rap artists prefer the Echo1 Platinum M4, but according to all the rap & hip hop songs I listen to, it sure seems likely, given the number of times I've heard someone mention platinum chains, platinum grills, a platinum chalice, platinum records, etc in a rap song. As it turns out, I happen to prefer the Echo1 Platinum M4 AEG over most other AEGs as well. Today's entry on the 3X award-winning Pyramyd Airsoft Blog details a bit of why I prefer it.

To read more about my thoughts or just to look at some pretty pictures, click here to take the jump...
One thing I appreciate in my airsoft guns is stamped markings. The logo stamped into the magwell on the
Echo1 Platinum M4
is kinda weird, but at least its stamped in there as opposed to being laser etched or whatever the process is called where the markings are virtually printed on the body. You can also see the Echo1 USA markings above the trigger guard. Nothing too exciting here, but it's fun to see what Echo1 puts in this area on occasion. If you've ever wondered what "SEMCA" means, which is printed/stamped on most, if not all, Echo1 Airsoft guns, I'll tell you now.
S
outh
E
l
M
onte
CA
lifornia, which, of course, is where Echo1's offices are located. Boom. Is your mind blown? Yea, mine, too.
Heckler & Koch
(
H&K
) is the only mfr that normally does this. I'm not sure why I fancy this little characteristic. My only guess is that my favorite color is red.
Moving on. In case you weren't already aware, Echo1 wanted the best, so they had
VFC
make this gun for them. As is fairly standard for a VFC-based airsoft M4 rifle, the
Echo1 Platinum M4
comes with ambidextrous sling attachment points to the rear of the rifle, as you can see below.
Echo1 Platinum M4
also has a sling attachment point for the front end, however, for whatever reason, they decided not to install it. It came separately, in the packaging with one of the high-cap mags. My guess is because so many guys run single point slings and may not need the front point, which generally makes an annoying "clanking" sound when it's being flopped around when operating the rifle.
Rear sight is adjustable for windage & elevation. It's also removable in case the optic you wish to install requires the extra rail space.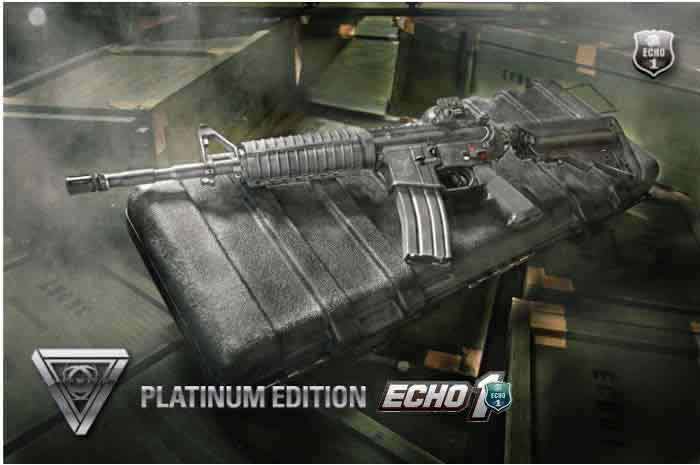 Ok, now. See that charging handle above? Ok, good. Now look below. Yep. It pulls back the fake bolt, which reveals the hop-up adjustment dial. But wait, the winning doesn't stop there. The bolt catch button actually works, and will hold that spring-loaded fake bolt back so that you can adjust the hop-up without having to hold the charging handle back in one hand and adjust the dial with the other. This alleviates a very awkward two-handed process one would otherwise have to deal with.
You might think that we've already covered some pretty awesome features that no doubt soaked up all the overhead that went into making the
Echo1 Platinum M4
, but there you'd be wrong. This is the beauty of what Echo1 does. They don't just "rebrand" a gun, like many a close-minded idiot seem to think. They bring what's called "value-added" in the business world. Value like a freakin' hard case, two high-cap magazines and a 30-day limited warranty. To be honest, I certainly appreciate the 2nd mag they pretty much always include with their guns where most other companies only provide one, but I don't get too excited. However, I DO get excited about the case. NOBODY does that. I shouldn't say "nobody," but other guns from other companies that include the hard case are going to be few and far between, PLUS, usually you're looking at paying a substantially higher price tag for those guns.
Full disclosure:
Brian Holt
, celebrity persona maximus for
Echo1 USA
, personally prepped this gun (or maybe one of his many assistants did, I don't know) and had it shipped out to me, so I am pretty sure he threw in the stickers and his super awesome new Echo1 PVC patch as a bonus. I don't know that those normally come with the gun or not.
If he hadn't thrown those swag items in the case for me, I'd probably have ripped this gun a new one.
Just kidding. All bias aside, I really do love this gun and stand by my recommendation 100%. If you don't like this gun, the issue, more-than-likely, lies with you. Or maybe, just maybe, you got a lemon. But I highly doubt that to be the case when it comes to this particular gun. With the quality control points between VFC, Echo1 and then Pyramyd Air combined, you're pretty much guaranteed to get a winner here.
Lastly. Crane stock. Battery is wired to the rear through the buffer tube. Small 8.4V, 9.6V & 11.1V stick batteries are the way to go here, unless you want to wire it to the front or....
...
Swap out the stock, like I did below. That's the new
Madbull
Troy Battle Ax stock, which actually has quite a bit of extra internal storage for batteries & other tactical stuff you might want to keep in there.
MadBull
Delta P Designs Brevis 5.56mm mock suppressor. You've probably never heard of it.
Were you aware that Pyramyd Air carries
MadBull mock suppressors
for Airsoft rifles? Cuz they do. FYI.
Internally, should you not be satisfied with the already high-performance characteristics of this rifle, you'll find that it's extremely tunable to your heart's delight.
I'll have more performance data & maybe an upgrade tutorial for you at a later time. Thank you for reading this thing all the way through.
As a reward for your efforts, I have given you the opportunity to subscribe to the Pyramyd Airsoft Blog
simply by clicking the high-viz button below. If you can't find it, you're gonna have a bad time.