Sadly, I cannot take credit for the clever title of this post. One of our Facebook fans dropped that little golden nugget on me in a comment regarding the Elite Force 4CRS AEG a few days ago. Brilliant, so I had to reuse it.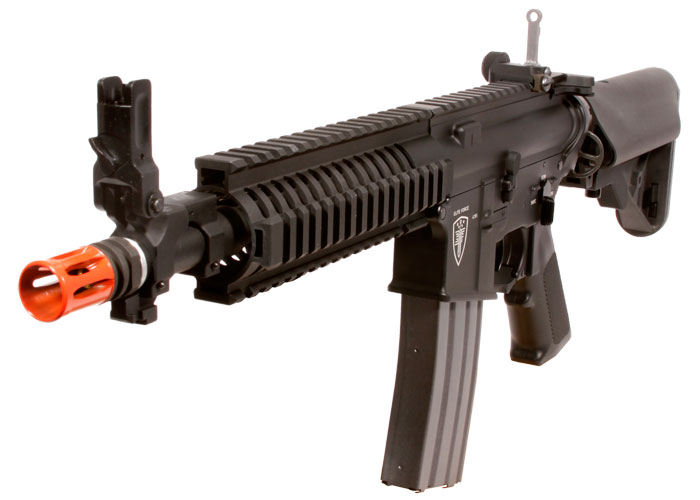 This, if you couldn't tell, is going to be an overview of the aforementioned Airsoft gun. It is, of course, available for acquisition via
Pyramyd Air
, along with a number of fine
Airsoft Accessories
to go with it.
To read more about the
Elite Force 4CRS AEG
and/or drool over mesmerizing photos of its external beauty, I highly suggest you click the following link to view the full blog post.
Here she is. Basking in the essence of her glory. < --- I'm not entirely sure that makes any sense or not, but I'm going to go with it anyway.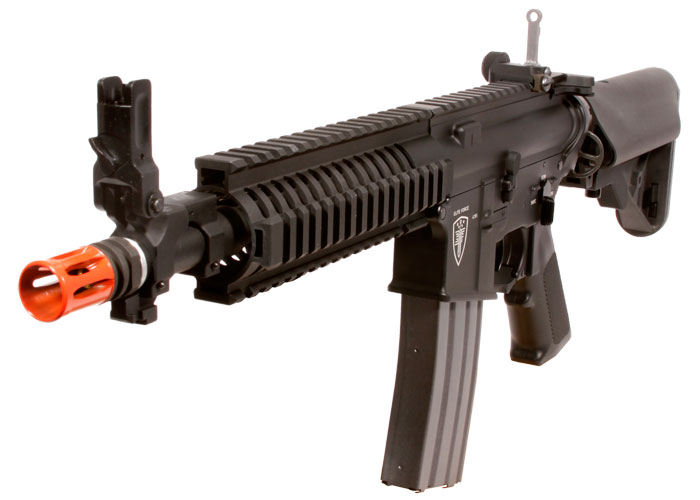 Let us journey down to Feature Town, Population:
4CRS
, starting with the functional bolt catch/release button and faux bolt. Pull the charging handle to lock the bolt back, which allows you to easily adjust the hop-up any way you like. Pressing the bolt release button on the left side of the gun does exactly what you might think it does.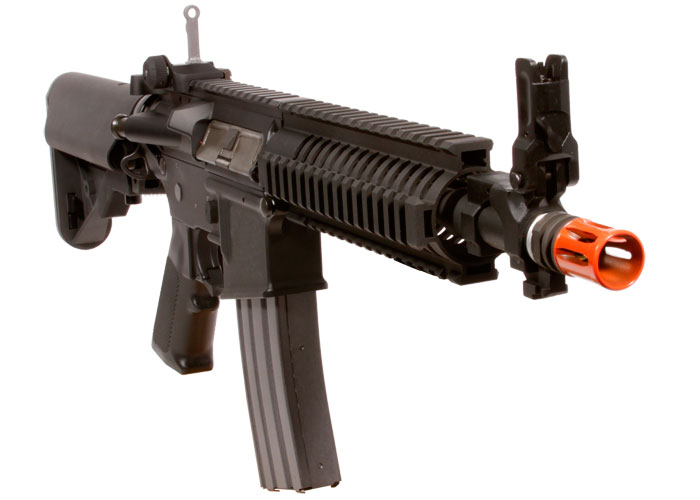 It would be important to take note that
VFC
, OEM for the
4CRS
, has taken the liberty of updating the standard M4-style hop-up assembly to a larger, rotary dial, which in theory, would be an improvement over the original design.
One of the signature characteristics of the
Elite Force 4CRS
is the presence of front & rear flip-up sights, as you can see above. The front sight can be locked into place using the lever located on the front of the sight, once the sight has been flipped into the upright position. This is a handy feature for keeping your sight deployed while you're out on the field, operating like an operator and may happen to brush the sight up against a wall or some other hard object that might otherwise cause your sight to get flipped back down. This could be a very annoying problem to have if you were constantly having to reset your front sight before you could effectively fire the weapon. So, in my opinion, this is a small, yet handy feature of the rifle.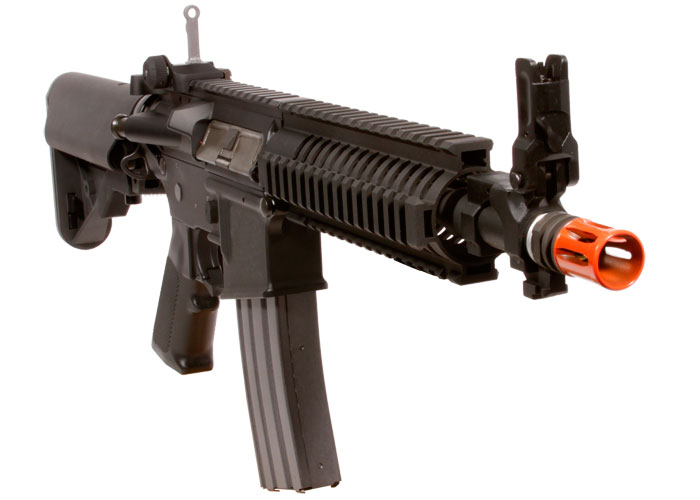 Another signature element of
VFC-based Airsoft guns
, just like the
Echo1 Platinum M4 AEG
I recently took a look at, the
Elite Force 4CRS AEG
sports the ambidextrous rear sling attachment point for single-point, two-point & three-point slings. There is not, however, a sling attachment point on the front-end of the rifle. Picking up one of these
detachable sling swivel mounts for Picatinny rails
will quickly and effectively resolve that issue, though.
The
Elite Force 4CRS
, like so many others, flaunts a sexy little crane stock on its rear end, wherein the small, stick-type battery is to be attached to the small-type Tamiya connector. If you don't run Deans connectors in your guns, you're wrong.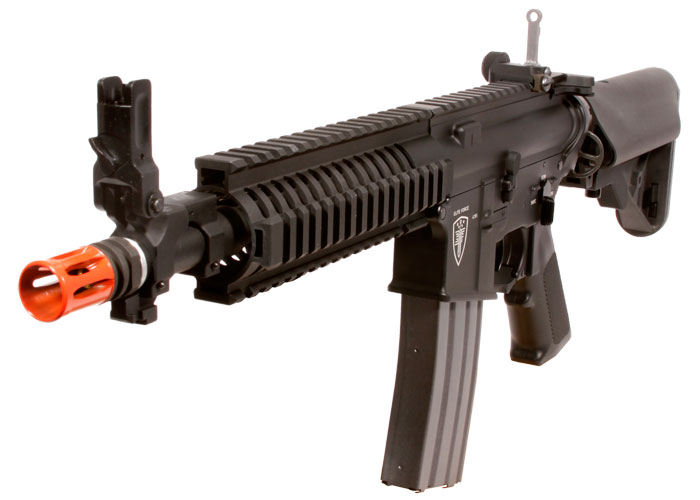 One (1) 300-round high-cap magazine comes with the
4CRS
.
If you're O.G. enough (Operationally Gangster)
, you can fill up your mag pouches with some
Magpul
PMags, EMags & TMags
.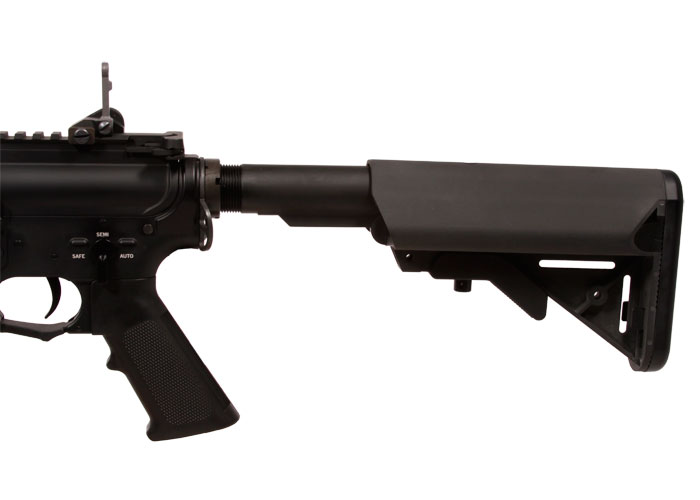 As you can see from the absence of
Magpul
PMags, EMags & TMags
in this particular post, I'm not Operationally Ganster enough. But that doesn't mean I won't get there someday.
The
Elite Force 4CRS
comes with a 7" Picatinny RIS (Rail Interface System), allowing the user to mount any reasonable (or unreasonable) number of
Airsoft accessories
to the front end. The orange flash hider on the front end of the gun has the standard 14mm counterclockwise threading for adding your favorite
Airsoft mock suppressors
or
outer barrel extensions
. It is not recommended that you remove your orange tip for legal, safety and warranty reasons.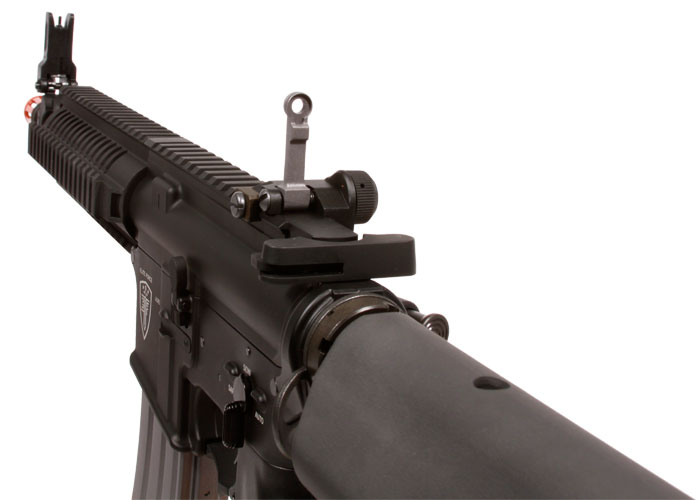 While not an external feature of the
Elite Force 4CRS AEG
, it's certainly one worth noting.
Elite Force
had VFC incorporate a high-speed gearset into the internal gearbox of the rifle, allowing the user to achieve a very high rate of fire when fired on full-auto. Somewhere in the neighborhood of 26 rounds per second (RPS), which is higher than the average ROF of around 20 RPS, all assuming an 11.1V LiPo battery pack is used. Naturally, I'll include a video to demonstrate the performance factor here to be sure that's the case or not. I'm sure it is.
Elite Force
& VFC don't mess around.
That's all for now. Pew pew pew.
-------------------------------------