Air Venturi Avenger 1100 air rifle and Leapers 3-9x40AO scope (September 2010)
by Rick Eutsler
Copyright PyramydAir.com ©2010. All Rights Reserved.
When did shooting in the backyard become so serious? Manufacturers are promising 1200, 1300 and even 1600 fps. Interestingly enough, I don't see any accuracy claims to go along with those velocities. Also, what's with the trend to make everything "composite"? If only there was a quality airgun that was fun and easy to shoot, was accurate and didn't take three weeks of training at the gym to be able to cock it. It would be even better if it was made of wood and steel, like things used to be.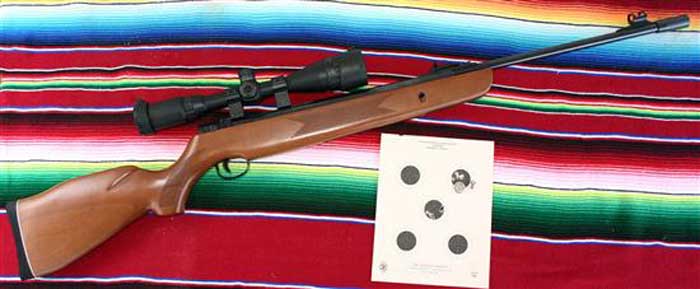 The Air Venturi Avenger 1100 is made the old-fashioned way. . .with wood and steel! Shown dressed in a Leapers 3-9x40AO scope set in Accushot 2-piece mounts.
Enter the Air Venturi Avenger 1100 air rifle imported by Air Venturi and made by Mendoza. If you're looking for an inexpensive, fun, easy-to-shoot, accurate, quality breakbarrel, then you're in luck. The Avenger 1100 is all that and more. I've been a fan of Mendoza guns since my first RM-200. It wasnt fast, but it hit accurately and was very inexpensive. It was easy to cock, easy to shoot and hit the bulleye with little or no effort. The Avenger 1100 is a step up from the RM-200 and delivers about 100 more fps at the muzzle.

The Avenger 1100 is a very traditional breakbarel with a couple unique features. First of all, the rifle is all wood and steel. There's minimal use of plastic on this rifle. You can find plastic in the front and rear sights, safety and triggerguard. That's it. The metal is a dark, dark, blue and the stock is a pleasant blonde. The stock is set up for right-handed shooters and has a raised cheekpiece on the left side. However, lefties should still be able to enjoy this rifle.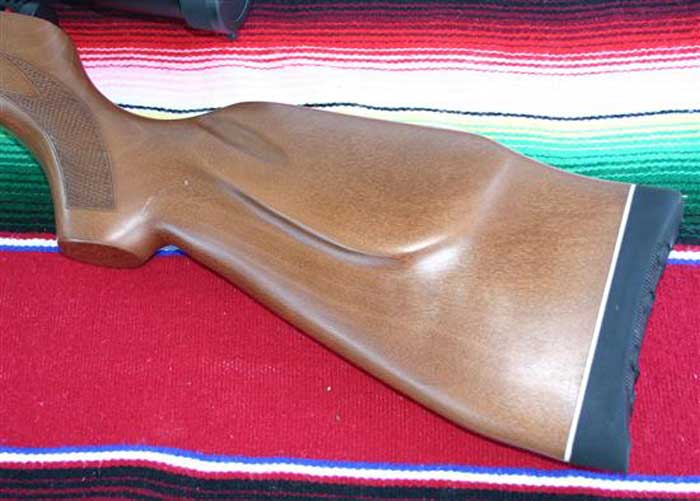 The raised cheekpiece helps you quickly align your eye with the open sights or a scope.
The rifle ships with front and rear fiber optic sights, which are very clear and easy to use. The rear sight should have been micro-click adjustable; but for this price point, I guess they just kept the standard push ramp for elevation. You'll need an Allen wrench to adjust for windage. My rifle didn't have enough adjustment to get it precisely on target, so I opted to mount a scope. Given my eyesight, I was going to add a scope, anyway.
Leapers 3-9x40AO scope shown at top. No skimping on the stock. It covers the baseblock, which you sometimes don't even get with more expenisve European breakbarrels.
Perhaps the nicest feature of the Avenger 1100 is the unique Mendoza, doubl- bladed, trigger. Instead of having a 2- stage trigger with one blade, they have a 2-stage trigger with 2 blades. The first blade must be pulled back to meet with the second one in order for the gun to fire. There's NO creep in the second stage of the trigger--just a clean, crisp break. I absolutely love it.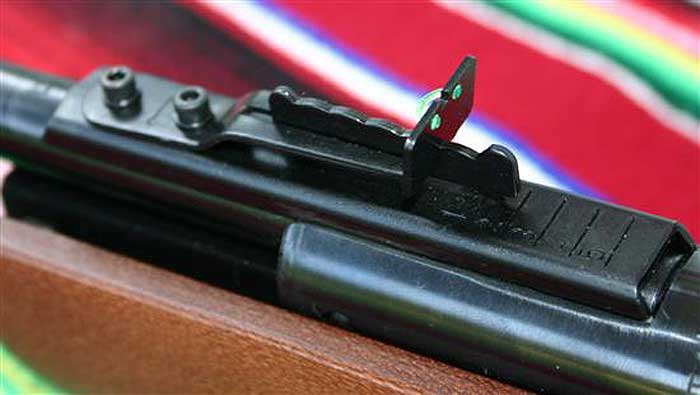 The green fiber optic rear sight is fully adjustable for windage and elevation.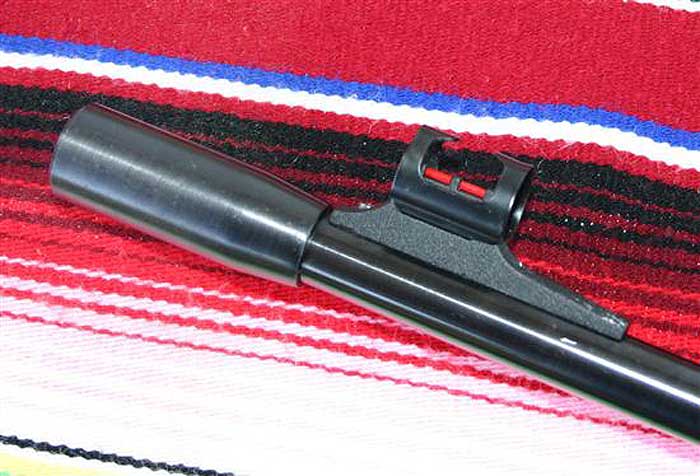 The red fiber optic front sight has a protective globe around it. The muzzle is capped off with a brake for extra cocking leverage.
The safety system on the Avenger is located at the rear of the receiver. It's a simple push-pull safety that automatically resets between shots. It's ambidextrous and can be returned to the "safe" position if you decide not to take the shot. I'm not a fan of automatic safeties; but as they go, this one is pretty easy to get used to.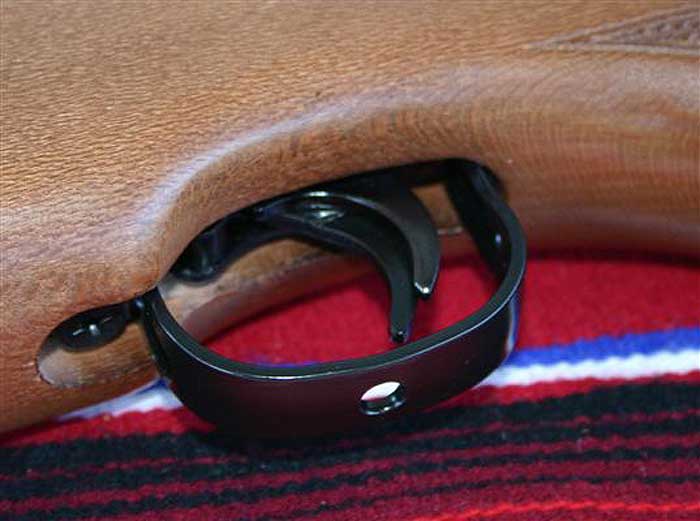 The air rifle has a double trigger blade and the trigger crisply releases at 3.50 lbs.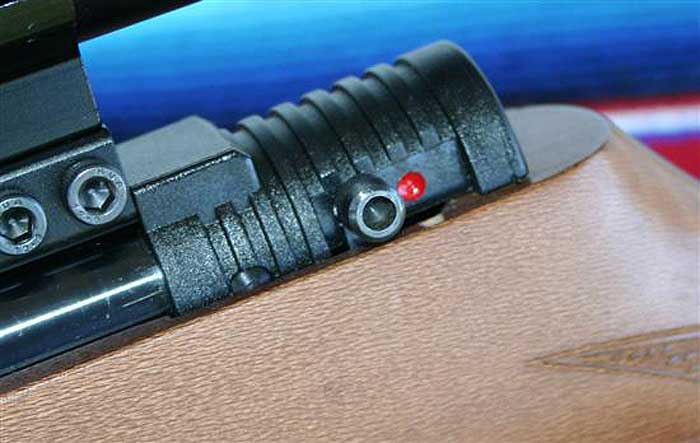 The safety engages automatically whenever you cock the gun.
When it came to optics, I chose my favorite brand--Leapers. Leapers scopes have proven to be reliable and affordable and are my "go to" scopes when I need to add optics to a rifle. For the Avenger, I chose the Leapers 3-9x40AO scope with illuminated reticle along with a set of Accushot 2 piece rings. They're a perfect match for this rifle. If you don't care to spend the extra for the lit reticle, you can save a few bucks and get the Leapers 3-9x32 AO scope without illumination. Both scopes sport mil-dot reticles.

Shooting the Avenger 1100 is a dream. You can shoot it all day and not get tired. It takes very little effort to cock the rifle. While it's a springer and requires some technique because it's not a magnum springer. It's beginner-friendly. I let many people try this rifle, and they all loved it for its ease of use and accuracy out to 20 yards. Below is a sample shot group from 20 yards. Not too shabby!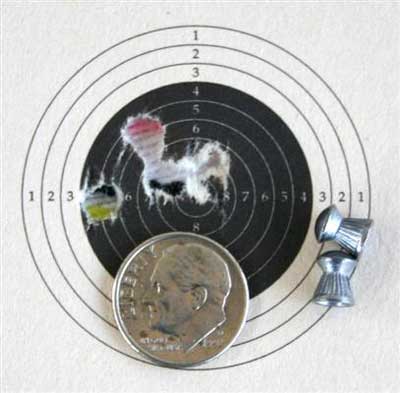 Shot at 20 yards. Not bad!
Twenty-two caliber Mendoza rifles have a particular quirk. They like only one or two types of pellets. The most readily available pellet is the RWS Superdome. The other is the 16-grain .22-caliber Logun Penetrator, but good luck finding them. Awesome pellets though. Fortunately, the Superdomes work just as well and are much easier to find. I've tried every other .22-cal. pellet and the Superdomes are the ones to use. They weigh in at 14.5 grains and produce an average velocity of 589 fps in the Avenger. That comes out to about 11.17 foot-pounds at the muzzle. Velocities on the Avenger are not meant to impress, but remember this is not built or marketed as a magnum spring rifle. You can expect RWS Hobby pellets to top out in the mid- to high-600 fps.

The .22 RWS Superdome pellets (14.5 grains) delivered a high of 594 fps, a low of 586 and an average of 589. A difference of just 8 fps! Very consistent!
I found only one or two down sides to the Avenger 1100. First, the open sights didn't have enough adjustment to get on target at 10 meters. They may have been fine at 20, but I can't see well that far away without a scope, so they're of no use to me. Second, the rifle takes a very long time to break in. I shot well over 500 rounds before the dieseling settled down and the velocity stabilized. Then, I shot another 200 to 300 rounds before the rifle smoothed out. Given the low price point, I expected some of that, but I was just about to give up when it started shooting great groups. The lesson here is not to give up too soon.

The Avenger 1100 is a great option for anyone who wants to just have fun in the backyard or do some light pest control. It has more than enough accuracy and power to humanely take down small pests out to 20 yards. I've used it in town to help eliminate problems, i.e. squirrels. In tight quarters, I prefer a rifle like this one because I know that the pellet will stay in the target and not pass through as it may with a more powerful rifle. Unfortunately, when I wrote this article, the Avenger 1100 became unavailable I hope that some way, somehow, they're able to bring it back as it really fills a need in the airgun community.