Big bore shoot (April 2008)
by Tom Gaylord
Exclusively for PyramydAir.com. Copyright ©2008. All Rights Reserved.
One question that comes up a lot is what people actually DO with big bore airguns after they get them. Yes, everyone knows they can be used for hunting big game, but not everyone hunts. Can you do anything else with a big bore air rifle?

In early December 2007 , I attended the first Big Bore Long-Range Silhouette Shoot hosted by the Longrange Airgun Silhouette Shooters' Association (LASSO) and saw what some people do when they aren't hunting--they shoot their rifles at long-range silhouettes!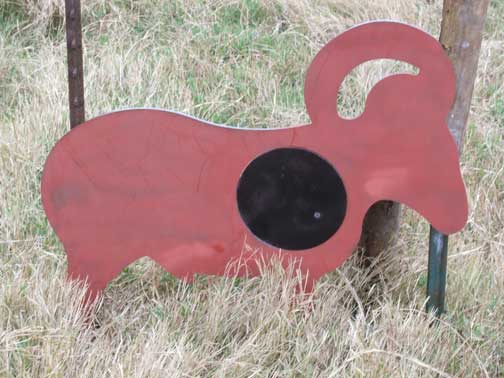 This half-sized ram sillhouette was the target from 100 to 300 yards. Out to 150 yards, the black dinner-plate-size kill zones would fall when hit. At farther distances, the sound of the hit and marks on the target were used for scoring.

Eric Henderson of BigBoreAirguns.com organizes several big game hunts each year, and he decided it was time to get everyone together for a general shoot. He organized the event at Boyd's Farm near Lavon, Texas, a suburb of Dallas. About 20 shooters gathered for the shoot and barbecue. I took the opportunity to meet them and to see what everyone uses.

The shoot was also open to smallbore rifles. Several showed up, but the main interest was focused on the big stuff. In the presence of .45 and .50 caliber guns, a .25 caliber pales in comparison.

Though there were many different rifles at the shoot, the .457 Outlaw Long Action from Quackenbush came closest to being the standard by which others were judged. Generating 500 foot-pounds with three usable shots per fill, the .457LA is a workaday big bore rifle for sure. And for those who feel the need, Big Bore Bob can turn up the wick to 750 foot-pounds easily enough.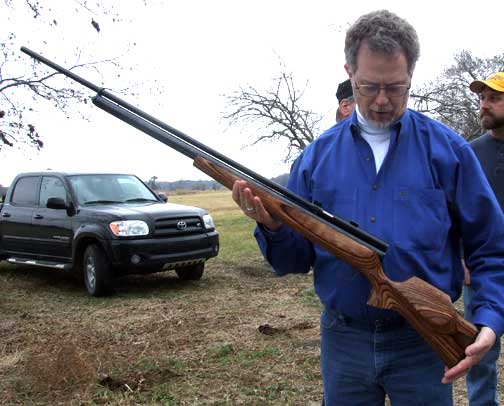 The .457 Outlaw Long Action was the most-discussed rifle at the match. If you didn't have one, you were planning to get one. This long-barrelled beauty was available for sale!
Besides setting upthe range and running it all day, Henderson also served us a barbecue lunch that included a tasty sow pig he'd taken a few days earlier on the same farm where we were shooting. I was prepared for tough, gamey meat, but this animal had been smoked and slow-cooked and was as tender as pork ever gets. It fell off the bone and you could almost cut it with a plastic fork!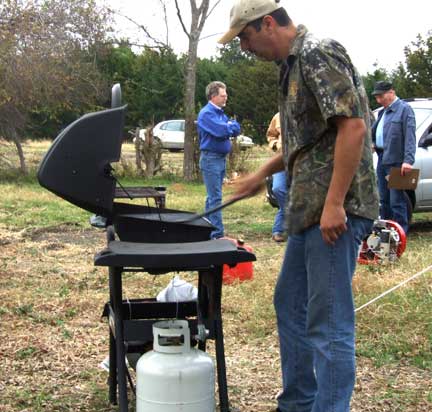 Besides running the shoot, Henderson found time to cook for us.
He also provided free air for all the shooters. His gas-powered 4500 psi compressor ran half the time and there were two carbon fiber tanks in constant use. When guns get just two to four shots per fill, the demand for air is almost insatiable.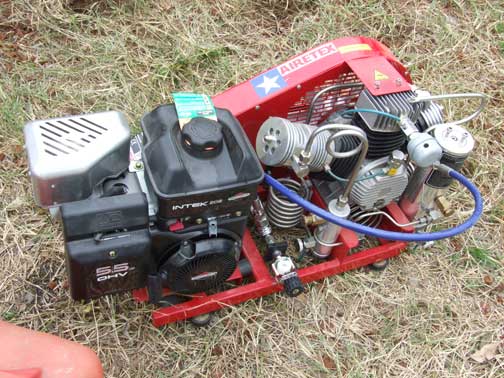 Powered by a gasoline engine, the compressor almost never stopped. These beasts need a lot of air!
Dennis Quackenbush, a well-known maker of big bore airguns, was on hand to watch the shoot and to talk to participants. Many of them used his guns, with the Outlaw Long Action being by far the most popular gun there. But it wasn't the only model. This match was open to all shooters and all big bore guns, and what turned up was surprising.

Collector and noted airgun writer Larry Hannusch brought his vintage Lowenz repeater, based on the famous Girandoni military repeater of 1780, This rifle is thoroughly pitted on the outside and a bug chunk of the stock that encloses the action is missing, but it still works and the barrel is in pretty good condition. Larry made a modern steel butt to enclose the vintage valve so he can shoot the gun safely. He hunts regularly with this rifle and has taken a great number of east Texas whitetail deer with it over the past two decades. Though it has rudimentary open sights, Hannush and his son both hit targets out to 150 yards.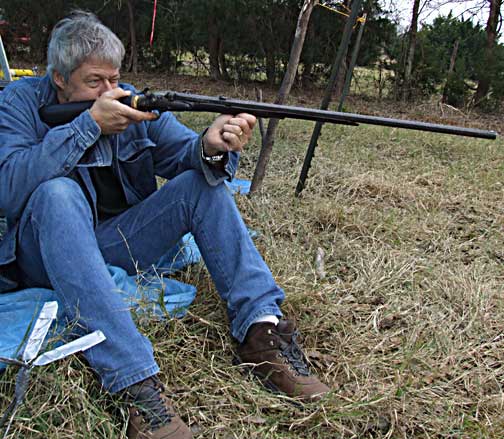 Larry Hannusch shot his 200 year-old Lowenz repeating rifle made on the Girandoni principle. This has beenLarry's go-to deer rifle for several decades.
Dennis Quackenbush also unleashed a .50 caliber pistol that produces 100 foot-pounds. It's based on a Crosman 2240 grip frame, but everything else is made by Quackenbush. A 14-inch barrel gives it a Buntline look. He said he needed to sight it in, then he proceeded to hit the 100-yard ram target several times. Many of the hunters fancy the pistol for a finishing shot at close range.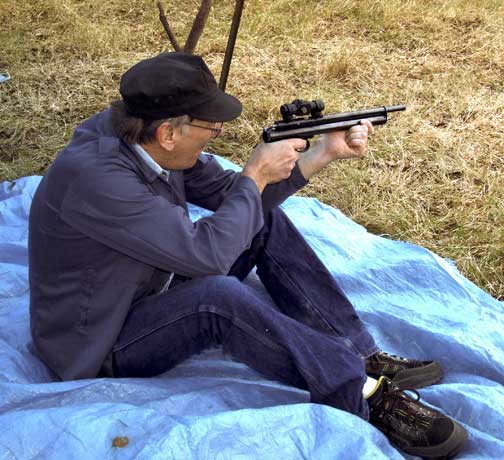 Dennis Quackenbush sights in his .50-caliber big bore pistol. He managed to hit the ram at 100 yards.

There were also several store-bought guns competing. A Career 9mm single-shot did extremely well, and a Sam Yang Big Bore 909 .45 did, too. Both shot conventional pistol bullets, which several of the shooters cast for their guns. That way, instead of a bullet costing 12-20 cents, they cut the cost to zero, if their labor isn't counted.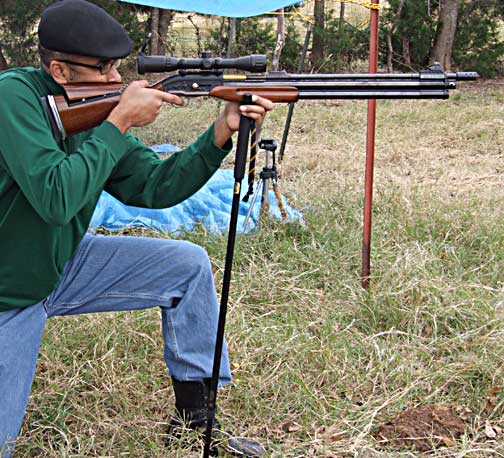 This 9mm single-shot from Shinsung did very well. It turned out to be very accurate at the longer ranges.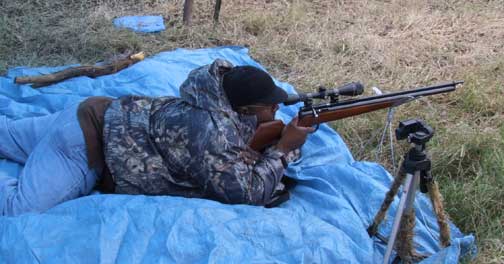 A blast from the past! A Brigand rifle was Quackenbush's first foray into production big bores. This one still shoots strong.
Another gun that many people including me had never seen was a 9mm Castleman select-fire rifle. It holds 26 shots and can shoot them either semiautomatically or full-auto at the throw of a switch. I got some footage of it firing (and hitting!), plus an explanation of the gun for you.
Big Bore Bob Dean, the man who tweaks Quackenbush's big bores for greater power, brought a taploading Quackenbush Liege Lock to the match. Powered by CO2 and using open sights, it didn't have much hope on the cold range, but you have to admire Dean's spunk for entering it.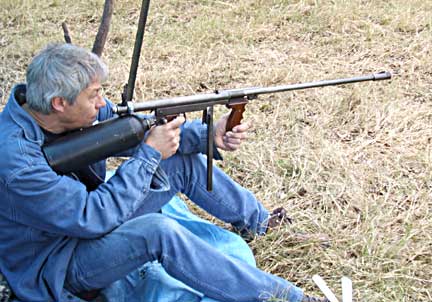 Larry Hannusch shoots a select-fire (full auto and semiauto with the flip of a switch) 9mm Castleman repeater. Once he found the range, he hammered the 100-yard silhouette.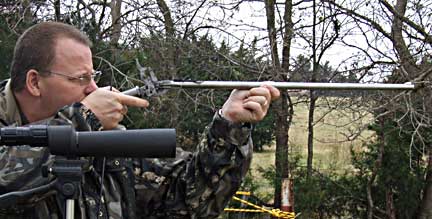 Big Bore Bob Dean shot a Quackenbush Liege Lock, the only CO2 gun at the match.
Speaking of unusual guns, Nevadan Stephan Boles unleashed his 20mm monster rifle made by Big Bore Bob. To put it into perspective, the caliber is about .78. This beast develops about 1,000 foot-pounds, and if you watch the shooter when it fires you will see an air rifle that really does kick. What was surprising about Stephan's demonstration is he hit the target at 100 yards with no sights on the gun!

The match proceeded slowly, but the shooters were paced to fire their two shots at each target within two minutes. The near targets of 100 and 150 yards had kill zones that fell when hit. The farther targets at 180 and 300 yards were simply silhouettes that rang when hit anywhere. All hits counted, with the kill-zone scoring the most. After each round, the targets were repainted and reset, if necessary.

This was the first long-range big bore match and the atmosphere was more of fun than serious competition. The shooters were interested in each other's equipment and techniques. Many had hunted together on one of Eric's guided big bore hunts, but a few were first-timers trying to see what big bores were all about. By the end of the day, everyone had a good time being fully immersed in big bore airguns with some of the best and most knowledgeable shooters in the U.S. I'm sure that next year's matches will draw more shooters and some new guns.
Now, watch the video!
Click the play button below the video to start it. Make sure your speakers are turned on!