Gamo Shadow 1000 (July 2007)
by Tom Gaylord
Exclusively for PyramydAir.com. Copyright2007. All Rights Reserved.
Get the latest buzz on the Shadow 1000

While veteran American airgunners have paid more attention to the magnum Gamo guns, such as the Hunter 890 and the Hurricane 1250, the general buying public has focused its attention on the smaller rifles. As a matter of fact, the Shadow 1000 is a fancier derivative of the Hunter 220, the best-selling of Gamo's sporting air rifles.
The Shadow 1000 is an all-black rifle with synthetic stock and dark black metal finish. It features adjustable open sights with bright fiber optic tubes that enhance the sight picture in most lighting conditions. It has an installed scope stop, which is an indication that Gamo expects many customers to mount a scope.

The Shadow is a hair longer than 43.25" and a whisker over 6 lbs., making it a small-to-medium-sized air rifle. Cocking effort is just 28 lbs., which is on the low side for the advertised power (1,000 feet per second with .177 lead pellets).

The synthetic stock is smooth, yet not at all slippery. A pebble-grain surface on the pistol grip and where the off hand rests under the forearm provides extra protection against slipping. The stock pull (distance from the center of the butt to the trigger) is 13-7/8", which is on the short side of normal for a modern adult male. That means the rifle will fit and feel comfortable to most average-sized adults.
How does it shoot?
With a spring rifle, you can get right to shooting. There are no pre-operations procedures, such as filling the air reservoir or determining the number of usable shots per fill, as would be done with a precharged pneumatic. You can just pick up the rifle and let fly. On the other hand, every spring rifle has to be broken-in to some extent. Some guns take up to 1,000 shots before they have completely settled down and are ready for serious work. In my experience, Gamos do not take as long to break-in. Except for the trigger, which does wear in over many thousands of shots, a new Gamo spring air rifle is almost broken-in when you unpack it.

I first tested the rifle at 10 meters using open sights. It recoils very little for its power, but there is a high-velocity buzz at the end of every shot. It isn't enough to annoy, but I did have to get used to it before I could settle down and shoot a group.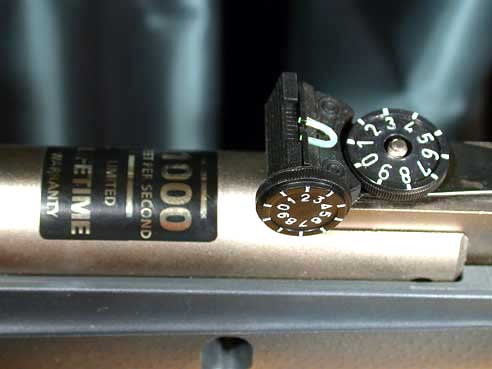 The Shadow's rear sight is click-adjustable for both windage and elevation. It features a bright green fiber optic tube that gathers light and projects two pinpoints of green to frame the front sight's red dot.
The fiber optic sights are very nifty to look at. The rear sight has two bright green dots that frame a bright red dot from the front sight. This arrangement is fast to acquire in the field.

For precision shooting, you have to adopt a special sight picture. For greatest accuracy, balance the bullseye on top of the front bead and lay the bead at the bottom of the rear notch. This is the sight picture used by the top target shooters at the turn of the 20th century, when square front post sights were uncommon. Some people have called it the 'snowman' hold because the round bullseye appears to balance on top of the front bead. If everything goes your way, the two 'balls' are approximately the same size. Shoot with this sight picture, and the rifle will group as well as possible.

And, this rifle did want to group! After I began using this sight picture, the groups shrank to a very respectable size - especially with H&N Finale Match and Crosman Premier pellets. Surprisingly, Gamo's own Match Target wadcutters didn't want to group in this rifle, which is strange. A company's brand of pellet is usually among the best performers in their own guns.
| | |
| --- | --- |
| At 10 meters, five H&N Finale match pellets went into this tight group using open sights. | Though this looks like only 3 shots, it's actually 5! Crosman Premier pellets were the most accurate in the Shadow using open sights. Target shot at 10 meters. |
I selected the light Premier pellet that weighs 7.9 grains because of the rifle's power level. No doubt, the heavy 10.5-grain pellet would also work, but the heavier pellet slows the velocity enough to be a real factor over longer distances. I know for sure the 7.9-grain Premier remains stable out past 50 yards.

The trigger is a two-stage unitized unit that, unfortunately, is the weakest part of a strong airgun. Though it's very safe and reliable, there's a long second-stage pull with lots of creep that just cannot be removed easily. The only adjustment is for the pull-weight of the first stage.

The trigger does get smoother with time, though. I've shot many Gamo rifles that had thousands of shots through them, and the triggers were all much smoother than the one on my rifle. This is not just a Gamo phenomenon, either. Triggers in older Webley guns, such as the Vulcan, also had to have some time on the clock before they wanted to perform at their best - as did most BSF spring rifles. So, if you get a Gamo springer, be prepared to do lots of shooting to break-in that trigger!

The safety is a lever in front of the trigger, and it works manually only. In other words, if you want it on, you have to set it; the rifle does not set it automatically as part of the cocking sequence. This is as it should be.

There is an anti-beartrap mechanism to protect your fingers during loading. When the barrel is broken open, the trigger should not function. This feature prevents the breech from closing on your fingers while you insert a pellet in the barrel, but it also means that the rifle cannot be uncocked. If you cock it, you must shoot it. NEVER shoot a spring gun without a pellet in the barrel, and cleaning pellets do not count. And, you also never trust the anti-beartrap mechanism. Always hold that barrel open when you load the gun. At the worst, it keeps your fingers away from the trigger, where they don't belong anyhow.
How fast?
Gamo advertises the Shadow rifle as being capable of 1,000 f.p.s. (feet per second). That's a dangerous claim for any company to make today unless it's true because so many airgunners own and use chronographs. In the case of our test rifle, however, the claim is actually understated!
.177 caliber Gamo Shadow 1000 spring-pistol air rifle
Muzzle 1' from the start screen, 76 deg. F, Oehler 35P chronograph, all strings are 10 shots
Gamo Match Target pellets, 7.6 grains
High: 956 fps
Low: 942 fps
Avg: 949 fps
Extreme spread: 14 fps
Standard deviation: 3 fps
Muzzle energy: 15.20 ft-lbs.

H&N Finale Match pellets, 7.5 grains
High: 954 fps
Low: 944 fps
Avg: 949 fps
Extreme spread: 10 fps
Standard deviation: 3 fps
Muzzle energy: 15.00 ft-lbs.

Crosman Premier , 7.9 grains
High: 919 fps
Low: 907 fps
Avg: 913 fps
Extreme spread: 12 fps
Standard deviation: 4 fps
Muzzle energy: 14.63 ft-lbs.

Skenco D&S pellets, 5.6 grains
High: 1147 fps
Low: 1071 fps
Avg: 1112 fps
Extreme spread: 76 fps
Standard deviation: 20 fps
Muzzle energy: 15.38 ft-lbs.
Eight of the 10 Skenco pellets went supersonic, and they showed poor accuracy at 10 meters, as a result. But they do uphold Gamo's velocity claims for the series. Actually, I was surprised to see this much power in such a lightweight rifle. The Shadow weighs less than a Beeman R7, yet it has the same punch as the more powerful R9.
Shooting with a scope
I installed a Leapers 4x40mm Tactedge scope on the rifle and went back to the range. The little scope was a beautiful size for this rifle. It adds just about a pound, yet it offers a crystal clear sight picture.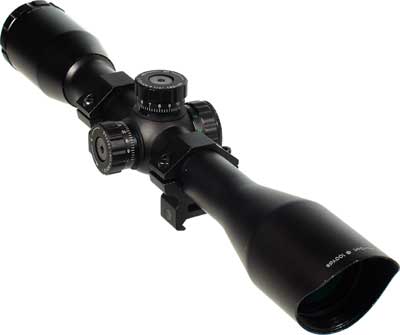 I mounted a Leapers 4x40mm Tactedge scope. It's ideal for this rifle.
| | |
| --- | --- |
| Once again, 5 shots look like 3. Shooting with a scope at 10 meters, Premier pellets were tight. | H&N Finale match also tried to look like 3 shots, but you can see all 5 upon close examination. From a scoped Shadow at 10 meters. |
On the range, I discovered the Shadow's sensitivities, which probably apply equally to all derivatives of the Hunter 220. The rifle wants to be held with its balance point resting on the open palm of your off hand. That's a point just behind the cocking slot. When my hand crept up to the middle of the cocking slot, the pellets flew all over the place. But, with the gun rested at the balance point, groups shrank to their tightest. Heaven forbid that someone should try to grasp the stock like a firearm! Spring rifles don't tolerate that kind of hold very well. So, just balance her on the open palm of your off hand at the place where the rifle balances fore and aft, and keep the rest of your hold as loose as you possibly can. That's the way to wring real accuracy from this model.

I would scope the rifle. There is enough accuracy to warrant the extra expense, plus it's much easier to shoot accurately when you can see the target clearly. The open sights that come with the gun are good enough to get started, so you can put off the extra cash outlay until you are ready. Or, kill two birds with one stone and get the Shadow Combo, which comes with a BSA 4x32mm scope and rings!
The bottom line
If you want a powerful spring-piston air rifle with solid sporter features, check out the Gamo Shadow. There's also a Silver Shadow Supreme, which comes with a red dot sight and rings. These rifles are attractive, lightweight, powerful and accurate. They're also very easy on the pocketbook. Any of these rifles would be a great addition to your armory, and they're ideal for introducing new adult shooters!