I spent the day at Pyramyd Air (October 2006)
by Tom Gaylord
exclusively for PyramydAir.com. Copyright © 2006 All Rights Reserved
I grew up in Stow, Ohio, just a few miles south of Pyramyd Air's Bedford Heights location. Distance didn't separate us, but time sure did. I moved to California in 1963, and Pyramyd Air didn't get started until the mid-1990s. Without a time machine, there was no way I could have gone.
I've been dealing with Pyramyd since they began, and I've known Joshua Ungier for years; but I hadn't seen his operation until August 2006, when I spent a day looking at anything and everything.
A trip to the annual Daisy Get Together in Mason, Michigan, prompted me to take an extra day to visit the greater Cleveland area. Pyramyd Air is located in an industrial park in Bedford Heights. The neighborhood has some familiar names, though the landscape has changed so much that I cannot recall any of it. When I lived there in the 1950s, the Cuyahoga River caught on fire and burned for three days from the pollution. Today, the valley it flows through is a national park. That's progress!
What would I find? From their huge presence on the Internet, I knew they were big. But, among airgun retailers, a company with three employees and a million dollars gross is considered big!
Arriving at 26800 Fargo Avenue, their building seemed pretty average. It's a modern two-story cakebox warehouse with offices in the front. It's built for maximum cubic feet and is fairly standard. Inside, Pyramyd occupies either four or five of the spaces, having recently made arrangements with a vacating tenant to take over yet another space as soon as they could move out. Inside their warehouses, it looks anything but normal.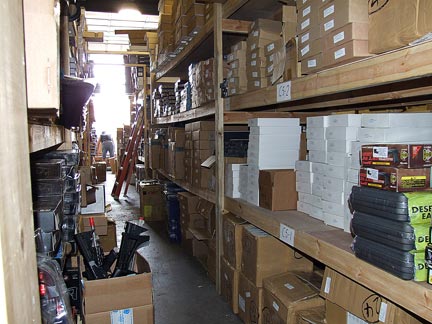 Row after 40-foot row of floor-to-ceiling shelving filled with boxes of airguns!
First, there are more shelves than any five other airgun dealers would need. The photos won't do justice to what I saw, so I'll try to describe it for you. The aisles are tight and the guns are stacked in racks up to 15 feet. They have a very special hand-operated, narrow-aisle forklift that services these aisles in three of the warehouse spaces, while a regular forklift, named Agatha, handles deliveries, pickups and general warehouse work. Now, let's look at some of the related products they stock.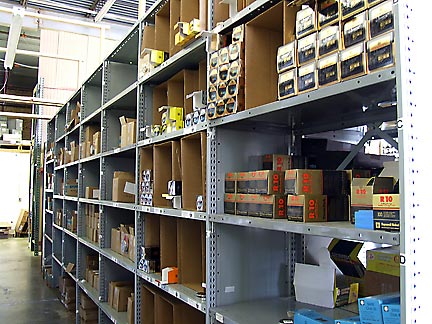 Five and a quarter 28-foot shelves filled with nothing but lead pellets! And those are just the smallbore calibers.
Let's start with pellets. When I arrived, Pyramyd had just purchased Airgun Express and was adding their inventory to the shelves. The entire pellet inventory from Airgun Express filled about one-quarter of a shelving unit 8 feet high and 28 feet long. In sharp contrast, Pyramyd Air already had five such shelves completely filled with their own pellet inventory. Now, they have 5.25 shelves of just lead pellets in all four smallbore calibers. That doesn't include the big bore stuff, most of which they make right there.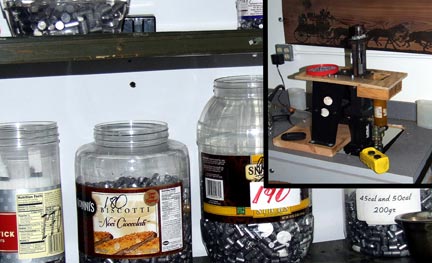 Pyramyd makes nearly all the big bore ammunition they sell. A custom-built swaging machine (inset) turns pure lead slugs into bullets that they call "pellets."
Pure lead wire is cut into precise blanks and stored until they are ready for a run. When it's time, they load the blanks into an automated press and each lead slug is swaged or squeezed into a perfect big bore bullet. Sensibly enough, the sizes and weights are calculated to perform best in the big bore rifles they sell. Bullets are then vacuum-packed into retail packages that go on their own special shelf.
Beyond those shelves are the shelves filled with airsoft ammo. Pyramyd sells many popular brands to go with the thousands of guns they sell. I didn't count the rows of shelves devoted to just airsoft products, but they seemed to occupy most of one warehouse. Besides guns and ammo, they were loaded with tactical vests, web belts and harnesses, tactical lights, face masks, goggles, holsters and similar gear.
Then, there were racks and shelves of airgun accessories that Pyramyd carries. They bought out Webley's remaining supply of air rifles and also the last of the FX custom stocks. I saw a pallet of custom thumbhole walnut stocks for rifles such as the FX 2000 and similar PCPs.
Another pallet was stacked with silent pellet traps they have made in batches of 50. When the stock hits a low point, they buy another 50 and stack a fresh pallet in the racks.
By 10 a.m. on the Friday I was there, they had already received 364 orders to process for that day. I saw one man whose nearly full-time job is just assembling boxes for the shipping department. He's the guy who operates that dreaded staple gun that anyone who has received a shipment knows about. He stacks his boxes high until its time to deliver them to four or five packers working quietly but quickly to fill the FedEx trucks that arrive frequently throughout the day. The pickers feed them products and order tickets as fast as they fill them. Another forklift operator offloads boxes and pallets of new inventory from semitrailers that seemed to pull up about every two hours.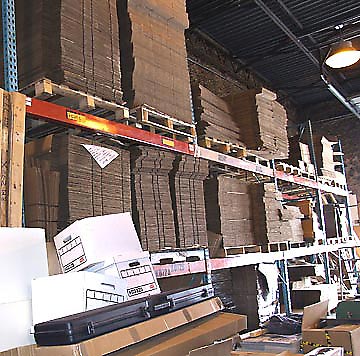 Three-week supply of shipping boxes takes up a wall of one warehouse. A man assembles boxes all day long to keep pace with the packers.
Pyramyd recycles all their used boxes into packing material with a special machine that shreds cardboard into cushions of wavy shock insulation. The savings on bubble wrap and packing peanuts amounts to around $5,000 for one month, according to Josh. He also showed me a three-week supply of shipping boxes. It occupied a pallet rack 18 feet high and 40 feet long - floor to ceiling.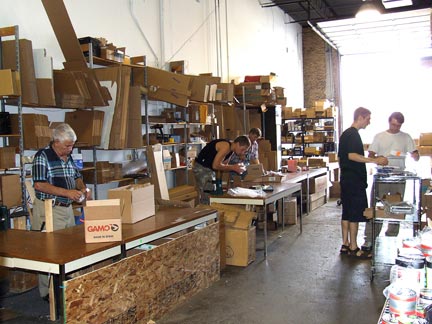 Picking the items for shipment and packing them as fast as fingers can go. These guys fill the FedEx trucks until nearly 7 p.m. every weekday.
While I was wandering around the warehouse snapping pictures and counting shelves, Joshua was everywhere, holding impromptu meetings with his employees. People kept popping out of the woodwork. If I was within earshot, he hollered to me, "Come here, Thomas, and meet Vladimir! He is the most skilled woodworker in all of northern Ohio," or words to that effect.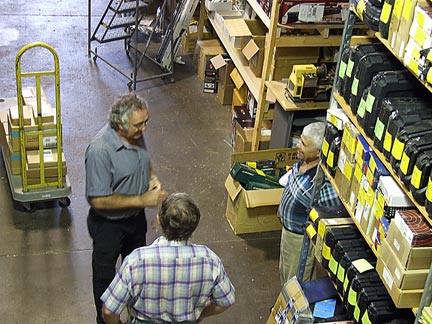 Pyramyd owner Joshua Ungier conducts one of many spontaneous employee meetings on the floor of the shop.
Speaking of skill, I saw Boris in his natural environment - behind his lathe! Pyramyd says they can fix ANY airgun, and Boris is at least 95 percent of the reason why. He's an incredibly inventive chap who just looks at something one time and understand how it works.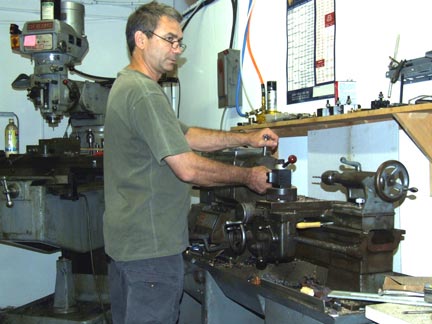 Boris is "Mr. Fixit" at Pyramyd. He fixes all airguns and makes the parts if he can't get them.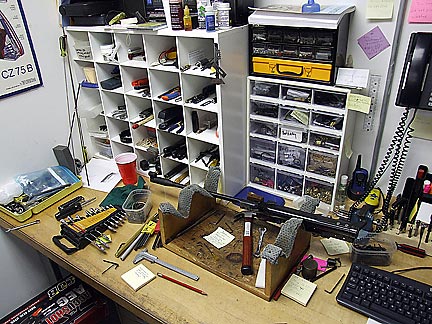 The bench in Boris' shop, which has a Walther LGR 10-meter target rifle in the cradle.
On the bench in his repair shop, I saw a Walther LGR along with an old Benjamin transition pump pistol. Those are two fairly diverse airguns, so if you have an old broken Frankenreich butt-pumper that needs tender care, I think they're up for the challenge. In his shop, Boris maintains the inevitable stock of exotic parts to fix nearly anything. If he needs something really special, he has things like a bowling ball and several tough steel bridge bolts under his lathe that he carves up into whatever hokey gizmos the Germans were putting on their pre-war Mars BB gun trainers in 1936.
Although he doesn't have much spare time, in the little he does have, he stays busy making things such as bulk CO2 adapters for shooters to operate their Drozd submachine guns on paintball tanks instead of CO2 cartridges. And, he's working on a number of other cool projects that should become public soon. He is sort of the Pyramyd Air R&D shop. Whenever he or Josh or a customer gets a wild idea, he'll make one, test it, and, if it has some merit, figure out how to manufacture it.
Another part of Boris' shop is the Pyramyd Air range, where all repairs are tested. It's just a one-lane affair for the present, but there are plans to expand it in the future. It is set up to absorb a lot of punishment, because they have to test those big bores, too.
The Front End
Something has to feed this huge operation, and that something is a battery of men and women who man the phones during business hours. I couldn't count them, because Pyramyd has absorbed so many office spaces this year that they are scattered all around. When I asked how many people Pyramyd employs now I was told by Josh 33. As I wound through the rooms looking at special projects, such as their new interactive shooting gallery, I saw customer reps sitting everywhere. They're easy to spot because each one is wearing a headset and looks like they've lost their minds - they're all talking to themselves. Of course, it's YOU they're talking to. So, when you get that message that all the lines are busy or you have to listen to "The Girl from Ipanema" for the sixth time, please remember that I saw at least 10 customer reps on duty when I was there.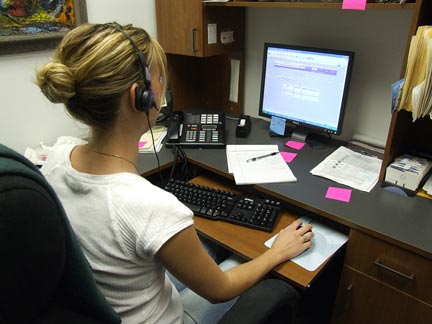 A customer rep fills another order.
Of course, the way to avoid the phone-tag game is to order online, which is how I do it. Pyramyd Air has a secure server and a friendly software suite that is far faster and safer than presenting your credit card for a meal at your neighborhood restaurant. Make certain you've collected all the coupons they have posted and don't forget to order the free tin of pellets with your order of three. If you have auto-fill enabled on your computer, you'll only have to type a letter or two, and your computer will fill out the rest of the form for you.
What's coming?
The way Pyramyd keeps expanding and growing, they will soon be cramped in the space they now have, so they're looking at taking over a 92,000 sq. ft. building. They will have a showroom, public ranges, places for training, sporting goods sales and, of course, lots more room for inventory. Josh told me his growth plans, and they are anything but modest. There are some new products coming that, for the time being, I am sworn to secrecy, but they could blow the market wide open when they arrive. And, there are some business arrangements that should vault Pyramyd into a whole new level of merchandising. The company already does more business in one good month than his nearest competitor does in a year, and he wants to multiply that figure every year for the next five years.
The showroom won't have to wait for the new building, because they already have the extra office space for it right now. That will begin to happen this year. You should be seeing a few of the exciting new products shortly.
That was my day at Pyramyd Air. It turned out much different than I had expected, and I have to say that I was surprised by what I saw. What I REALLY saw, however, was a company that cares about airgunning. They want their customers to enjoy it, and they are prepared to go out of their way to make that happen. That's what I really saw!