Leapers scopes (August 2004)
By Tom Gaylord
exclusively for PyramydAir.com. © Copyright 2004 All Rights Reserved
The title sounds like an advertisement, doesn't it? I'll try to show you what I mean in this report. Most readers will not know that I used to write "The Airgun Letter," a monthly newsletter about airguns. Back in those days (1994-2002), everyone knew we told the truth, plus we took no advertising. I reviewed several Leapers scopes, and I liked them a lot - especially because Leapers never sat on their laurels, producing the same scope year after year. There's nothing wrong with keeping a good product around, but there's also nothing wrong with continuous improvement.
The scopes I'll review here are Leapers' current models. I still own and use their 1st generation scopes, but the ones they make now have some definite advantages for airgunners. Anything you purchase from Pyramyd Air will be one of the latest models because they only started carrying this line recently.
David Ding, owner of Leapers, showed me a few of the secrets behind his line. The first was the inherent strength of his 5th generation scope tubes. Many, if not most, scopes on the market have bodies made from thin-walled tubing drawn into shape. A shooter has to be very careful when mounting these scopes because the slightest amount of uneven pressure from scope rings may dent the tube.

I have about 20 scopes, and most have dents from this. The shallow dents don't destroy the scope, but they're unsightly and make the scope increasingly harder to mount because of the uneven tube surface. Uneven pressure comes from tightening the scope mount caps unevenly or from placing thin shims under the front or rear of the scope to raise or lower the sight picture.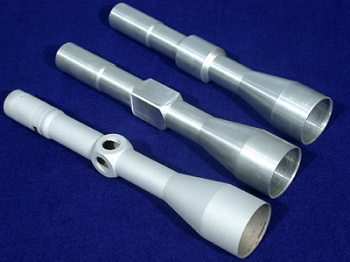 How do they make them rugged? Start with a billet of aircraft aluminum and carve away everything that doesn't look like a scope. These three machinings show the forming process for

Leapers scopes

, which underscores their inherent strength.

Leapers 5th generation scopes are machined from a SOLID ALUMINUM BILLET! That's right, they chuck up a hunk of aircraft aluminum and carve away everything that doesn't look like a scope. Don't believe it? Look at the pictures. They say a lot about the strength you can expect. I'm no expert on scope manufacture, but this is the first time I have seen this approach to machining the tubes.
Another good feature of the 5th generation scopes is the positioning of the erector tube return spring. The erector tube is the tube inside the scope that houses the reticle. It's adjusted for both elevation and windage by means of screws with very fine threads. The screws are attached to large thumbwheels called adjustment knobs. Each one has a ball bearing detent that makes a click every time it pops into a new position, and these are the adjustment clicks everyone talks about.
Coiled springs push back the erector tube when the adjustment screws are rotated in the other direction. So, in both directions, up/down and left/right, a screw pushes on one side of the erector tube and a coiled spring pushes back. What Leapers has done is mount the return spring on a 45-degree angle to the adjustment screw instead of the more traditional 90 degrees. This allows for smoother application of pressure without "stacking" extra tension when the coiled springs get close to binding. Other scope makers tout this as a distinct advantage, and you get it with these scopes, too.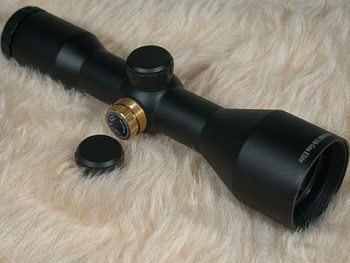 The 5th Generation Compact is the latest in a long line of Leapers compact scopes. They are small but loaded with capability. Use two-piece mounts for them!

Leapers 5th Generation Compact scope is the smallest credible airgun scope on the market. It has the same rugged features as the rest of the series, plus it is remarkably small and lightweight. You can see the earlier 1st generation version of this scope in several of my reports (Career III 300, The Sumatra Carbine and Career Dragon). I use it all the time because it is so quick and handy to mount. I leave it in its rings and slap it on whatever rifle I'm testing. For some reason, this scope remains centered on every rifle it's mounted, and that makes my job go a lot faster.

On Leapers scopes, the adjustment click value is either 1/8" or 1/4" at 100 yds. One click moves the strike of the round by that much at that distance. If you're shooting closer than 100 yds., a click moves the strike of the round proportionately less. At 10 yds., each click moves the strike of the round by 1/10 of a 1/4" on a scope that has 1/4" clicks. So, to move the strike of a round by 1" at 100 yds., the scope has to be adjusted 4 clicks. At 10 yds., the same scope has to be adjusted 40 clicks to get the same 1" movement.

The click values are approximate. No scope in the world adjusts exactly like the specs claim, though the error is usually small enough not to matter.

All the lenses on every Leapers scope are emerald-coated on both surfaces. Emerald allows a lot of light to pass through the glass. You may hear people say that such-and-such a scope is a great "light-gatherer," but no conventional riflescope gathers light. What they do allow is a high percentage of the available light to pass through the optics. The rest is either reflected away or absorbed by the lenses. The better scopes absorb less of the light as it passes through, and they look brighter as a result. Leapers scopes are in this category. I noticed the extra brightness at the Leapers booth at the SHOT Show. You will notice it by the extra few minutes of shooting time it provides at either end of the day.

Those are the general advantages a Leapers scope offers. Now, let's look at some specifics.


3-9x40mm TACTICAL MIL-DOT SCOPE (PARALLAX-ADJUSTED FOR 35 YDS.)
This is a variable-power scope with fixed parallax adjustment. That means it's going to be most precise at 35 yds. Since that's about in the middle of the distance most airguns shoot, it should be fine for all shooting. Another version of this scope is parallax-adjusted out to 100 yds., which is good for either rimfires or centerfires.





The 3-9 Mil-Dot looks great on a TX200 spring rifle. Though parallax is fixed at 35 yds., it can be used all the way down to 10yds. by reducing the magnification.

This scope priced at well under $100 and as good as most other scopes costing $150 and more. It has all the general features noted above, plus it also has a mi-dot reticle. Hunters will love that for its range-finding capabilities. You can find a great presentation on using this kind of scope for rangefinding on Leapers website at www.leapers.com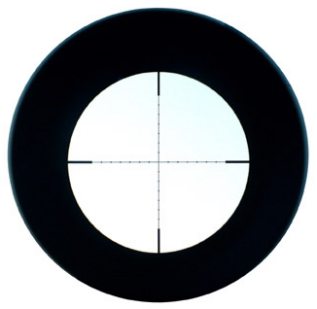 This is a view through the mil-dot reticle scope. The dots are one mill apart, so approximate distances to the target can be calculated, if the target dimensions are known.

A mil is a tiny fraction of a circle. There are 6,400 mils in a complete circle, which means there- dot reticle lets the shooter accurately measure either height or width of a distant object, if the distance is known. If the dimensions of the object are known, distance can be determined this way, which is how soldiers have been doing it since WWII.
Several Leapers models have an illuminated reticle for hunting in the lowest available light. Unless you hunt, you can't appreciate what this feature means. Just before dawn and just after twilight is a brief time when there is enough light available to see game through a riflescope but not enough to see conventional black crosshairs against your target.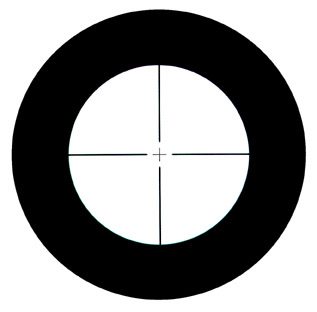 The illuminated reticle looks like this. When the light is not on, the crosshairs are black. When the light comes on, only the center cross glows red. The light is very low, even on the brightest setting, so there is no flaring against a dark target.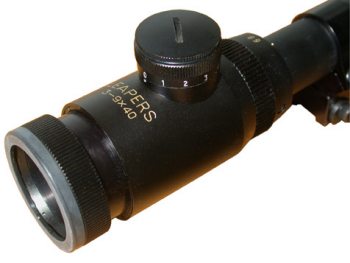 On top of the eyebell sits the switch for the illuminated reticle. There are 11 brightness settings.

Most of the time, the illuminated reticle will be turned off, leaving the reticle as a black duplex reticle. The point at which the crosshairs intersect appears to float (be separate from) the rest of the reticle. When you need it, just turn the round knob above the eyepiece and the reticle will light up. The switch has 11 settings and the brightest is still too dim to see in most daylight situations. But in the dark, you will see the advantage this feature gives you.
THE BUG-BUSTER HAS EVERYTHING!
And now for something REALLY special! Leapers 432AOMDL is a compact scope with mil-dot reticle, illuminated reticle and parallax adjustment DOWN TO 3 YDS.! That's correct - 3 yds.! You can actually focus on a blade of grass 9' away to pick off those pesky grasshoppers or whatever, then turn the parallax ring out to infinity or anywhere in between. There has NEVER been a riflescope that focused this close! Until now, 10 yds. was considered the standard, though other Leapers scopes have actually gone down to 5. But 3?!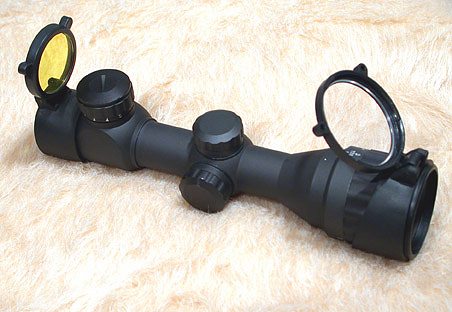 The scope with everything! This compact glass focuses down to 3 yds. and offers BOTH a red- and a green-illuminated reticle, each with five levels of intensity. Flip-up scope caps are standard.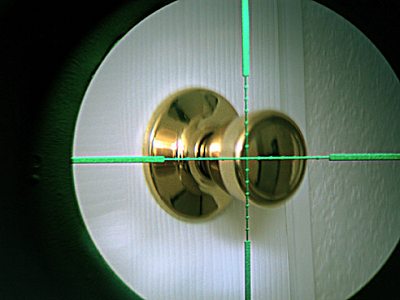 And, this is what it looks like. This photo was taken at approximately 9', handholding both the scope and camera. The green reticle light was set to maximum intensity for this daylight picture.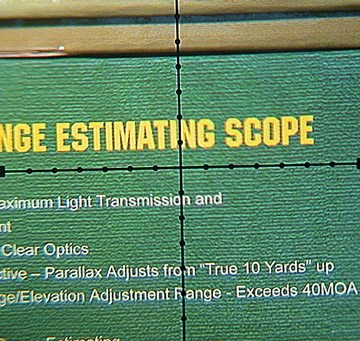 Here is a picture that no other scope in the world can give. The side of the scope box is nine feet away! The "Bug Buster" scope really can focus so close that insect hunting is possible.


This is a four-power scope with a 32mm objective lens. Four power lets a lot of light pass through, which gives you a brighter image of the target. Of course, this scope has the same emerald coating on all surfaces of all lenses.

The other benefit of a four-power scope is that the eye relief is less critical than found in scopes with higher magnification. In other words, this scope is quicker to get on target, which makes it perfect for hunting.

The one thing to consider with a compact scope is that some one-piece rings may be spaced too far apart to fit it. But, two-piece rings (where each scope ring has its own separate mounting base) should fit fine.

The reticle is a mil-dot, which you already know about. But THIS reticle is different. It is also illuminated in either green or red light with five brightness settings for each. There is more flaring with this reticle than with the other glass-etched illuminated reticles, but you can control the light intensity, so one of the five settings should work for you. If not, you could click on the lowest setting to see where the crosshairs are, then off again to take the shot.


TACTICAL VARIABLE WITH OPTIONAL SIDEWHEEL
The last scope is so new that Pyramyd Air had not picked it up when this report was written. It is a 4-16x variable with 30mm scope tube that will require 30mm rings for mounting. This is a tactical scope that has an adjustable parallax wheel mounted on the left side opposite the windage adjustment. Similar scopes sell for $700 - and sometimes nearly twice that amount, but this one will retail for substantially less than half.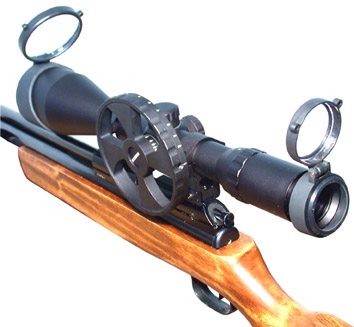 The tactical 4-16x50mm scope with optional

110mm sidewheel

makes parallax adjusting easy. Field target shooters can apply artist's tape to the circumference of the wheel and mark their own yardages after a careful session on the range. The sidewheel shown is a prototype and may look different when production begins. Flip-up scope caps are standard on this model.


The advantage to a side-mounted parallax wheel is that it allows easy adjustments while looking through the scope. It lets airgunners determine the range to the target by rotating the parallax wheel until the image is sharp. The number on the wheel will be the range in yards.

But, there's more. Airgunners like a large sidewheel for easier parallax adjustment while on target. Leapers offers two optional sidewheels for this scope - one 80mm (3.125") and a large 110mm (over 4.25"). I would guess airgunners are going to want the larger wheel, because it provides more circumference on which to apply tape for really precise yardage markings.
Leapers scopes are made for airguns, but they'll work on firearms, too. The features they offer would cost many times as much on other scope brands, but I don't think any other brands have all these features. So if you shoot firearms, these are great sights that won't strain your budget.

All things considered, Leapers scopes have more features for the price than any other line on the market. In a few cases, such as the red-green illuminated reticle compact model, they offer features found nowhere else.

Finally, these scopes are as clear and bright as optics get in this price range. You should consider that before making your next scope purchase.