Pyramyd Air celebrates 10 years selling online (December 2009)
| | | |
| --- | --- | --- |
| | 10 years selling online | |
Copyright ©2009 All Rights Reserved
Pyramyd Air is the world's largest mail-order airgun retailer and was the first U.S. airgun dealer to accept orders online. We recently celebrated our 10th anniversary of selling online.
In business since 1993, Pyramyd Air originally sold products only at airgun shows and through a print catalog. If you attended any of these shows, you probably met owner Josh Ungier or tech guru Boris. Our first website went live in 1998. You could browse items online, but your order had to be mailed in. Online ordering was in its infancy at the time, and most people were skeptical of giving credit card info to a website. How times have changed!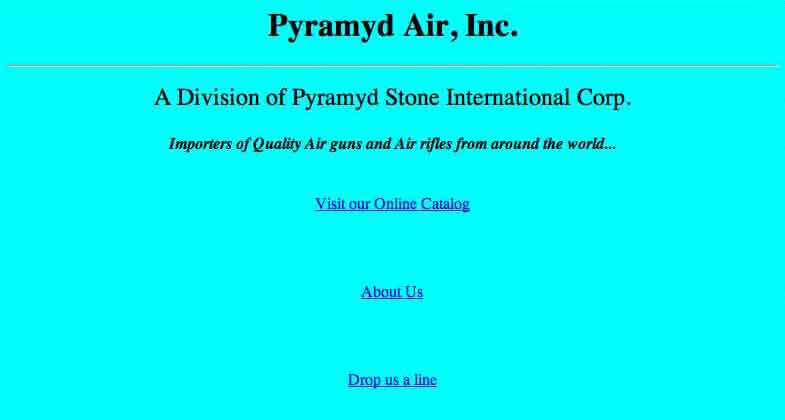 Pyramyd Air's first home page.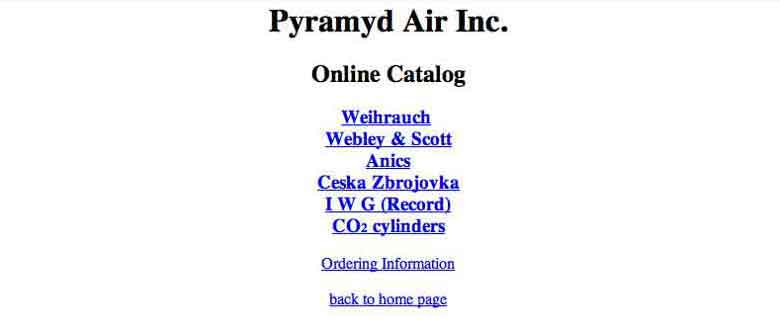 Pyramyd Air's first online catalog had a limited selection of manufacturers. Browsing was the only thing you could do. You still had to mail in your order.
We added online ordering capability to our website in the summer of 1999. The first online order was shipped on July 13, 1999, and it was for two tins of airgun pellets. Over 1,000,000,000 pellets and over 500,000 orders have been shipped since then.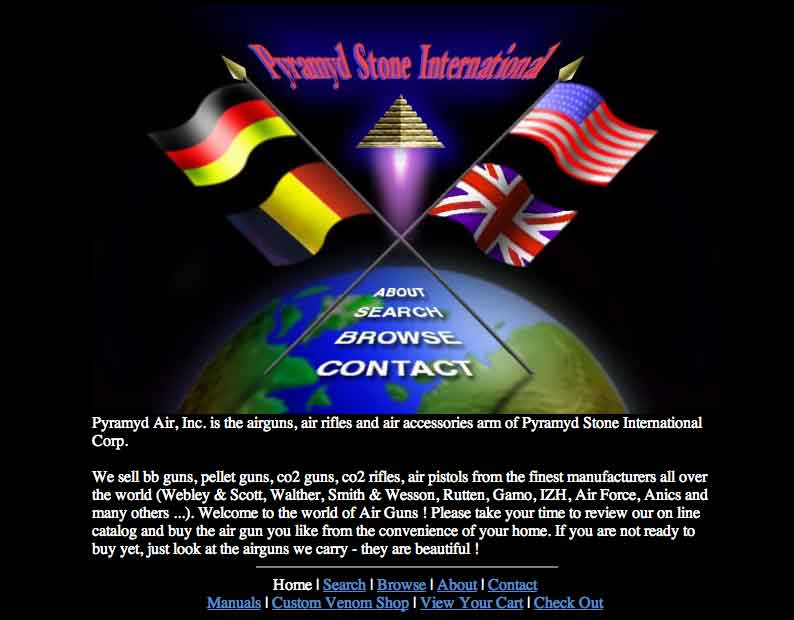 Our home page changed in 1999--the year we added online ordering.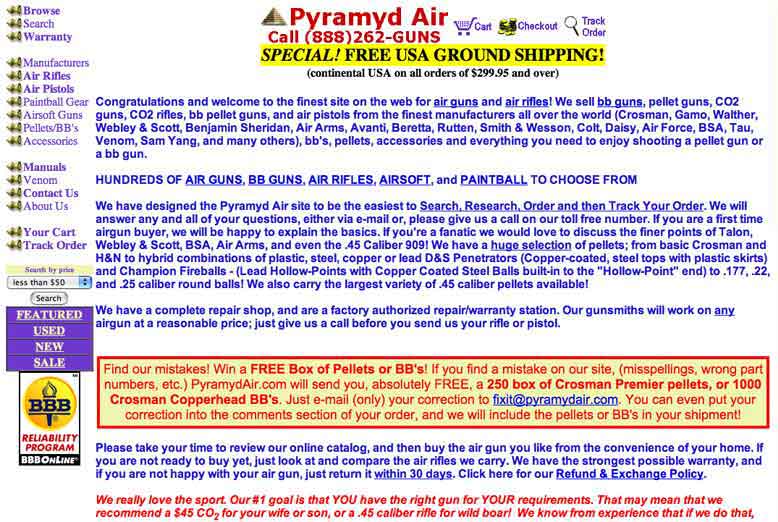 In 2003, our home page changed significantly, including more products, offers of free stuff and some highly desirable big bores.
More airgun manufacturers than anyone else!
Our original website was small and featured selections from just a few manufacturers, including AirForce Airguns, Anics, Axsor, Gamo, IZH-Baikal, Rutten, Smith & Wesson, Walther, Webley & Scott (including the Venom Custom Shop) and Weihrauch. Our original list of 12 manufacturers has grown to 100, with new manufacturers now being added weekly.
While pellet and BB pistols and rifles have been our mainstay, we broadened our line to include paintball in 2002 and airsoft guns, gear and ammo in 2003. In 2008, we expanded the types of non-powder guns we stock by adding blank guns to our inventory. A blank-firing gun is powered by a primer and doesn't include gun powder. Generally speaking, blank guns are unregulated. We also added an archery section in 2008, which includes long bows, compound bows and crossbows as well as bolts and arrows. Crossbows are considered by many to be associated with and even the forerunners of airguns.
Your source for airgun information
In 2002, we realized that airgunners didn't have enough information about airguns and everything associated with them. We solicited articles from the few print publications about airgunning. Our first one came from Tom Gaylord, editor of the now-defunct Airgun Illustrated magazine. Our list of articles slowly grew after that and continues to get monthly contributions from Tom and other writers.
In 2005, Tom came to us with the idea of adding a daily blog. We thought this was a great way to communicate with airgunners on a daily basis and a way to let them get help and expert advice. Our blog--Pyramyd Air Report--is the largest and oldest airgun blog in the world. Not only are airgunners gravitating to the blog to ask questions and read a new entry daily, but they're connecting with each other. In many cases, airgunners have met and become fast friends through our blog.

In 2008, airgunner Paul Capello found our website and blog and saw that we needed airgun videos. An experienced videographer, Paul made a sample video for us. We know a good thing when we see it, so we immediately asked him to make a lot more. Dubbed the Airgun Reporter, Paul has made lots of videos since then--all exclusively for Pyramd Air. He's enlightened airgunners and shooters worldwide.

We started advertising on TV in 2009. We're a title sponsor for The American Airgunner weekly television show, which is hosted by Paul Capello, Tom Gaylord and Crystal Ackley. This is the only all-airgun TV show ever aired. It's going into its second season in 2010, with an accelerated schedule of 26 shows. We also advertise on other select TV shows.

Pyramyd Air was a sponsor of the very useful AirgunInfo.com site. In 2009, that site converted to AirgunArena.com. Based on the wiki foundation, Airgun Arena is built by users and includes news, events, postal matches, stories, product reviews, chat forums, articles, a listing of where to get repairs and airgun parts, and a comprehensive list of dealers and manufacturers. We continue to support the new format as another way to get out the word about the joys of airgunning and to help airgunners network.

Our growth is nothing short of phenomenal. This past summer, we moved into a 20,000 sq.-ft. facility to accommodate our expansion. Read Tom Gaylord's article about his visit to the new building and take a video tour.

In 2009, we were listed in the top 25% of the Weatherhead 100, which recognizes the 100 fastest-growing companies in Northeastern Ohio. Still led by Josh Ungier (and, yes, Boris is still in the tech support department), we foresee a bright future as we work with airgunners and related organizations to generate interest and increased awareness about airguns.