With the FX II electric compressor, it's easy to fill airguns and scuba tanks(September 2003)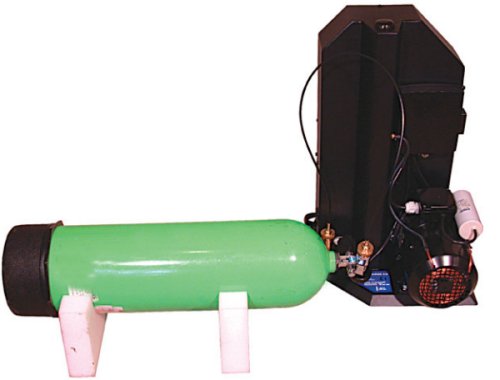 Doing its thing! The FX compressor fills a big scuba tank or an individual airgun ? it's your choice.
Precharged airguns are wonderful until they have to be filled. If you use a scuba tank to fill your airguns, you need to find a way to fill your scuba tank, too. Manual pumps can also fill precharged pneumatic guns (PCP), but some guns have such large reservoirs that the job becomes laborious. And, you'll never want to fill a scuba tank with a hand pump!
I'm always running to my dive shop with a scuba tank or two. You probably know that when your scuba tank gets down to around 2,000 psi you're not going to fill any more guns, because 2,000 psi is the point at which they also need to be filled. It frosts me that I go in with 2,000 psi in my tank, and they charge me the full price for what amounts to just a top-off to 3,000 psi. Of course, what I'm paying for is the time it takes to stop and fill my tank - the actual pressurized air costs very little to generate. But, you don't have go through any of this. Swedish manufacturer FX makes electric compressors that fill your PCP guns AND your scuba tanks up to 3,000 psi.
The compressor you see here has filled numerous scuba tanks from 2,000 to 3,000 psi in one non-stop session. It takes some time - but who cares? In less than half an hour, an 80 cu.-ft. tank will go from 2,000 to 3,000. And, the electric compressor shuts off automatically when your tank is filled to 3,000!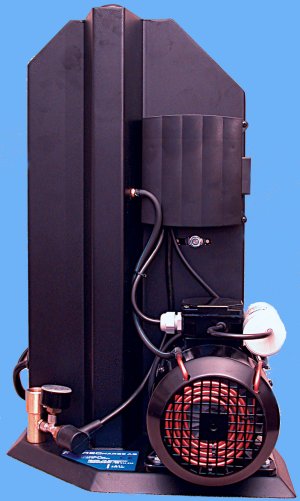 The compressor stands 23.5 inches tall and weighs 63 lbs. when filled with its cooling water. You can see the one handle attached at the lower left side, but the unit is ungainly to pick up no matter where or how you grab it. It's best to put it where you intend to use it and leave it there.
After you unpack the compressor, fill the tall black reservoir with coolant. A rubber plug on top of the unit comes off, and that's where you pour plain tap water into the reservoir along with a small bottle of special water-soluble oil sent from the factory. The reservoir holds a couple of quarts of water. The special oil turns the water white. Put the cap back on, and you're ready to start filling things.

This unit is not only big - it's heavy, too. My scale says it weighs 63 lbs. with the water inside. The manual that comes with the compressor claims it weighs 62 lbs., so that must be right. But, it's difficult to lift because of the weight distribution. Find a spot for it and be done with it.

The compressor is run by an electric motor that plugs into any common wall socket. It's 110 volts and works fine on a common 20-amp household circuit. You may notice your room lights pulsing as the motor runs, so I would turn them off. Also, if you have a wood frame floor instead of a concrete slab, you may feel the pump vibrating as it fills your tanks.

It doesn't look complex inside. The copper pipes exit the front of the unit, where they form a large coil as they enter the plastic cowling on the front of the electric motor. There, they draw in cool air to pass over them. Then, the pipes enter the base of the tall water jacket.
| | |
| --- | --- |
| Remove the rear grill, and the entire mechanism is exposed. The large pulley at the top rotates, which causes the eccentrically mounted pump tube to expand and contract. Because it does this relatively fast, compared to the speed of the manual pump from which it is derived, water-cooling has been provided. Note the brass fixture on the right side. The brass screw head at the bottom of this fixture is the air bleed screw, which pokes through the grill when it is installed. ALWAYS bleed with this screw - not the screw-on a fill device you may attach to the compressor. This is important because it purges the water filtered out during compression. | Here you see the coiled copper tubing that brings the warm water in front of the cooling fan of the electric motor. Air is drawn over this coil, removing heat. |
When you get right down to it, there is a lot of the FX manual pump built into this compressor. One end, which looks like a shorter version of the manual pump, is anchored to the bottom of the compressor, while the other end is bolted to a pulley, where it rides around an eccentric track, pumping madly as it goes. It looks like something from "Junkyard Wars" - except that it works beautifully, chuffing away.
LET'S USE IT
This compressor was designed to fill airguns - filling scuba tanks was added to its job description along the way. Take a look at the first picture. An 80 cu.-ft. aluminum scuba tank is being filled from the compressor. I didn't do it just once, either. I filled this tank again and again, just to prove the compressor could do it with no difficulty. I also filled several pony bottles of 6 cu.-ft. capacity while I was draining the air back out of the big one. I filled all my guns right off the bat. I couldn't shoot them fast enough to give this machine a real test, so there was nothing to do but waste air.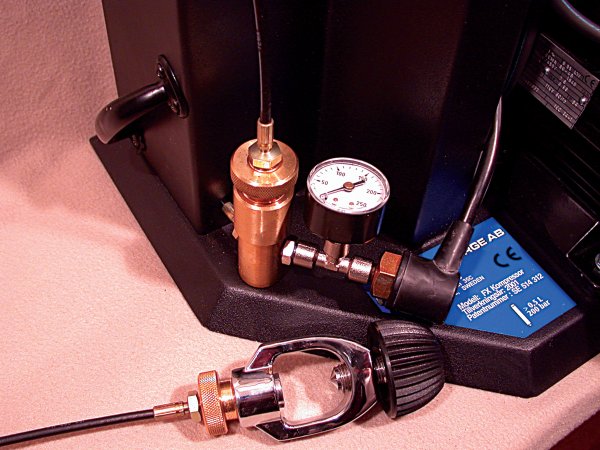 This is the business end. The brass fill port has a brass DIN adapter screwed into it. Note the large rubber boot to the right of the gauge. These are the electronics that were located inside the back of the first model of this compressor. They were tucked behind the brass fixture on the right wall. If you wanted to adjust the pressure shutoff point, you had to partially disassemble it. Now, everything you need to access is located right here, where it's easy to get to.
The fill port, where the pressurized air comes out, is at the bottom left of the unit, and it terminates in a DIN hole. You'll need some kind of fill adapter to fit that connection. I attached an adapter at that juncture and to the tank I was filling. My adapter has DIN male threads on both ends and a micro-bore air hose in between. Friend and airgunner Earl McDonald supplied a yoke that connects a DIN male fitting to a scuba tank K valve, so I used that to fill all my scuba tanks. And, filling them is just the reverse of using them to fill a gun. It seems strange, but you start the compressor, then close the compressor's bleed screw (located on the lower back side). At that point, the fill gauge will show the pressure rising in the adapter. As that happens, open the scuba tank's valve and watch the pressure level rise rapidly. Then, take a break and let the compressor do its thing. When it reaches 3,000 psi, it will shut off. Now, you should close the scuba tank's valve and bleed the compressor with its bleed screw, which is located on the back of the unit.

The gauge on the fill device jitters as it works. With the compressor happily chuffing away, the needle vibrates up and down as much as 500 psi. To see where you actually are with the fill, you have to calibrate your eyeball to the frequency of the vibration and locate the middle point. A glycerin-filled gauge, which would calm things down a bit, would be nice.

The vibration doesn't affect the automatic shut-off - that's controlled by an electronic sensor housed in the rubber boot in front of the gauge. It can be adjusted to a small degree, but this compressor is rated to 3,000 psi, so don't try to exceed that.
I LIKED IT!
After all is said and done, I really enjoy using this compressor. While I had it for testing, I became very complacent about how much air I had in my tanks. That sure beats always being hyper about the states of fill for several tanks. As long as there is electricity in the wall, I can fill all my tanks AND my guns when I choose - which is the whole point.

So, where's the rub? The price, of course. You can't build a heavy machine like this and sell it cheaply. This new compressor has proven that it can take the abuse of extra-heavy use, and that sort of construction costs money.

Maybe this will help you to decide. The computer I'm using to write this report cost $4,500 less than ten months ago. In three years, it won't be worth $1,000, yet I still paid that much because that's what it cost. On the other hand, three years from now an FX compressor will still be doing its job as well as today and probably for a good many years after that. Air doesn't become obsolete and airguns will always need it. So, don't think of the FX compressor as an expensive luxury. Instead, think of it as a tool that enhances your enjoyment of PCP airguns. You may run through a lot of airguns in your lifetime, but this could be the last compressor you ever have to buy.