By B.B. Pelletier
There have been some great airguns in the recent past, and today I'd like to take a look at one of them: Crosman's Mark I Target pistol.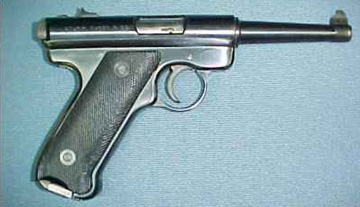 Ruger Mark I .22 rimfire pistol – the
model for Crosman's Mark I.
They copied the Ruger Mark I
Crosman copied Ruger's most famous handgun, the Mark I semiautomatic .22-caliber pistol. Ruger introduced this pistol, which built their company, in 1949; the Mark I dominated the handgun world by the time Crosman first offered their Mark I target pistol in 1966. The Ruger is a 10-shot semiautomatic, while the Crosman is a single-shot.
Single-shots seem to bore a lot of shooters today, but target shooters all know that the most accurate mechanisms are those that load and fire manually. So, the single-shot Crosman Mark I is actually MORE ACCURATE than the .22 pistol it copies!
Crosman made it right!
When Crosman copied Ruger, they did several things that made their gun better. First, they gave their pistol an adjustable trigger that any Ruger owner would love to have. It can be adjusted down to mere ounces and has the proverbial glass-rod breaking point. Second, their gun had better grips than the Ruger. Theirs were more hand-filling, plus they gave them a thumbrest on the left side that Ruger never offered. Finally, they gave their gun a rifled barrel (in .22-caliber only) that was the finest of all air pistols for that caliber and time. A careful shot can group inside an inch at 50 feet – something a stock Ruger Mark I cannot do.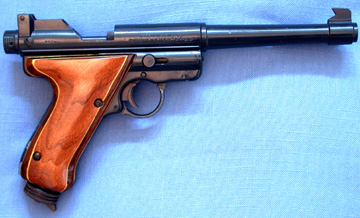 Crosman's Mark I is more attractive and even more
accurate than the Ruger it copies. This one has
aftermarket grips, but the rest is all Crosman.
Adjustable rear sights and a patridge front blade make for a perfect sight picture. Two power levels are determined when cocking by stopping at the first or second click while pulling forward on the cocking knobs located on both sides of the frame. The earlier versions of the gun also could have their power tweaked via a small screw in the front of the frame. All in all, a wonderful target air pistol.
How does it compare to the S&W pistols?
I was asked how the Mark I stacks up against the S&W 78G that I reported on in the Remembering Smith & Wesson's pellet pistols posting. The Mark I is more accurate than the 78G, though I must say I like the feel of the S&W better.
Like S&W, Crosman also made this gun in .177, but unlike the S&W, theirs had a barrel that also accommodates BBs. It isn't as accurate as the .22 or either of the S&W pistols. The Mark I is the more desirable gun.
You can still get one!
Even with its reputation as a great shooter, a Crosman Mark I pistol is still very affordable – even more than S&Ws. A gun similar to the one shown here should cost $100 to $125 if it holds gas. If you like good air pistols, start searching for a Crosman Mark I!