By B.B. Pelletier
A LOT of you own Sheridans, so today I'd like to share one of my favorites with you.
A LONG run!
The Sheridan Silver Streak is the longest-running model that a company ever made. First production began in 1949, after the company discovered that people just weren't going to spend $56.50 for an airgun. The model A, or Supergrade as it is now known, is a wonderful air rifle, but Sheridan managed to cut the price back to $19.95 and put out a pretty good gun, just the same.

My early Silver Streak is a classic!
My gun is very early
In Ronald E. Elbe's book, Know Your SHERIDAN Rifles & Pistols, my gun is shown to be early. Several features mark it as before 1960 and possibly as early as 1951. With the information in the book, there's no way to pin it down more accurately than that, but I have a suspicion mine was made before 1955.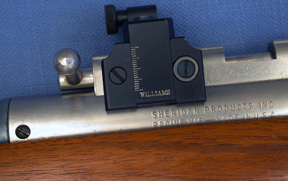 Two early indicators are the round bolt knob on a straight stem
and the screw that holds the receiver tube to the tang.
The Williams peep sight turned out to be a special surprise!
My gun has a Williams peep sight, which was always an option on Sheridan Blue and Silver Streaks. You bought the sight and put it on yourself or had a gunsmith do it for you. What I didn't know until reading Elbe's book very carefully was that there was once a special version of the Silver Streak that came ONLY with the Williams. It had no open sight in the rear. My gun shows no marks where a rear sight was ever attached, so mine is that special model.
My front sight is the second-earliest profile.
Notice that the barrel does not go all the
way to the end of the pump tube cap.
What keeps my gun from being a VERY EARLY 1940 or 1950 model is the lack of four screws to retain the pump lever/forearm. I have the two roll pins that Sheridan soon used for this purpose on all their guns.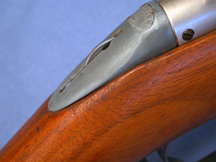 The thumb safety has to be held down to shoot.
It was inconvenient for most people and
was often jammed down permanently.
Here is what I like best about this old gun. After being resealed recently, it shoots as hard as any Blue or Silver Streak ever made. Even though it's an oldie, I can still enjoy it like the person who owned it first, so many years ago. I think that's neat!