by B.B. Pelletier
On October 18, we learned about the Farco shotgun from the Philippines. In this second look at air shotguns, we'll examine a gun that was so powerful that it spawned a whole line of air rifles for its maker. The Fire 201 air shotgun from Shin Sung.

The original Fire 201 air shotgun later served as the foundation for a generation of Korean big bore air rifles.
Today's Fire 201 is completely different!
Pyramyd Air still sells a gun called the Fire 201S, but now it's a single-shot big bore rifle. It is actually a direct descendant of the shotgun, though it shoots single bullets/ammo/pellets only and has a 9mm rifled barrel. The original Fire 201 was a .25-caliber smoothbore that used special shotshells to hold the shot. A .25 caliber Beeman felt cleaning pellet was inserted on either end of this shotshell to hold the shot in place, and the shell was placed into the breech of the gun, exposed by a sliding gold cover.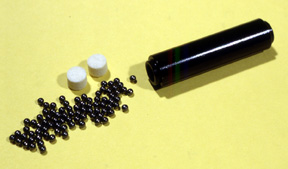 Shot filled the special aluminum shotshell and was held in by a felt cleaning pellet on either side of the shell.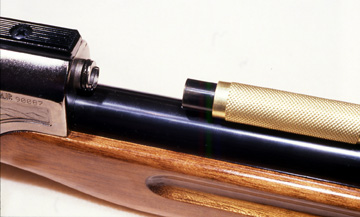 The loading trough that is now so familiar to big bore shooters was initially created to hold Fire 201 shotshell.
Tremendous power!
Because its valve is based on the powerful Career 707, the Fire 201 shotgun was extremely powerful. Mine shot a 115-grain load of shot at an average of 1,010 f.p.s., which works out to 260.55 foot-pounds of muzzle energy (visit the energy calculator on this website to figure that out). That was astounding, and I believe it holds the record for any air shotgun. But, American shooters avoided it like the plague. They weren't interested in air shotguns, it seemed. A few experimenters added a 9mm barrel to see what was possible, and Shin Sung's whole line of big bores was born!
Inside of a year, the 9mm rifle was being imported directly from Shin Sung, and the .25 caliber shotgun was becoming hard to find. Airgunners had to learn the lessons of bullet weight/length versus rifling twist in order to get any accuracy, but the factory also provided huge 9mm diabolo pellets for those who didn't like to bother.
Was it a practical shotgun?
Unlike the Farco, the Fire 201 could easily break clay pigeons. There was a tradeoff, though. Because of the relatively small charge of shot it held, this gun had no practical range. Like the .410 shotgun that is equal in velocity to the 12 gauge but only holds a tiny fraction of the shot, the Fire 201 shot pattern spread too fast to be of much use. At 10 yards it would tear apart a small bird, and at 20 yards the bird would not be hit by one shot! That made it a poor shotgun, but a wonderful foundation for a big bore rifle.
There are plenty of other air shotguns. Let me know if you're interested in hearing about them!