Crosman 116 – the last of the bulkfill pistols
by B.B. Pelletier
Before there were 12-gram powerlets, Crosman had a line of guns that owners filled with CO2 from a separate 10-ounce tank. Today, the airgun community calls all these guns "bulkfill," referring to the way they are charged.
Crosman made many bulkfill models
Starting before World War II and resuming production soon after the war was over, Crosman produced a number of bulkfill guns. The pistol I've chosen for today, the model 116, was the last one produced. The Blue Book of Airguns, Fifth Edition says it was produced from 1951 to 1954, when it was replaced by Crosman's first pistol to use a 12-gram powerlet – the 150.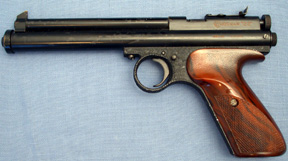 Crosman 116 was the last of the bulkfill pistols from that company.
Specifications
The caliber is .22, which was far more popular at the time. A companion .177 model, the 115, was also made in fewer numbers. The brass barrel is 6″ long and rifled with a right-hand twist. The pistol is slightly longer than a 150 but slimmer, too, because the bulk reservoir doesn't have to accommodate a CO2 powerlet. The pistol holds and balances very much like a 150. That's important because the earlier .22 bulkfill pistol, the model 112, was two full inches longer, and some shooters objected to the extra weight and muzzle-heavy balance. A rotating knob behind the receiver lets you vary tension on the hammer spring to adjust power. This works well with a CO2 gun.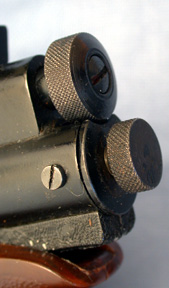 Bottom wheel is for power adjustment. Top wheel cocks the gun.
Finish
The 116 was originally painted gloss black, except for the aluminum frame, which was finished with a crackle paint. Two-piece wraparound plastic grips are fastened with a screw on either side of the gun. The 116 typically had reddish plastic grips when new, but after so many years you could find a gray-white colored grip from the older model 111. The name, model number and serial number are filled with light-colored paint and appear on the left side of the receiver.
Filling
A 10-ounce rechargable CO2 tank came boxed with every pistol. It held enough gas for thousands of shots. When you wanted to refill the tank, the system broke down. Crosman had refilling stations where the tank could be mailed (not today!) for a refill. People were used to waiting in the 1950s, but when the 12-gram powerlet came to market it killed the bulkfill guns. That's why so many of them are in such good condition today.
Today's airgun enthusiast fills his own 10-oz. tanks from a 20-lb. CO2 tank (often called a fire extinguisher). You have to get into bulkfill with both feet if you want to save any money, so there is an up-front investment. I own four bulk CO2 tanks, plus various adapters, and I have no problem filling just about anything. I acquired my setup over a period of years.
Performance
By this point, if you have read my past postings on CO2, you probably know how a 116 is going to perform. It has the same velocity as a 150 (see the posting Crosman air pistols: then and now). Expect 425 to 500 f.p.s. with medium weight pellets from a 116 in good shape. Because the gas reservoir is smaller than the longer 112, you'll get only 30-35 shots per fill, but your cost will be under a nickel. Compare that to 50 cents for a powerlet!
Price
This is one rare time when I will disagree with the Blue Book. It shows the 116 costs from $40 to $175 for just the gun. I've seen many that were $40, but I've never seen a 116 priced above $100, unless it was being sold either in an online auction or at a gun show. They are just too common to sell for that much. A good one in a box should cost $100. The longer models usually go for a little more, like $20 or so.
If you're interested in vintage CO2 guns, you should add a 116 to your collection!
Tom Gaylord is known as The Godfather of Airguns™ and has been an airgunner for over a half-century, but it was the 
Beeman
 company in the 1970s that awoke a serious interest in airguns. Until then, all he knew were the inexpensive American airguns. Through the pages of the Beeman catalog, he learned about adult airguns for the first time. In 1994, Tom started
The Airgun Letter
 with his wife, Edith. This monthly newsletter was designed to bring serious reports about airguns to the American public. The newsletter and
Airgun Revue
, a sister magazine about collectible airguns, was published from 1994 until 2002, when Tom started
Airgun Illustrated
-- the first American newsstand magazine about airguns. Tom worked for three years as technical director at
AirForce Airguns
, the makers of the 
Talon, Condor, and Escape
 precharged air rifles. Today, he writes about airguns and firearms for various publications and websites. He also makes videos, and you'll find short clips embedded in some of his artices on Pyramyd Air's website. Tom is a consultant to Pyramyd Air and writes under the name of B.B. Pelletier.