by B.B. Pelletier
I really enjoy the realism Walther puts into their PPK/S BB pistol. It uses CO2 to both shoot the BB and shove the slide back in a realistic blowback with every shot! I actually went out and bought a Walther PPK/S in .22 long rifle caliber just because I liked the BB pistol so much! If you haven't read my report on it, it's Blast away with a real Walther PPK/S!
Walther makes ANOTHER master-blaster!
There's a second BB pistol in the Walther lineup – the CP99 Compact. Now, there are a lot of similar pistols in the Walther line, and it's easy to become confused about the one you want. That's one reason I'm writing this posting. Most of Walther's CP99 pistols are pellet guns. The slide separates in two parts and the front pulls away from the rear, revealing an 8-shot circular clip inside.
The way to tell these guns apart is to read the descriptions to see if they use BBs or pellets. No Walther pistol will shoot both, so if the gun you are looking at takes pellets, it isn't the CP99 Compact. A second way to tell a pellet pistol is to look at the slide. If there's a vertical line in the slide marking where it separates, it's a pellet pistol.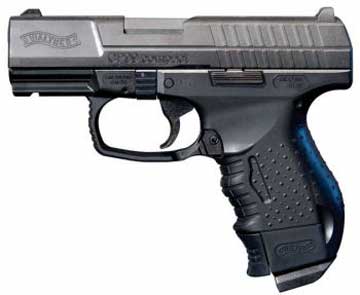 Walther's CP99 Compact has a one-piece slide that blows back with every shot.
It's a modern PPK/S
The PPK was Walther's idea of a pocket pistol in the days before World War II. It was wonderful for its time and it's still a viable pistol today, but ergonomics have advanced so far that now we can build them even better. The CP99 is the air pistol version of Walther's P99, the gun that James Bond now carries. It fits in most adult hands even better than the PPK or the PPK/S (a longer-grip version of the PPK, made to satisfy U.S. importation "points" rulings after the Gun Control Act of 1968).
As the description says, this is now a favorite backup pistol for European tactical and law enforcement personnel. That's why, even though this is a compact, it has a Picatinny mount under the muzzle for a laser. You can see what that looks like by looking at the Walther CP99 Laser, which is a pellet pistol. The Compact, however, is too short to fit the current laser that Walther offers separately. Perhaps they will make a shorter one soon for this gun?
BB magazines
The CP99 Compact uses a 17-shot stick-type magazine instead of the 8-shot circular clips used by the pellet pistols. My experience with the PPK/S tells me there will be enough CO2 in a powerlet to run through at least four magazines before changing powerlets, so you might want to buy a few extras.
Pyramyd's Christmas sale!
Speaking of buying one, Pyramyd's Christmas sale email prompted this post in the first place. I have subscribed to the Pyramyd AIR emails, and the most recent one gave all the great holiday sales they're offering. The CP99 Compact is selling for just $84.95! You'll note that's a lot less than the pellet pistols. And, this is the only one featuring realistic blowback with every shot.
Don't forget these!
If you get one, you'll need BBs and CO2 to operate it. Assuming it's going to be a present, a 25-pack of powerlets seems about right. There are smaller packs, but this one is a great deal. And, I'd get a nice pack of Crosman BBs to go with it.
Any way you look at it, the Walther CP99 Compact is one fine BB pistol. If you like realistic airguns, this is one to check out.