by B.B. Pelletier

Daisy's No. 12, model 29 is a retro-looking single-shot from the 1920s and '30s.
I love this little BB gun – just for the way it looks. It's so retro, and, indeed, it's a follow-on to Daisy's earlier model H. According to Dunathan's The American B.B Gun book, the No. 12,pyramydai Model 29 was produced from 1918 to 1937. The Blue Book of Airguns, Fifth Edition puts the dates between 1929 and 1932. I believe Dunathan is closer to correct because this gun is obviously a follow-on to the model H, which ended in 1920 (Dunathan) or 1923 (Blue Book).
Single-shot
It's a single-shot that shoots both BBs and darts. To load it, you remove the barrel using the bayonet-type front sight blade, which is actually a spring-loaded barrel catch. The BB goes in the rear of the barrel and rolls down until it hits the shot seat, which is a constriction. There, it sits until the gun is fired. In this day of semiautomatic BB guns, I wonder how many shooters would be patient enough to put up with a system like this?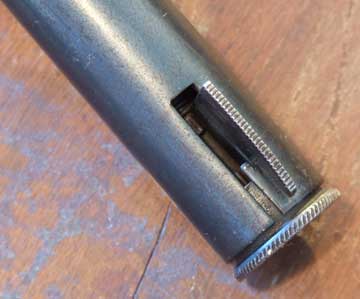 To load the gun, the shot tube is removed, and a BB is loaded into the breech. The front sight is also a spring-loaded bayonet catch for the tube. Neat!
Use the right ammo
By BBs, I mean air rifle shot, which are 0.175″ lead balls. If anyone ever shot smaller more modern steel BBs in it, they would have hammered out the shot seat in the barrel so it wouldn't work with lead BBs any more (it wouldn't work with steel, either!). That's what happened to my gun, so I feed it .177 Beeman Perfect Rounds. They stick in the shot seat like they're supposed to, but the velocity is reduced because they are heavier.
My gun shoots Beeman Perfect Rounds about 285 f.p.s. when it's all oiled up, so it probably shot air rifle shot about 350 when it was new. Accuracy is an iffy thing, because the mechanism doesn't always seal correctly. Some shots exit at 135 instead of 285. But, you learn to live with that when you shoot old BB guns.
Dainty
What catches the eye when you first see one of these is how incredibly
small it is! The overall length of 31″ is about the same as other small Daisy single-shots, but the outer dimensions of the gun are positively child-like. Yet, cocking takes adult strength. Daisy had not yet repositioned the cocking lever screw, which they would do in just a few more years to cut the cocking effort by half.
Also quite neat is the cast iron cocking lever. Besides looking retro with the small finger hole and long straight piece, it resembles something the village smithy made. The cast iron looks cobby – like it came from a rough sand mold.
The No. 12 came in both nickelplate and blued steel finishes. The nickel gun is gorgeous when most of the nickel is intact, but the blued gun is also attractive. My own gun has nearly 100 percent of the original blue; unfortunately, it's well-peppered with rust. Daisy's name is found on both sides of the receiver between two bullseyes.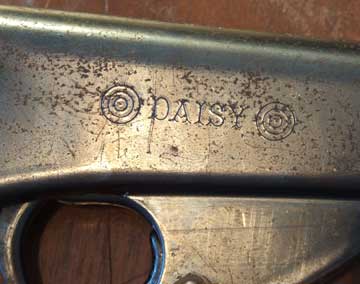 Even the name looks retro on this little beauty.
The rear sight is a simple wide notch with no adjustability. It's also the anchor for the mainspring assembly. A gumwood stock with a deep crescent butt has a scant 11.5″ pull, which is very small for an adult, but the trigger return spring is stiffer than the one on my 1873 Trapdoor Springfield. This little gun is a study in contradictions!
I don't shoot it much; I just like to look at it. Every six months or so, I oil it and shoot just a few so it won't forget it's a BB gun.