by B.B. Pelletier
This post was promised last week, and it will take more than one posting to cover it all. Open sights are so simple-looking that few shooters give them a second thought. If we had been brought up at a time when firearms had no sights, we would probably appreciate today's highly refined open sights much more.
Blade and notch
The earliest open sights were on the front of the gun only and were nothing more than a reference point. Since the guns themselves weren't accurate, the sights were of little concern. However, during the matchlock era, rifling came into play, and the shooting community also discovered that a close-fitting lead ball can be very accurate when fired from a smoothbore, too. In fact, there was a club of target shooters in Ohio in the 1800s that shot nothing but smoothbore guns and round balls. They were said to be capable of making groups of just a few inches at 100 yards with those guns!
The early blade front sight was a low, rounded piece of metal made of brass or German silver (a combination of nickel, copper and zinc – but no silver). The rear notch was a wide, low v-shaped sight that was used as a reference point for the front blade. Both sights were fixed and the sight picture was changed to move the strike of the bullet.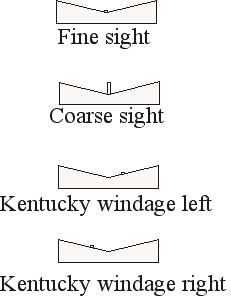 This is a representation of the sights found on a Pennsylvania rifle from the late 1700s. Note the different sight pictures. These are just representations of the dozens of different sight pictures the rifleman had. Because the shooter probably had just one rifle, he became an expert at positioning the sights for the desired outcome.