by B.B Pelletier
I stumbled onto this pistol recently while cruising Pyramyd's website, and I had to tell all of you about it. The Crosman 2300S is more than just a new air pistol. It is a statement the Crosman Corporation is making to the airgunning world. The statement is, "We are in this game to win. We understand our customers, and we know what they want. While we do build many inexpensive airguns, we also know where our strengths lie, and we know how to capitalize on them. And, we know airguns!"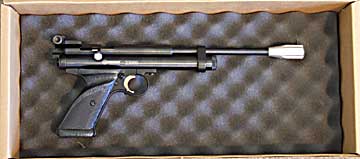 When an airgun manufacturer packages guns like this, we know that THEY care as much about their guns as they hope their customers will.
Out of the box
That's what the new 2300S says to me. For starters, let's look at the box it comes in. It's a plain brown box, but inside there is egg crate foam to hold the pistol securely. That's a detail that, until now, few other airgun manufacturers have understood. I'm so used to carded guns in clamshell packs that this box threw me for a loop. Let's move on.
Installing the rear sight
There is a brand-new rear sight for air pistols, and it comes with this gun! I thought Williams had adapted one of their other sights to the pistol; but, while it does resemble the sport aperture sight they make for Beeman, it is an all-new design. Bravo, Crosman! I am a target pistol shooter and love the fact that the adjustments on this sight are crisp click detents. This thing is American-made and just as good as that phrase always used to mean! It's ALL metal, with crisp detent stops on both adjustment knobs. My only comment is that I believe there should be an index mark on the horizontal scale, like there is for elevation. This sight looks right on this pistol.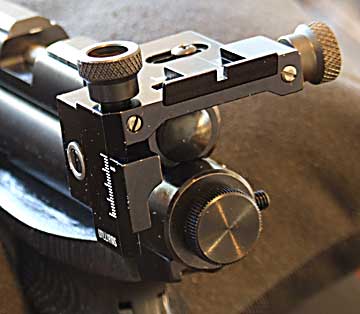 This rear sight is a brand-new design from Williams, and Crosman is to be congratulated for putting it on this pistol. Round knob below the sight adjusts the gun's power.
Front sight
The front sight is a round post that looks square when viewed through the rear notch. It sits atop a bright aluminum muzzle weight, whose sole purpose is to elevate the front sight to the correct height. You don't notice the bright finish when sighting, so the whole thing works as intended.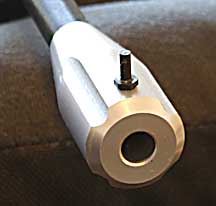 The front sight sits on top of a barrel weight that also protects the muzzle.
Barrel
Of course, that front sight sits atop a genuine Lothar Walther barrel – the same kind found on the deadly accurate AirForce precharged rifles. I'll find out how good it is when I go to the range. For now, I'm simply impressed by the name. Also the length. This is a 10.1″ CHOKED barrel (see – Crosman listens!), so you are going to get lots of efficiency from it. The longer the barrel, the better the efficiency in a CO2 gun.
Adjustable trigger!
The pull weight is adjustable and there is an overtravel screw to stop the trigger blade when the hammer is released. These are features a target shooter demands. I measured pull weights from a low of 2 lbs., 6 oz. to a high of 5 lbs., 8 oz. One grip panel is removed to gain access to the adjustment screw. I do believe this weight range will decrease with use. The overtravel screw is in the rear of the triggerguard and works perfectly to stop the trigger wherever you want.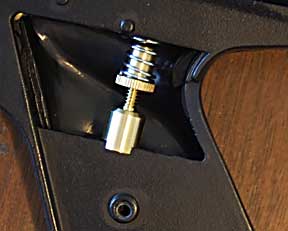 The trigger-pull adjustment is concealed under a grip panel.
Adjustable power!
This is something I haven't see on a Crosman gun for a long time. A knob at the rear of the action lets you increase and decrease tension on the hammer spring. It's a simple and effective way to control velocity.
I'm just getting started with this pistol, so there will be more to follow.