Crosman 2300S target pistol- Part 1
Crosman 2300S target pistol- Part 2
by B.B Pelletier
I knew the 2300S was going to be an accurate pistol, so my day on the range was a pleasant one. I tested all pellets for grouping at 15 yards. That doesn't sound like a long range, but I was using the target sights provided. In other words, open sights.
Looking for the right pellet
I struggled at first, and I'm not afraid to admit it. I was able to get four of five shots inside a dime, but there was always one flyer that opened it up to one inch. I tried the following pellets: Crosman Premier 10.5 grain, Crosman Premier 7.9 grain, Gamo Master Point, Winchester hunting pellets, Crosman Premier Super Match, Crosman Copperhead pointed, JSB Exact Diabolo Heavy 10.2 grains, H&N Finale Match (pistol) and Beeman Kodiak.
None of the pellets I recommended so boldly last week in How to find the best pellet seemed to make a difference. Beeman Kodiaks were the best, but even they were not giving me the groups I had hoped to get. Yes, there is a "but" coming. First, I want to cover some interesting things that turned up during shooting.
The sights are incredible!
I have liked the Williams rear sight from the beginning. Once I had the chance to adjust it, however, and see what a fine sight it truly is, my enthusiasm only increased. The click adjustments remain velvety smooth throughout the range, yet each one is as precise as the others. That's true for both windage and elevation adjustments. The adjustment increments are so small that you can "walk" a pellet into the 10-ring without compromise. With some other sights, you might get close; but, with this one, you'll be spot-on if you take the time to adjust the sight correctly. Crosman needs to make this sight available as an option for their other pellet pistols, and I can see it on some entry-level 10-meter pistols, too.
Loading is tricky
I remarked on this in the second part of this report, and the problem continued while I was target shooting. In fact, I have to rule out wadcutter pellets altogether. They are simply too finicky to load into this pistol. Other short pellets, such as Crosman Pointed and Crosman Premier 7.9-grain pellets, were hard to load, too. What happens is that the pellet gets stuck either in the loading port of the barrel or just before that as it enters the breech. It often flips sideways. If you're not careful, you'll have a pellet jammed sideways in the breech. I kept a .177 cleaning rod on my shooting bench and had to use it several times.
On the other hand Beeman Kodiaks and 10.2-grain JSB Exact domed pellets fed very well. The Kodiaks also proved to be the most accurate pellets of the test, which was good. However, that was only after I discovered THE SECRET to making this pistol shoot.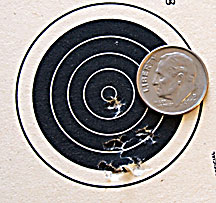 Beeman Kodiaks gave the best groups, once the power was turned all the way up. Shot from a rest at 15 yards with open sights.
What's the secret?
When I dialed the power from midrange all the way up as far as it went, the groups shrank to just over dime size with most pellets. This isn't a drawback; because, as I reported before, the 2300S gives you way more shots from a powerlet than most other air pistols. So, my advice is to run the gun wide open all the time. The long Lothar Walther barrel keeps the discharge down to a neighbor-friendly level.
I was shooting Gamo Master Points when I upped the power, and the groups suddenly shrank into half the size I'd been seeing. At first, I thought the pellets were completely responsible. While they're a very good pellet, most others were more accurate on high power, as well.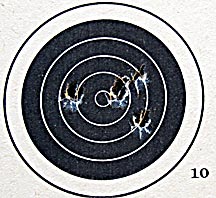 Gamo Hunter pointed pellets were surprisingly good.
The 2300S was designed for airgun silhouette competition in the IHMSA production class. It will probably be shot from the Creedmore position. (with a handgun, the shooter is lying on his back and holding the pistol steady with one or both legs). In that solid position, this revolutionary new air pistol from Crosman will be almost as accurate as a rifle.