by B.B. Pelletier
There's been a lot of interest in the Viper Express air shotgun since it appeared on the internet. I saw my first one in February at the SHOT Show in Las Vegas. I asked Gamo's U.S. Vice President of Sales what the gun was to be used for and he told me, "Hunting." When I asked what kind of game, he replied, "Squirrels."
Now, no air shotgun other than the Fire 201 can take squirrels, and this gun is one-tenth as powerful as that one, so I eagerly awaited the opportunity to test it. Unfortunately, the gun I received was missing the two plastic shotshells it's supposed to come with, so all I can test at present is the brass pellet insert and also give you some general comments about the gun.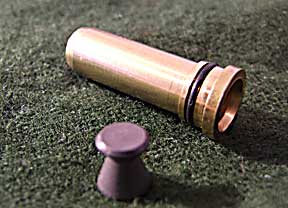 This small brass insert is how you shoot pellets from the Viper Express. It is unrifled.
The manual is sadly lacking!
I am amazed that a reputable company like Gamo would let a new gun like this out the door with the manual it has. It has virtually ZERO instructions about using an air shotgun! There is no reference to how to reload the plastic shotshells, what shot size to use and where to obtain the wads that have to go in either end of the shell. Apparently, they just kicked this gun off the tailgate, hoping people would be smart enough to figure it out by themselves. The manual even makes repeated references to your new RIFLE and not the shotgun!
I suppose the author was given the dirty little job of writing the manual and, because he or she knew little or nothing about shotguns, he or she cut-and-pasted paragraphs from other Gamo manuals. They had to make sure those paragraphs were not specific to other airguns, so you end up with a manual full of palaver that isn't worth the paper it's printed on. The title on the cover is "Handbook Break Barrel Shotgun/Air Rifle," so this little booklet is supposed to do the job.
Pretty weak
A drawing in the manual shows a hunter leading a flying pheasant. From preliminary testing, I have determined that this gun probably will not kill a small mouse past about 15 feet! I shot it at the plastic cover of a small coffee can at 20 feet, and the shot BARELY dimpled the plastic. Squirrels, my eye! How did I do this if there were no plastic shotshells included with the gun? Simple. I just used the brass pellet insert tube and turned it into a shotshell. It is not rifled, so even though it may be not as long as the plastic shells, it still works. This is by no means a conclusive test, but I wanted to get a sense of what I was dealing with and this gave it to me.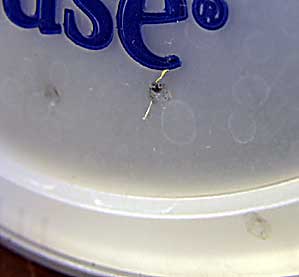 At 20 feet, the three shots (of the 12 in the shell) that hit this plastic coffee can lid failed to penetrate the plastic. You couldn't kill a small mouse with this kind of performance, to say nothing of squirrels.
The gun
This is a very attractive breakbarrel single-shot gun. It looks like a sleek 28-gauge upland gun. The exterior "metal" parts are mostly synthetic (except for the spring tube) and the stock is also the gray synthetic Gamo has been using for several years. Grippy rubber pads are inset into the forearm, pistol grip and the rollover ambidextrous cheekpiece. The cheekpiece gives the impression of a Monte Carlo stock profile because it rolls completely over the top of the stock.
The trigger is standard Gamo, which is mediocre by air rifle standards but adequate on a shotgun. The safety is manual, which is good. An 11.5″ long 11mm dovetail provides one of the longest scope bases I have ever seen (I believe only the Walther Dominator has a longer one), and there is a proper scope stop hole at the rear. Bravo, Gamo! This rail is aluminum to hold up in rugged service.
The gun is 43.5″ long with a 14″ pull that puts it square into the adult category. Cocking is very light at 33 lbs., and the piston has an incredibly long stroke for all that power. When the barrel is fully broken open, it resembles a Perazzi single-shot trap gun that breaks open far past 90 degrees. The light 5.75-lb. weight completes the image.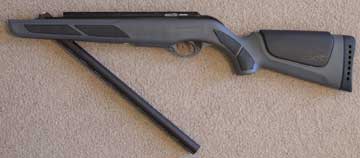 The piston stroke is very long as this shot of the gun fully broken reveals. That's where the power comes from.
I'll be back
Okay, I'm stopping right here. I will come back and go through this gun like a good dose of salts, but that takes time for more testing. By my remarks thus far, you might think I don't like the Viper Express, but that's not true. I do like it. I just think Gamo has done a horrible job of launching a product that general airgunners are not going to understand. Further, because of the company's own lack of airgun savvy, Gamo has portrayed this air shotgun as something it is not – a hunting airgun. If you stick with me, I promise to show you everything you need to know about this surprisingly different airgun.