by B.B. Pelletier
I've wanted to do this report for a long time, but I'm not sure what sort of anthill it will kick over. Not all air rifles are suited to using bipods, but those that are, benefit greatly from them. I'm throwing caution to the wind and writing about bipods.
AirForce is the bipod king!
AirForce Airguns weren't the first airguns to use bipods, but they were the first airguns to be designed specifically for use with bipods! The lower accessory rail on all AirForce air rifles is perfect for mounting a bipod, and the AirForce bipod comes with an 11mm dovetail clamp for that purpose.
Exercise the legs!
Their bipod has extendable legs that hold in place with friction locks. I have found that the legs tend to freeze up after a long time in one position, and I have to exercise them to get them moving again. Once that is done, however, the legs adjust to whatever height I need and lock solidly in place. This bipod is suitable for shooting from the prone position or from a bench. The legs adjust separately to compensate for uneven ground. The bipod also tilts, so the rifle is held level regardless of what it sits on.
Pyramyd Air now offers an identical bipod with a longer support clamp for the same price as the AirForce bipod. For those who may have a lot of accessories attached to their rifle, consider this option. If you own a Talon, however, be aware that it has a shorter lower accessory rail, so make certain there is enough room to mount this bipod and whatever other accessories you have to mount on that rail.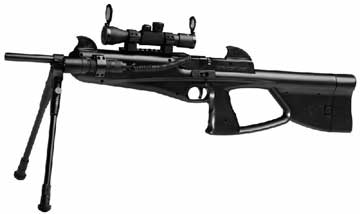 The NightStalker bipod mounts directly on the barrel and doesn't hurt accuracy one bit!
Crosman NightStalker
Crosman's new NightStalker kit comes with several valuable accessories, including a bipod. Last week, one of our readers asked whether a barrel-mounted bipod was harmful to accuracy. Well, according to Tom Gaylord's test report, the NightStalker certainly isn't! I read a recent magazine report where even better NightStalker accuracy was obtained – shooting from the bipod!
At present, the Crosman bipod is available only as part of the NightStalker kit, but I expect it will be a separate option some time in the future. You can use it on the barrel as intended without fear of losing accuracy. It's a wonderful addition to the rifle, because, like the AirForce bipod, it supports the rifle when you set it down.
Logan Gladi8tor
FX of Sweden makes the Gladi8tor for Logun. The Gladi8tor has a long barrel, providing more power than most precharged rifles – up to 35.5 foot-pounds on the highest of three power settings. The bipod mounts on the forward reservoir. I have not tested the rifle, but from what I read on the forums, it's very accurate!
Logan S-16
The other Logun rifle with a bipod is the Logun S-16, a 16-shot repeater. Logan has done everything possible to keep the price of this rifle competitive in the U.S., so the bipod is offered as an option. It's a low-cost option that every owner should seriously consider – for the reasons mentioned above. This rifle has a CONFIGURE button on the Pyramyd Air website. I invite you to play with this button, looking at all the ways the S-16 can be configured. Best of all, when you get what you like, just push the "buy" button, and you'll go straight to checkout! Of course, you don't have to buy one just to see how it looks with the bipod.
What about bipods for other air rifles?
Pyramyd Air offers a Deluxe Universal Aluminum Bipod that clamps to a forward sling swivel stud (the quick-detachable kind). This is how most firearm bipods attach, and it has been proven in field use. If you have an appropriate air rifle, such as an RWS Diana 48/52, you can mount a bipod. Any other gun with a wood stock that doesn't have a long cocking slot (so the sling swivel stud can be mounted) can also use a bipod.
A bipod isn't for everybody, but it sure is a handy accessory when you want a steady rifle! Let's hear from those of you who use them!