by B.B. Pelletier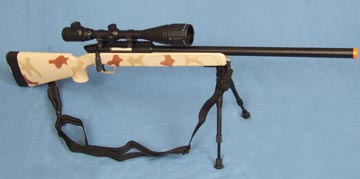 UTG Master Sniper offers a lot of features for very little money. Scope does not come with rifle.
A reader asked for this review some time ago and I am happy to finally be able to comply. His question was actually, "How good could a sniper rifle like this be when sells it for under $100?" Well, we will all find out together!
The UTG Master Sniper is a spring piston 6mm airsoft gun. The one I have has a synthetic stock finished in desert camo, but they also come in black and olive drab. It looks very much like the Army's M24 sniper rifle, which is based on a Remington 700 bolt action receiver.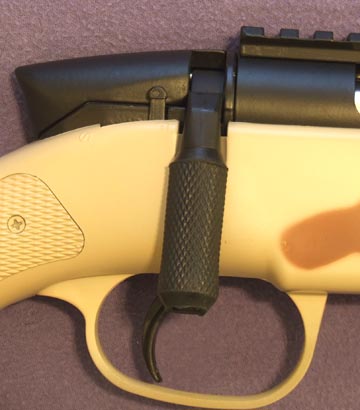 Bolt handle is rubber-covered for silent cocking.
I have tested a Classic Army version of this gun and of course I reviewed the Marui VSR-10 G-Spec sniper rifle for you in May of 2005. Both of those guns cost considerably more than the UTG Master Sniper, so the question of quality is a good one that needs to be addressed. I have to tell you, I didn't expect much, based on the price. Well, I was wrong!
What is it?
Well, being a 6mm airsoft gun for starters, this is not actually a rifle at all. It has a smooth bore but uses a system called Hop Up to put a backspin on the plastic ball when it flies. The result is a major gain in accuracy. How much accuracy is a subject I will explore. Because this is an airsoft gun, federal law requires the bright orange muzzle tip. Only law enforcement agencies and legitimate theatrical production companies are allowed to remove or change the color of this tip and to possess the gun when it is removed. I will refer to it as a rifle in all the reports I write, simply because the prototype gun it was copied from is a rifle.
Setting up the rifle
This gun comes in a box broken down into two major components and several accessories. The action first has to be put into the stock and fastened tight with three screws. That probably took me 45 minutes by itself because I couldn't get all the screws to align at the same time. The problem wasn't that the holes were mis-drilled – just that the screws are so long there is a lot of slop as they search for the threaded hole. The British slang "fiddley" came to mind. But with patience, the job was completed and the gun rested tight in the synthetic stock.
Next, the bipod was attached to a Picatinny rail located under the forward part of the forearm. It went on easily, but I had to read the gun's manual to discover how to deploy the legs. The manual is entirely in English, by the way, and has step-by-step setup instructions. Once installed, the bipod legs were deployed to make the perfect rifle rest. The bipod legs are spring-loaded and adjust to any height within their 1-3/4″ range. They also swivel for ease when you are setting up your shots.
The black tactical sling went on last. It was a breeze to install and will be to anyone who ever served in the military. The sling attachment points are permanently attached to the stock, so there was nothing else to do.
FIRST POINT
All this stuff (bipod and sling, plus buttplate inserts I didn't mention, but did install) was INCLUDED with the gun! Nothing to buy buy a scope. That is a real plus, especially at this price.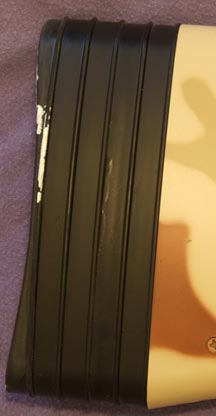 Three buttplate inserts increase the length of pull to suit the sniper.
Overall -what do I think?
I have to say I'm impressed so far. The butt is weighted to counterbalance the bipod, and the weight of the gun with everything attached is 7 pounds 3 ounces. Throw in the Leapers 6-24X50 scope I mounted and the weight jumps to about 9 pounds! That takes it out of the cheap toy category and positions it in the serious player venue. I'm not ready to make that call because I haven't shot it yet, but based on looks and features, it's there.