by B.B. Pelletier
Before I get started, I have a couple of announcements.
Pyramyd Air's latest email promotion is now available. It's all about the new PCP hand pump. They're superior to the European ones we've used up til now. They'll be in stock by next week, so Pyramyd AIR is taking pre-orders.
There's a new deal on .177 H&N Baracuda Match pellets! Pyramyd AIR made a special purchase and got a boatload of these. They usually sell for $9.95/tin, but the price has just been lowered to $8.05/tin. Time to stock up!
Today, I'll finish the exterior look at the RM-200. If you haven't already read Part 1, it might be helpful if you did that first.
The rifle cocks very easily. The description says 29 lbs., but my test rifle cocks with just 24 lbs. of effort, and it's brand new. I would imagine that would decrease by a little as the gun wears in. When you click on the closeup image on the website, you'll see that Mendoza put a small muzzlebrake extension on the barrel to ease cocking, and it definitely works! Cocking is very smooth and positive. The chisel detent holds the breech tight, yet doesn't fight you when you want to break open the barrel.
Automatic safety
The safety is a bar on both sides of the end cap that goes on automatically when the rifle is cocked. Push it forward with your thumb to shoot. As long as the gun is cocked, you can put on the safety at any time after taking it off, but it will not go on when the gun is uncocked. Another safety feature is that the rifle refuses to fire when the barrel is broken open. This is an anti-beartrap mechanism to keep careless shooters from losing digits while loading. That makes a total of three safety mechanisms on the rifle. The two-bladed trigger provides some measure of safety for careless trigger-pullers, the automatic safety and the anti-beartrap mechanism are all there to keep you safe. Never rely on them, of course. Always point the muzzle of the gun in the direction you intend shooting.
Sights
Mendoza put a very good set of open sights on the RM-200. The front is a square post on a ramp. It's covered by a large globe with a huge hole. That hole lets light through to illuminate the fiberoptic rod. The rear sight is adjustable for both windage and elevation and also has two fiberoptic points. What I like about these sights is that they're very sharp and crisp, just as they are. I'm not big on fiberoptics, but I do like good open sights, and this rifle has them.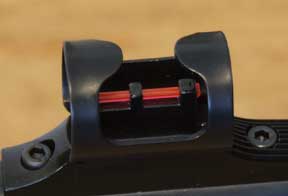 Lots of light gets through to illuminate the front fiberoptic rod.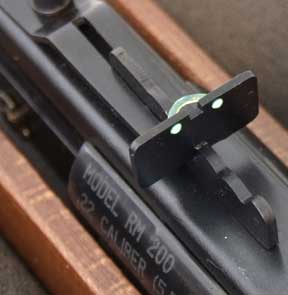 The rear sight adjusts for both windage and elevation. It's also fiberoptic.
Firing behavior
I had to shoot the rifle to get chronograph readings and to test the trigger-pull, so I have a preliminary feel for how it shoots. It has a little spring buzz that's very short-lived, and the recoil is almost negligible. It's not as smooth as an R7, but close to it. For the price, it feels like much more air rifle!
The best feature!
I saved this for last. The RM-200 and other Mendoza spring rifles have a dedicated oil port on the side of the gun! No more hunting for the air transfer port. The hole is only opened when you purposely hold the barrel as far broken open as it will go. Then, the piston seal retracts beyond the hole, and you have access to oil. Now, just because it's that easy doesn't mean you should oil this rifle any more than any other spring-piston air rifle. About one drop every 3,000 to 5,000 shots is plenty.
You can oil the compression chamber directly through this hole on the left side of the spring tube.
I must say that I'm impressed so far. After reading all the negative comments, I didn't expect Mendozas to be this nice or this full of innovations. I'm hoping this quality carries over when the shooting begins.